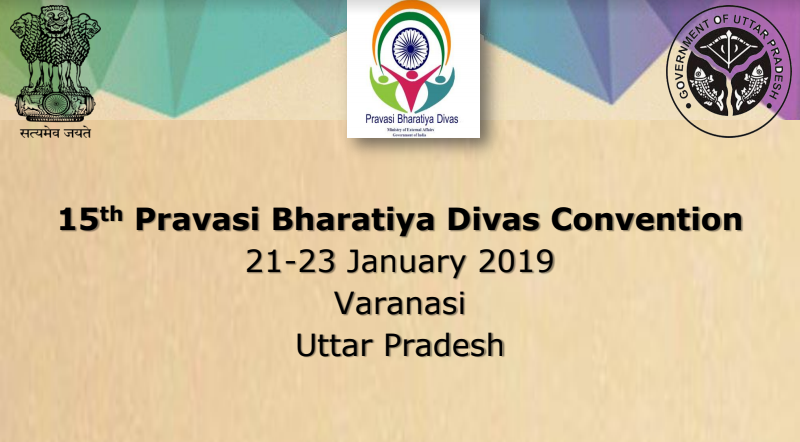 Pravasi Bharatiya Divas (PBD) is celebrated once in every two years to strengthen the engagement of the overseas Indian community with the Government of India and reconnect them with their roots. During the Convention, selected overseas Indians are also honored with the prestigious Pravasi Bharatiya Samman Award to recognize their contributions to various fields both in India and abroad.The 15th PBD Convention is being held on 21-23 January 2019 in Varanasi, Uttar Pradesh.
The theme of PBD Convention 2019 is "Role of Indian Diaspora in building New India". Special arrangements are also being made for participation in Kumbh Mela at Prayagraj and Republic day parade.
The registrations have been extended until 15th December  2018 on the website : www.pbdindia.gov.in
The important attractive elements of the PBD 2019:
Travel and stay arrangement for up to 5000 participants who would attend the 3 day PBD convention.
The participation at Kumbh Mela and Republic Day Parade at New Delhi are optional as per the participant`s convenience.
Option of stay at Hotel or swiss cottages in Varanasi at Prayagraj near the Sangam for participants choosing to attend Kumbh Mela.
The Kumbh Mela and Republic Day parade tickets are limited on first cum first serve basis upon registration.
Local sightseeing with Guided tours at Prayagraj , Varanasi, River Ganga Aarti
Local transport for pick up and drop at the venue of convention.
Facility for special AC Volvo Coaches and special AC Trains from Varanasi to Delhi for participants choosing to attend Republic Day Parade at New Delhi.
Two main meals inclusive for all three days of PBD convention.
Diaspora Participants will also experience and enjoy India`s rich cultural heritage and progress and innovation through cultural evenings.
A memorable and pleasant experience is assured at the Prestigious PBD 2019 convention with all amenities made available.
It is requested that the promotion for participation  / registration may be done extensively among all community members under your umbrella.
Once again requesting you all to register and encourage all to register on the website link : www.pbdindia.gov.in