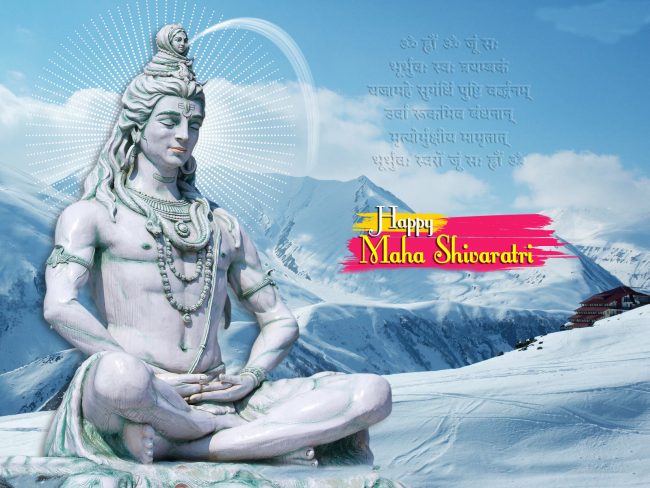 On the occasion of Maha Shivaratri, Sri Ravi Shankar beautifully explains: celebrating the Shiva Tattva in oneself is called Shivaratri. 'Ratri' means night, a time for rest, when everything becomes quiet and peaceful. Shivaratri is not only for body-resting, but for mind and 'Ego' as well. Shivratri means 'The Night of Shiva' and is observed in honor of Lord Shiva (The contemplative aspect of the Universe).
According to the legend from Shivapurana, when Shiva was asked by Parvathi what pleases him most, He is supposed to have replied thus: 'The 14th night of new moon, in the dark fortnight during the month of phalgun, is my most favorite day. It is known as 'Shivratri'.
This festival is celebrated with Rudrabhishekam (a chant of the ancient Vedic mantras which is accompanied by a ceremony of washing away the Shiva Lingam with milk, curd, honey, rose water, etc). It is similar to a new year for a sadhak (seeker) and considered as an auspicious day for spiritual growth and material attainment. Today, on this auspicious day of Maha Shivaratri, there are two things from one should relinquish, which will instantly bring in peace and happiness:
Knowing 'God is with myself at whole amount of time, and He will fulfill all my needs'. God is available only to fulfill your needs.
Along with this deep faith, relax and repose in the Self.
Maha Shivaratri is everything about coming to the state of deep rest. It brings deep rest to the mind and the spirit as the mind is always running after something, or desiring one thing or another – whether it is a spiritual or a materialistic thing. So remember that God is available to provide you both, and relax.
One shall establish deep connection to God, to remember that 'God belongs to me'. Have this unshakeable faith that whatever you require will surely be given to you. The moment this faith dawns from within, the mind settles and comes to a state of rest.
One gets the similar kind of peace and deep rest when performing kirtana (Satsang).  Only singing bhajans (devotional songs) in a superficial way is useless. When one listens to the songs, sings along whole-heartedly and sense a deep devotion and love for the Divine, they absolutely become one with God. One should shed tears for the Divine.
Lord Shiva is not outside; He is not sitting in a temple, or somewhere distant in the Himalayas; He is not at the Manasarovar Lake or at Mount Kailash. Lord Shiva is present within you, he is present everywhere. Acknowledge this to relax. He is omnipresent, He is one manifestation everywhere you move, be it in the mountains, plants, trees, etc. He is the scene and the seer.
Reminisce this over and over, get relax. One will remark in a short while, he will attain such a deep state of Samadhi (the ultimate non-dual state of Consciousness), and your mind will uncover a bunch of happiness and peace. One blossoms so totally from within, which nothing else remains. This is it. On Maha Shivaratri, this is one necessity to do –get relax and repose deep in Self.
The author is a humanitarian leader and the founder of The Art of Living organization. He can be followed on @srisri (on Twitter) & facebook.com/SriSriRaviShankar (Facebook)
For more information http://www.artofliving.org