3 Different Edible Valentine's Day Roses to Make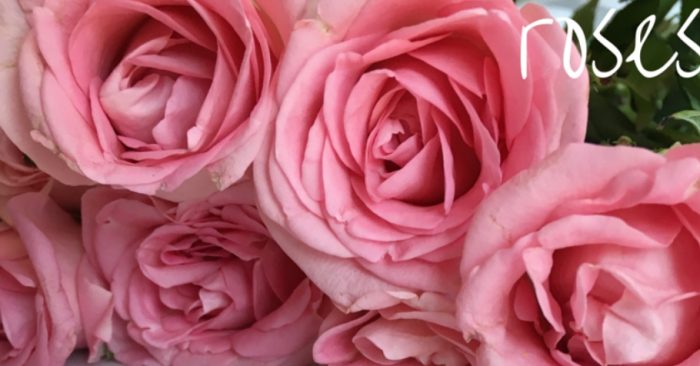 Nothing screams Valentine's Day as a bouquet of red roses. Regular store bought roses are so yesterday. Make this Valentine 's Day truly super special with handmade edible roses! We will share 3 creative ideas and invite you get crafty and share your results with on Indoindians Facebook / Instagram with hashtag #Indoindians
Order today for Valentine's Day at Indoindians Giftshop: A beautiful bouquet of 12 fresh #RedRoses (from Ecuador) for the really special person in your life. FREE delivery in Jakarta only. Only IDR 950,000/- Availability only till Friday, 9th Feb. Hurry!!!
Edible Roses no 1: Strawberry Rose
Strawberries are the perfect color and you can be creative with a just a few cuts to make some special roses. They are so beautiful and look like real roses! You can practice a few times before you get the perfect shape.
What you need:
A box of the freshest, plumpest strawberries that you can find
a pack of sate sticks
a sharp paring knife
Method:
Skewer your strawberry on a clean sate stick and then very carefully cut the petals as in the image below.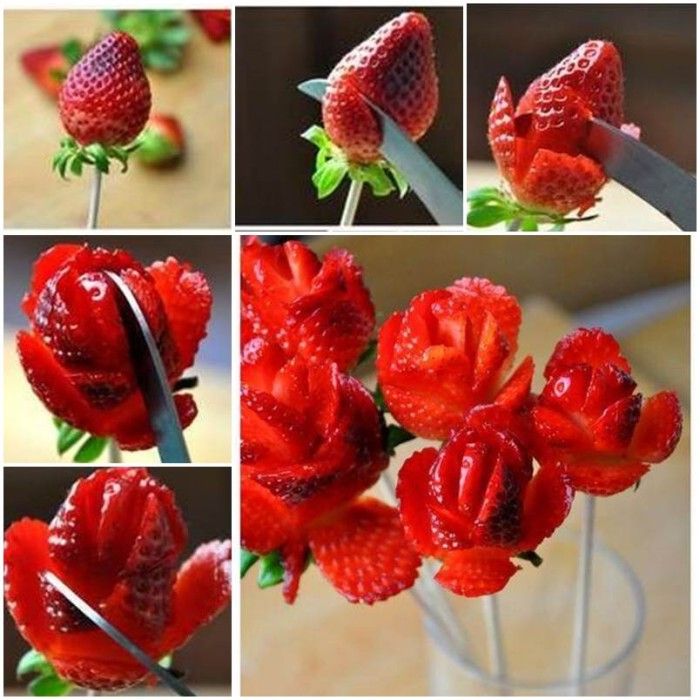 Let's try it! It should be fun.
Edible Roses no.2:  Red Gumdrop Roses
Gumdrops come in a lot of colors, shapes and flavors, so they are perfect for crafting into gumdrop roses. It's really easy to make and they look very pretty!
What you need:
Gumdrops
sugar
sate sticks or the stems of fake roses
rolling pin
Scissors
Method:
Sprinkle your working surface with sugar to prevent gumdrops from sticking.
Flatten gumdrop with rolling pin.
Cut the gumdrop with kitchen scissors to form the petals of the roses.
Wrap the petals one by one around the sate stick, overlapping them until you have the desired size.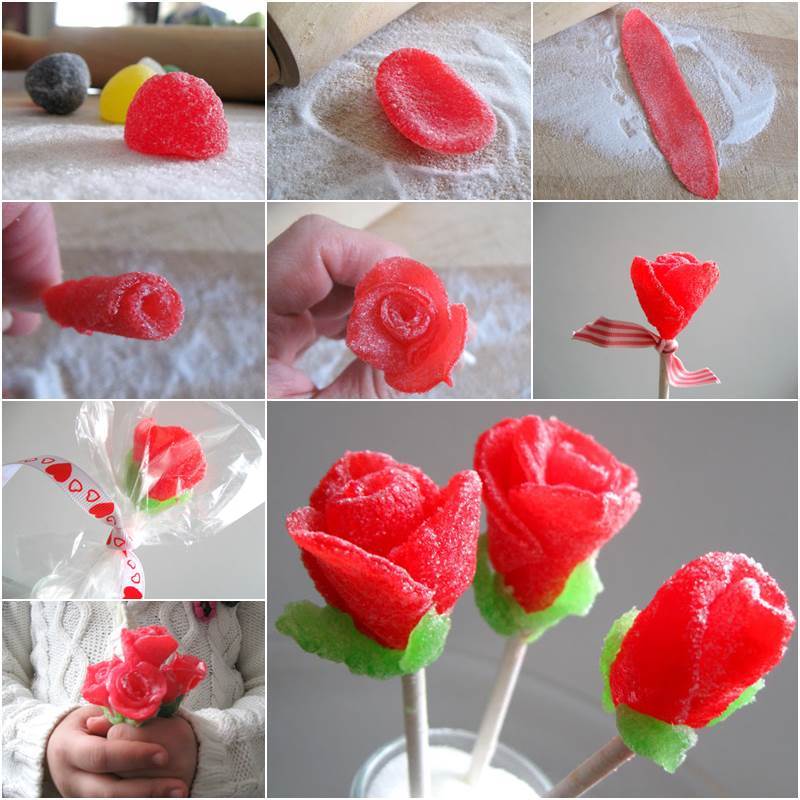 TIP: if you find that the gumdrop is too sticky, add some sugar. If it's not sticking, add a tiny bit of water.
You can try different color combinations of gumdrops to make a colorful bouquet.
Edible Roses no.3:  Bacon Roses
Alert: This is not for vegetarians!
Its really simple and 'thoda hatke'! To make this beautiful rose bouquet, first you take a strip of bacon and roll it up. If your bacon is oddly shaped you may need to snip off a bit with clean scissors after you roll it to make it lay nicely. Then insert toothpicks in the bottom of the roll, keeping them both as close to the bottom of the bacon as possible and close to each other. Place them in a 400 degree oven for 20-30 minutes. Then insert to rose stems, awesome, right?
What you need:
Bacon
Toothpicks
Sate sticks or artificial rose stems
Scissors
Method:
Roll a strip of bacon to look like a rose bud. Secure with 2 toothpicks at the base as in the image.
Bake in an oven at 400 degrees for 20 minutes.
Let cool, drain all fat.
Skewer the roses on sate sticks or on the artificial flower stems.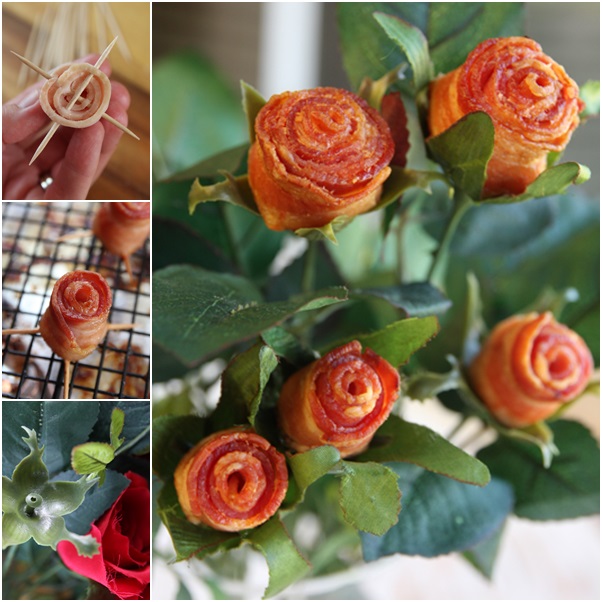 So tell us which one you are going to make? Do share photos and feedback on Indoindians Facebook Page and Instagram with hast tag #Indoindians
Any other ideas or comments, please do share below.