4th Charity Fundraiser: Children's Cancer Charity Club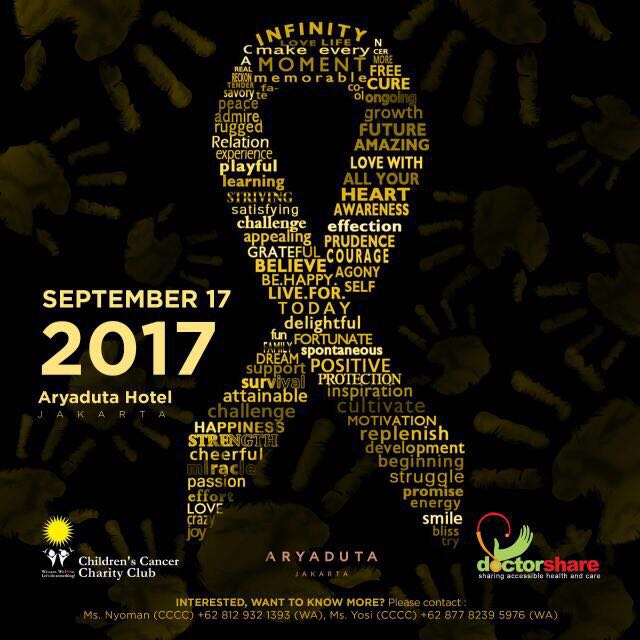 Life is better when we share:
September 2017 is Childhood Cancer Awareness Month
YAYASAN DOKTER PEDULI for CHILDREN'S CANCER in cooperation with CHILDREN'S CANCER CHARITY CLUB (CCCC)  is organising a fundraiser on
Date: National Children's Day – Sunday, 17 September 2017
Venue: The Ballroom – Aryaduta Hotel Jl. Prapatan no.44 – 48 Gambir, Central Jakarta
Donation: Rp 250,000/-
Every year, approximately 4,000 children across Indonesia are diagnosed with cancer, around 650 are from Jakarta. If we look at their background, there are from significantly underprivileged families.
"Children's survival of acute lymphoblastic leukaemia in developing countries could improve if problems that are associated with parental financial and educational background and medical teams' attitudes to treatment and follow-up could be addressed better…"
Influence of socioeconomic status on childhood acute lymphoblastic leukaemia treatment in Indonesia (PDF Download Available).
Children are dying of cancer for lack of money – even those that get free medical treatment.
"…Reducing abandonment requires holistic support to families through money, lodging, food, transportation, parent support groups, psychological counselling, and a patient tracking system.."
AGENDA:
Start: 16:00 hrs
– Welcome music by Sasando
– Opening ceremony:
– Video Presentation from Yayasan Dokter Peduli (Doctor Share)
– Silent Auction announced
– Welcome dance medley
– Opera Legend "Malin Kundang"
– Krak A Tau Band*
– JakArt School Pianist & Violin Show
– Bharatnatyam Fusion dance & Tabla music by JNICC
– Silent Auction announced
– Stand Up Comedy
– Raffles announced & Lucky Draw announced
*) Subject to change
End of program: 20:00
For more details contact Ms. Nyoman Mobile No: +62 812 932 1393
Email: [email protected]