Camping is probably the best ways to spend a weekend with you family and friends. Escaping from the concrete jungle that is Jakarta and enjoying the lush green forest with clean, fresh air is surely a good alternative to refresh your mind. Instead of staying the night in the conventional hotel, camping will sure give you extraordinary experience.
If you don't feel like purchasing or hauling a camping set, then you can try "glamping" or glamorous camping; where you will get all the fun things of staying outdoor, but without all the rush of regular camping. You don't need to cook, or make the tent. Just enjoy!
Here are our recommended "glamping" grounds you can try next long weekend:
Tanakita Camping Ground, Sukabumi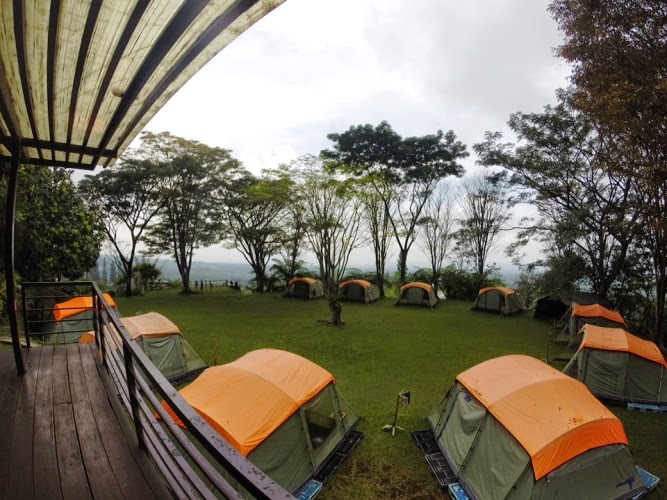 Located in the Gede Pangrango National Park, Sukabumi, Tanakita Camping Ground is an ideal location to camp. The temperature is ranging from 20° to 22°C during the day, so you can imagine how fresh the air is in there. Tanakita provides necessary equipment for convenient camping such as tent, warm mattress, sleeping bags, toilet, and bathroom with hot running water!
Rate: Rp550.000/night (includes 3 meals and 2 snacks)
Address: Situgunung, Kadudampit, Cisaat, Sukabumi, West Java
Contact:
Jalan Lamandau IV No 17, Kebayoran Baru, South Jakarta
Phone 021-70200469
Sayang Heulang, Bandung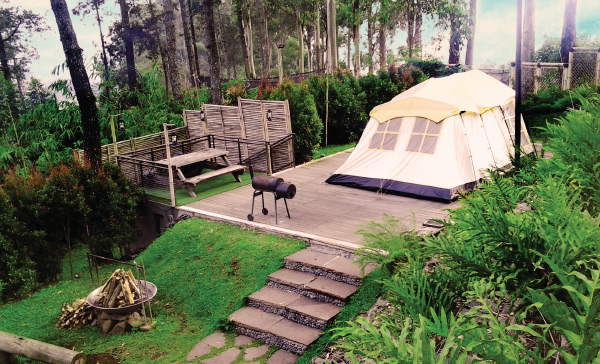 This glamping ground is a part of Dusun Bambu Leisure Park which is home to the Kampung Layung Sundanese villa, Café Burangrang, Lutung Kasarung, and Purbasari restaurant. You can enjoy a night of glamping here with the view of Burangrang Mountain. Adopting a premium camp concept, Sayang Heulang or Eagle Camp is equipped with modern facilities that allow guests to feel privileged when spending the night in the open.
Rate:
Single Camping Deck : Rp1.700.000++ (1 tent, 2 bed mattress, private entrance garden, bonfire and BBQ facilities)
Double Camping Deck : Rp2.750.000++ (2 tent, 4 bed mattress, private entrance garden, bonfire and BBQ facilities)
Address:
Jalan Kolonel Matsuri KM 11, Situ Lembang, West Bandung
Phone 022-82782020
Gunung Pancar, Bogor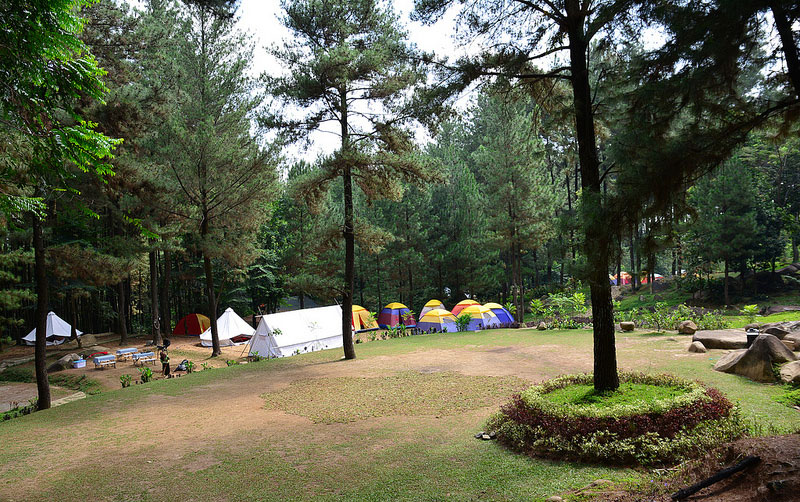 Not only one of the must visit place in Bogor, this is one of the "hippest" camping grounds among Jakarta and Bandung youngsters. Gunung Pancar camping ground offers both regular camping area and glamping facilities. The area is in the middle of lush pine forest with fresh air and calm ambience. For the glamping, a minimum of 4 people booking is necessary to rent a glamping tent.
Rate: Rp330.000/person/night (includes tent, electricity, bed, and BBQ grill). Additional Rp55.000/person for dinner and breakfast
Address:
Gunung Pancar, KP Ciburial, Karang Tengah village, Babakan Madang, Bogor West Java
Phone 081213446574 (office hour)
Consina Bumi Geulis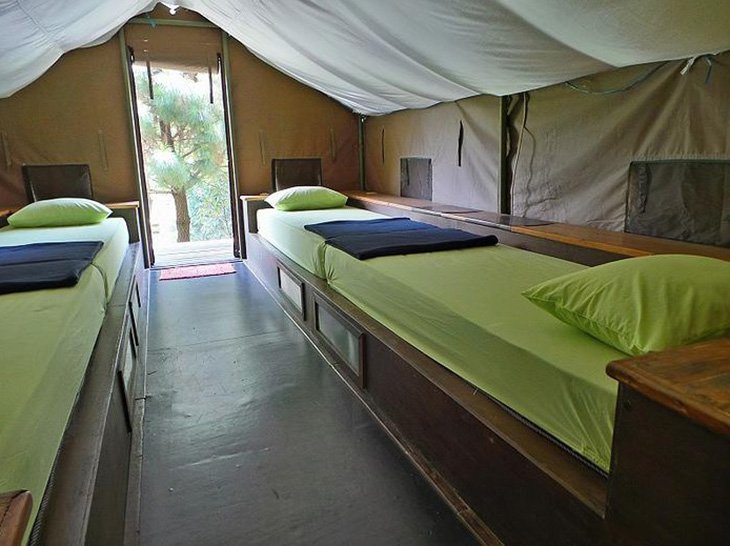 Consina Bumi Geulis is an exclusive camping ground located in the foot of Salak Mountain, about 1 hour drive from Jakarta. There are 12 tents that each can occupy up to 4 persons, a lodge, and 2 bungalows. The parking area is not too wide but it can fit 8 to 10 cars. Some facilities in Consina Bumi Geulis area are swimming pool, electricity, toilet, and bathroom.
Rate:
Starts from Rp200.000 per person/night, includes accommodation, breakfast, lunch and dinner. For additional outbound and gathering activities, the price starts from Rp85.000/person.
Address:
Jalan Raya Golf Gunung Geulis No 3, Pasir Angin village, Gadog, Megamendung, West Java
Contact 021-83705253
Legok Kondang, Ciwidey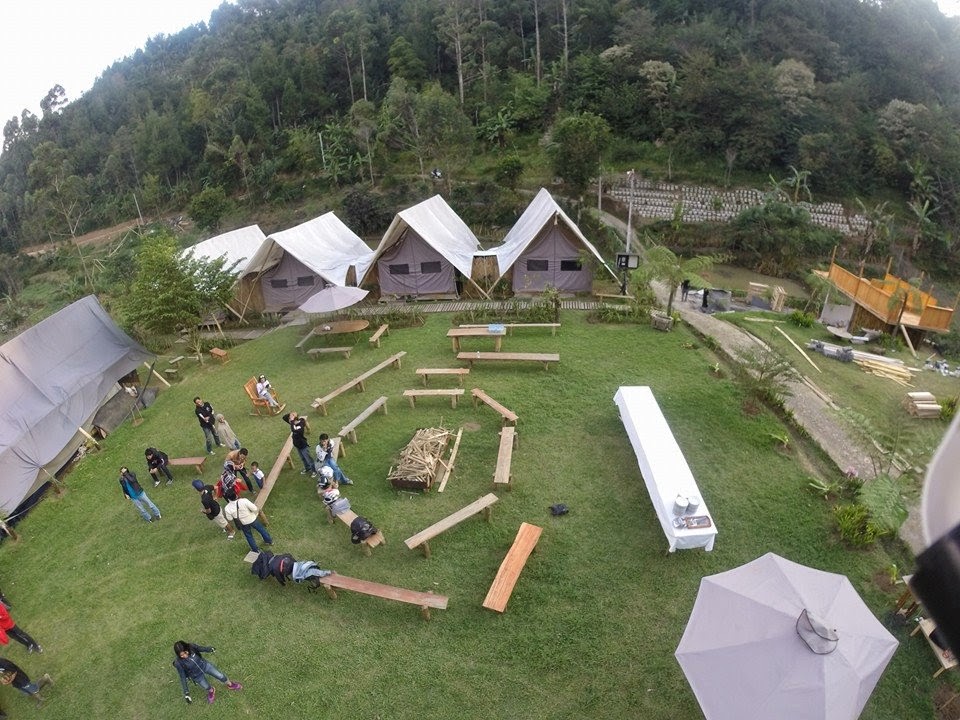 Located in Ciwidey, a couple of hours south of Bandung, Legok Kondang offers beautiful scenery and a spacious ground for plenty of outdoor activities. It is also really close to Kawah Putih and the strawberry farms around the area. At this glamping area you can still get cable TV and wifi (well, it is named glamorous camping for reasons!)
Rate:
Rp1.050.000/tent/night for standard room
Rp1.750.000/tent/night for family size tent
Additional Rp120.000/person if you want to enjoy a barbecue dinner cooked in front of your tent.
For reservation and info you can contact Marcel at 081318179889
Trizara Resort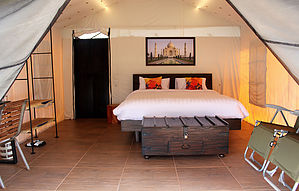 If you are a nature enthusiast who wants a nice place to admire and enjoy the nature without having to compromise on convenience and comfort while doing it, Trizara Resort may be a perfect place for you. Here you can enjoy the glamorous camping experiences with your friends and family, with the complete facilities and exquisite service. You can also do many fun activities here such as yoga, outdoor zumba, BBQ party, board games, and many more!
Address:
Jalan Pasirwangi Wetan, Lembang, Bandung, West Java
Contact: 022-82780085 / [email protected]
Rate: Rp1,600,000 – Rp1,800,000/night (exclusive of tax)
If you spend your holiday at these places, don't forget to bring our finest camera as the place is very Instagram-able! You must want to capture as many moment as possible. During the night you can enjoy the cold air while stargazing to the clear sky. Sound fascinating, right?