Did you know that your home is not really clean if your sofa is dirty?
There at least two reasons to have your sofa cleaned regularly. First is to help maintain the appearance of your furniture, be it the colors or the shape. Second is to get rid of unwanted pathogens and dirt that can build up on your sofa, which then can cause health to your family.
While cleaning your sofa seems like a tiring and time-consuming job, you can trust that job to sofa cleaning services that are easily available around town. These sofa cleaning services will pick up your dirty sofas, clean them, and then get them delivered back to your home. Some will even clean them at your homes with the least amount of fuss.
Here is the list of sofa cleaning services that you can book in Jakarta:
Deep Clean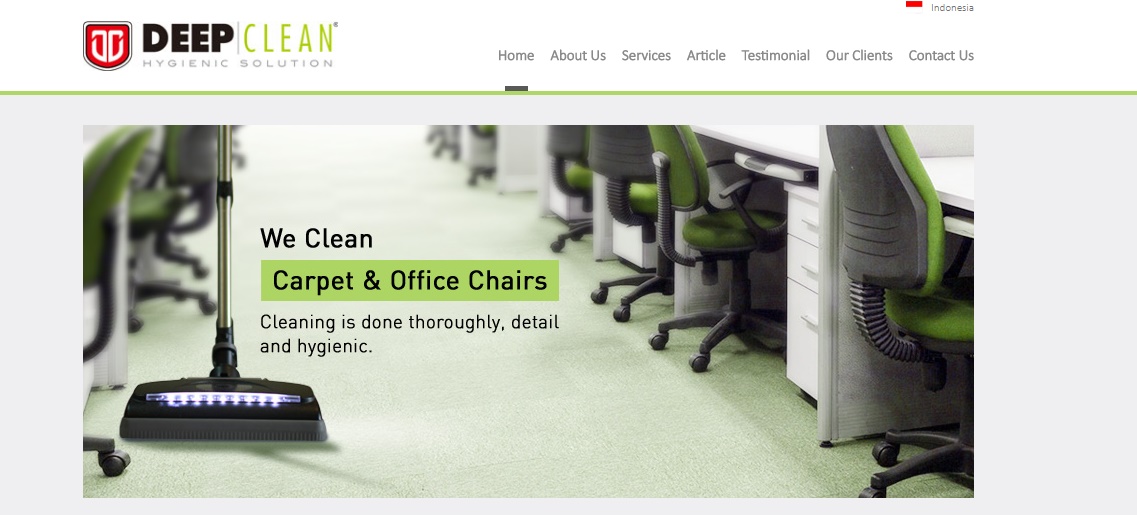 Deep Clean comes as one of the professional cleaning solutions for indoor furniture containing foam. Their vacuum equipments are 100% dry and specially designed to clean up dust, and sterilize furniture from various bacteria and microorganism while maintaining the durability. The technology they are using is from US and has been proven by 8 international certificates, including Canada Anti Allergy Board.
Address:
Greenville Blok AQ No 21 West Jakarta
Springhill Golf Residence, Kemayoran, Central Jakarta
Contact: 021-5671069 (Greenville) or 0851-00859119 (Kemayoran) / WhatsApp 085714644050
http://www.deepclean.co.id/en
De Hygienique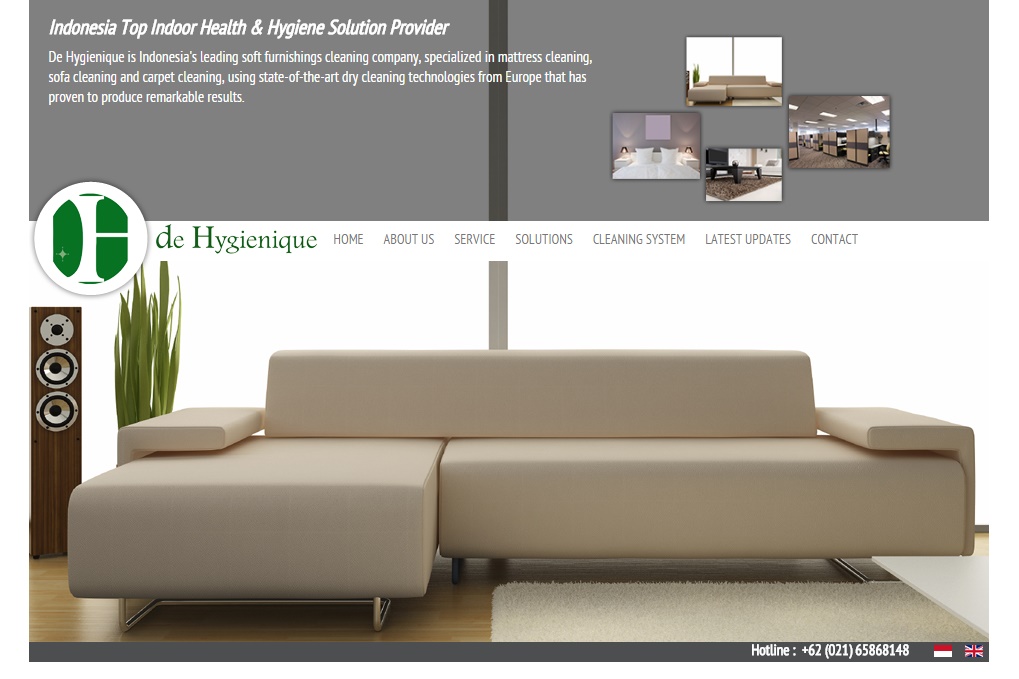 De Hygienique's upholstery and sofa cleaning uses eco friendly sofa cleaning technology, specially formulated in Europe to ensure your soft furniture are effectively cleaned without leaving behind chemical from cleansing agents. Their cleaning agents don't contain any dangerous chemical, so it will be safe for sofa material as well as the environment.
Address: PT Primajasa Sanitasi, Jalan Angkasa 1 No 10 Kemayoran, Central Jakarta
Contact: 021-65868148 (Hotline) or WhatsApp 0821-10365680
http://dehygienique.co.id/en/
Clean & Care by INFORMA

This furniture store also provides sofa cleaning service. You can make a reservation at any INFORMA or Ashley stores in Jabodetabek and Bandung area, and the store will inform the cleaning schedule up to 2 days after registration. The service also applies for non-INFORMA products. The fees vary from Rp140,000 to Rp500,000 for one set of sofa.
Address: Gedung Kawan Lama 6th floor, Jalan Puri Kencana No 1 Meruya Kembangan, West Jakarta
Phone 021-5829090 ext 156 & 842
http://informa.co.id/en/informa-care/services/clean-care
Jeeves of Belgravia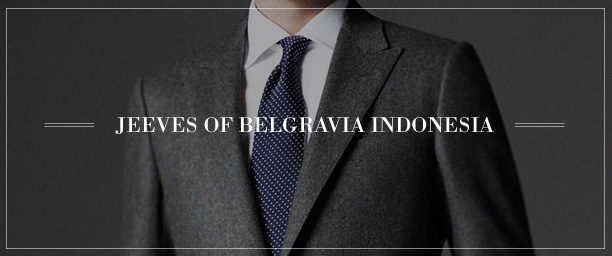 Jeeves of Belgravia is one of the cleaning services in Jakarta. It does not only provide high-quality laundry service, but also upholstery cleaning, including sofa. Jeeves uses a two-step cleaning process because leftover cleaning agents can attract dirt to your furniture. This cleaning service also uses state-of-the-art high quality water treatment system to purify the water they use for cleaning service.
Contact: 021-8199707 or 08112279707 (WhatsApp)
http://www.jeeves-jakarta.com/capabilities/households/ 
Maxi Clean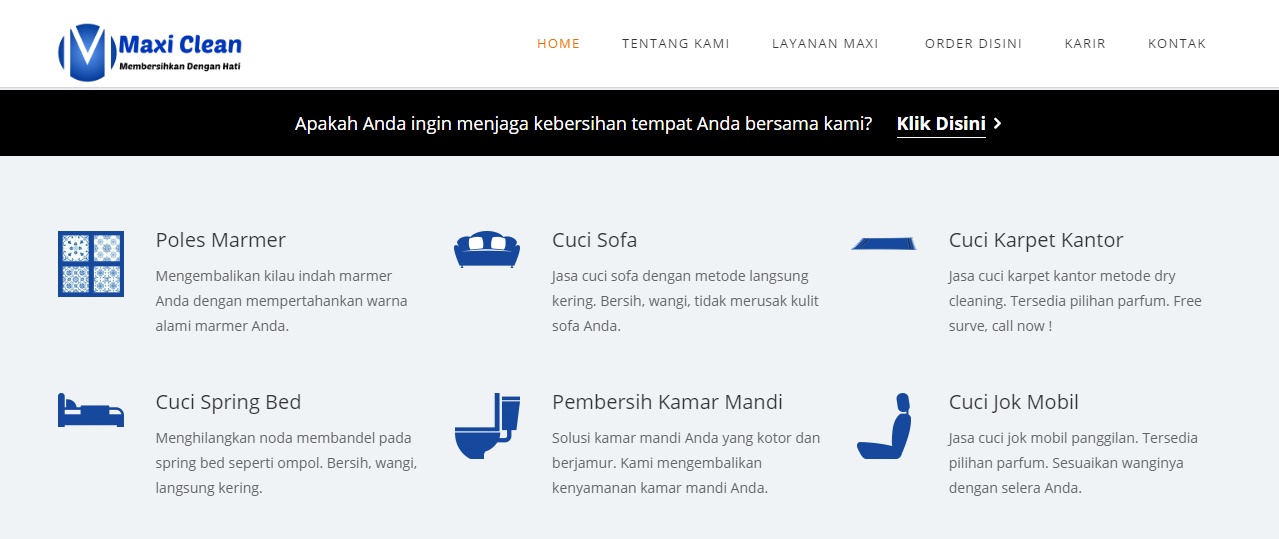 Maxi Clean uses the latest technology and method for sofa cleaning service. They use wet and dry vacuum cleaner, soft brush and pad, special shampoo, deodorizer, and degreaser to clean your sofa. Maxi Clean provides free survey in which their team will come to your home and you can consult with them about your household cleaning needs.
Address: Palma One 5th floor Suite 500, Jalan HR Rasuna Said Blok X-2 Kav 4 South Jakarta
Contact 021-22714641 / 082112122020
For fast order, click here.