9 Hobbies that can be Your Source of Income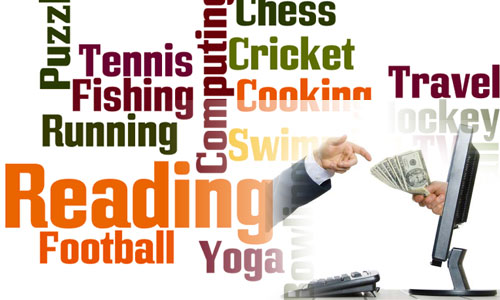 Everybody has at least one hobby. Hobby is something that you enjoy to do and makes you happy. Hobbies are not only for leisure, but it also help you to be smarter as they can sharpen your intelligence. Moreover, hobbies actually can make money too.
Your hobbies and interests are as unique as you are which is why they are also a great source for extra income. Here are some hobbies that can turn into income:
Writing
If you love and are good at writing, don't let it just become a hobby. Don't let your writing masterpieces end up for your eyes only. Who knows that your writing can become a bestseller? Write your own book—it can be fiction or nonfiction. Or, you can build a blog. You can get a free blog domain at blog services such as WordPress or Blogger. You can write reviews from restaurants you visited or products you used. Nowadays, brands are eager to spot third-party endorsement, and bloggers are their targets. Build your entries consistently, promote your blog on your social media or other platforms and build your readership—and just wait until those brands endorse you to be their opinion leader. You can also make money from blogging by using Amazon Affiliates and Google AdSense.
Cooking and Baking
If you know how to cook or bake, there's no limit to the ways you can earn money. Getting a job in a kitchen is so easy. You can build your own food blog, which contains recipes and images of you cooking. You can also learn cooking professionally and be a chef. Always analyze the potential business opportunity in all your cooking and baking activities—who knows someday you can build your own restaurant.
Singing
Many singers started off as cover singers who share their song covers on Soundcloud or YouTube. If you love to sing in your bathroom, why don't share your beautiful voice to the world? There are many ways you can do. You can sing at the gigs in the restaurants, joining the singing festivals, or simply share your singing in social media. Don't forget to build connection with local recording studios and record stores, in case anyone's looking for a singer like you.
Telling Jokes
If you love to make people laugh to your jokes, go make money from it. The easiest way is going out to amateur and open mic nights to perform in front of live audience. You can also make comedy videos and upload it to YouTube. You can also write comedy books, or draw comedy comics to get your hilarious jokes more exposure to the public.
Dancing
If you like to move it, you can always get money as a dancer. Join to dance schools and classes, where the dancers usually perform on concert or other dance gigs. You can also make a living by being dance teachers, as people both young and old love taking classes.
Drawing
Nowadays, people with great drawing skill and have good eyes for design are on demand. Making money from drawing does not always mean that you make an artsy painting and sell it—you can make money from your hobby by creating logos or other branded merchandise for companies. Or you can build your own business by selling t-shirts or sketch by order, being a comic and caricature artist.
Gossiping
Gossiping is not always a bad thing if you know how to take it wisely. If you love keeping up on all the latest gossip, journalism is the right job for you. Depending on the subjects you're into, getting into journalism is really easy—all you need to do is keep up with the news that relates to you.
Socializing
Ever heard about celebtweet? Celebtweets are those who have great presence on Twitter, have thousands of followers and huge reach to their community. If you love to tweet, share some information or simply sharing your life; why not make this into something profitable? You can be an influencer through your Twitter or your other social media accounts. Your socializing hobby is also great asset for you to connect with brands or companies that might need your ability to influence people through social media.
Photography
If you have an eye for photography, websites such as Shutterstock allow you to sell your work in image format. You can also consider freelancing or even professional photographer. Start showcasing your captures on your Instagram account to gain more recognition from public.
Doing what you love is great. But making money by doing what your love is priceless. Do you agree?