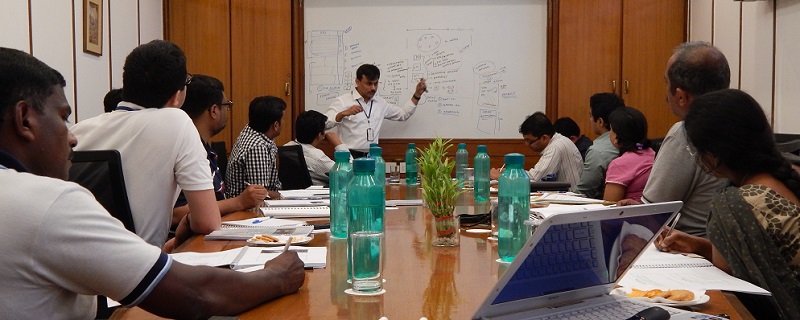 Date & Time: July 28 – 29 2016 from 9:00 am – 5:30 pm
Venue: Hotel Ritz Carlton, Mega Kuningan, Jakarta
Fee: IDR 10 Million
This program introduces agile and scrum to the audience and follows a life cycle approach where participants get to learn how to practice agile values and principles in real life projects.
Learning Objectives
Demonstrate knowledge of agile values and principles in group discussions
Demonstrate knowledge of scrum roles, ceremonies and artifacts in end of course assessment test.
Demonstrate knowledge of working with product backlog in case study where group need to perform release planning.
Demonstrate knowledge of Story Point estimation in case study where group has to estimate the product backlog
Demonstrate interpretation of release burn down, sprint burn down and velocity chart in case study.
Demonstrate knowledge of value-driven development, adaptive planning techniques, and how to cultivate collaboration.
Deliverables
Two Days of interactive training / workshop
Participation certificate to all attendees
Participants gets 16 PDUs (Professional development Units) by attending this program; Certificate will be given in electronic format.
One year membership of Scrum Alliance to each participant
Participant get certificate from IC Agile : ICAgile Certified Professional (ICP)
Trainer Profile:
Date & Time: July 28 – 29 2016 from 9:00 am – 5:30 pm
Venue: Hotel Ritz Carlton, Mega Kuningan, Jakarta
Fee: IDR 10 Million
Organized by PT Infotech Solutions,
307 Palma One,
Jl HR Rasuna Said Kav X 2/4,
Kuningan, Jakarta 12950
Indonesia
Tel: +62-21-5228775 |Fax: +62-21-5228824
url: www.infotech.co.id
Contact Marliana at +6221-5228775 or email marliana@infotech.co.id