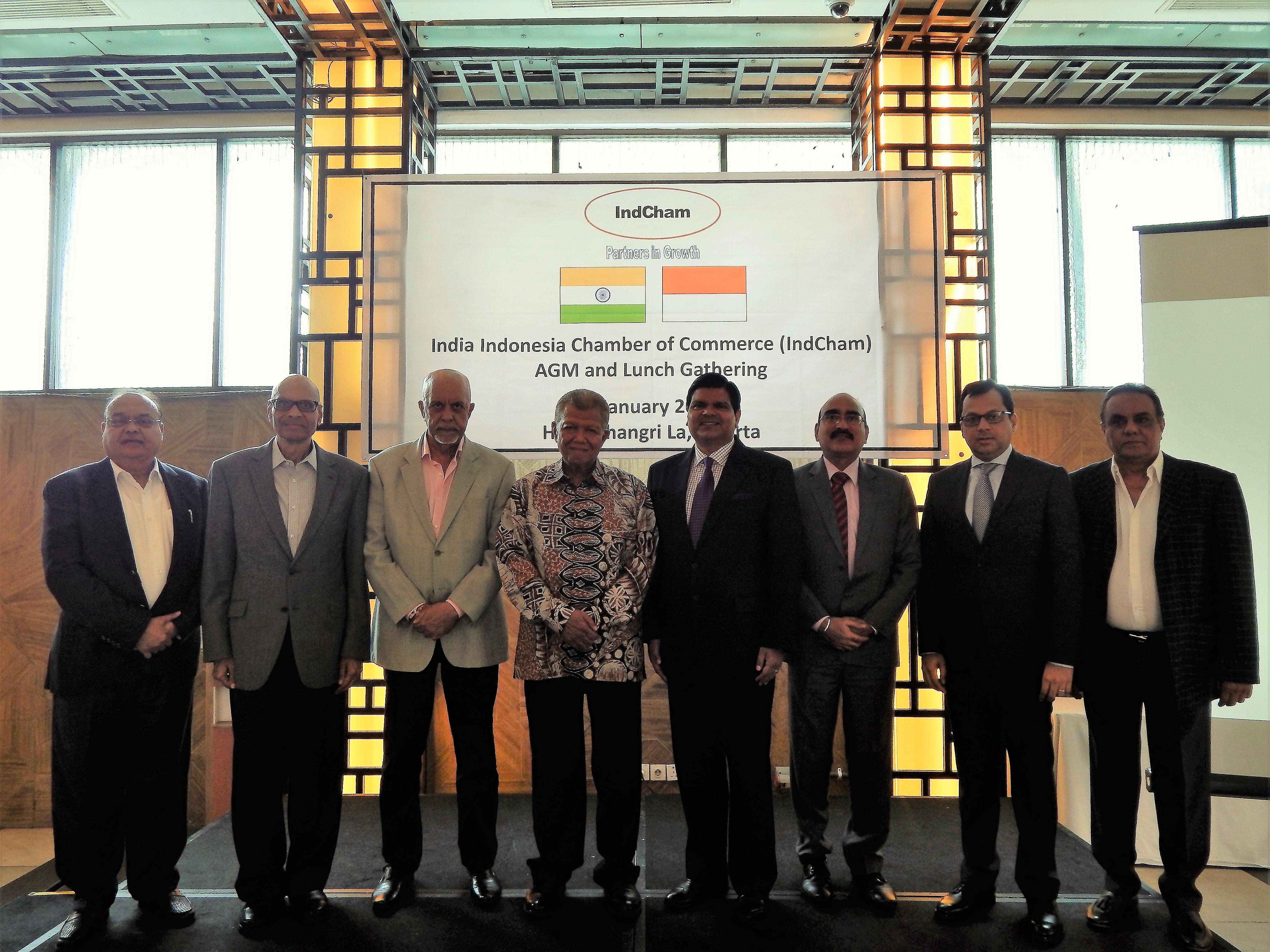 India Indonesia Chamber of Commerce (IndCham) was previously known as ECAII or the Economic Association of India and Indonesia and it has a rich 40 year old history. It has played an important role in developing India-Indonesia economic relations over the years and various senior industrialists and professionals have been members of the institution. However, during the last 5 years IndCham had become rather inactive for a variety of reasons. It was therefore heartening to note that 2018 has begun with good news as on 9 January the revival of IndCham was announced under the dynamic leadership of well known senior strategic advisor, writer and educationist Amol Titus.
IndCham has 6 Patrons (Ambassador of Indonesia to India Mr Sudarto Suryodipuro , Ambassador of India to Indonesia Mr PK Rawat, Mr Sofjan Wanandi, Mr SP Lohia, Mr KK Agrawal, Mr HM Mahtani), Chairman Mr Marzuki Usman and a 10 member board (Mr Amol Titus, President from IndonesiaWISE, Mr PK Jalan (Vice President and Treasurer from Indorama Group), Mr Vijay Agarwal (Vice President from Embee Plumbon Textil), Mr H Singh (Vice President from Ames International), Mr Kapil Agarwal (Aditya Birla Group – Indonesia Spinning Companies), Mr Abhishek Yadav (Tata Power), Mr V Thiyagarajan (TVS Motors), Mr V Ravi Shankar (Asia Pacific Fibers), Mr MS Sharma (Bank SBI Indonesia) and Mr M Khetan (BK Modi Group). IndCham is targeting around 60 corporate members and 40 professional members as part of its revival.
Ms Poonam Sagar attended the AGM and Members Gathering at Hotel Shangri La and spoke to the new President regarding future vision and plans of this important Chamber of Commerce.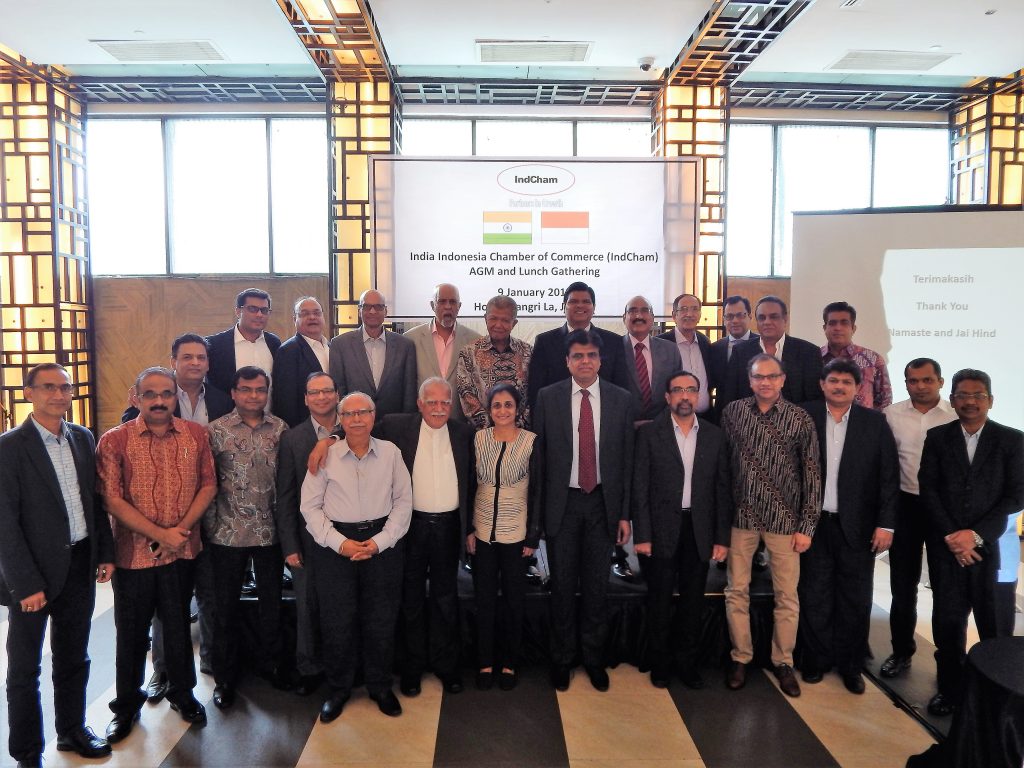 Q : Congratulations Amol. We are all excited that you have taken over as President of IndCham along with a new Board.
A : Thank you Poonam. I would like to first thank the members of IndCham for trusting me with this big opportunity and I also congratulate all the other office bearers. My approach is to work in a collaborative and consultative manner with them as well as colleagues from Embassies, government agencies, KADIN, India Business Forum, businessmen and professionals that have an interest and desire in boosting economic and trade ties between our two great nations.
Q: You have been a past President of IndCham so what will be new this time around.
A: I believe I am taking over at a very crucial time for 3 reasons. First, this is the 40th year of the institution and it is vital that we revive, reactivate and restore it to its old glory. Institutions must never be allowed to stagnate and as someone who has been associated with IndCham (previously ECAII) for around 20 years, including as a past President, I believe we can make IndCham an important stakeholder again in the India-Indonesia relationship.
Second, recently released data shows that India's trade deficit has reached a record level of USD 10 billion against Indonesia. This is largely due to continued high Indian imports of palm oil and coal from Indonesia. A high lopsided trade balance is neither healthy nor sustainable and IndCham would like to work closely with government of India in ensuring greater and faster access for Indian pharmaceutical, engineering, food, IT and services exports to address this imbalance. At the same time we would like to assist Indonesian companies in boosting non commodity exports to India as it is a huge and prospective market with an attractive middle class demographic and rising purchasing power.
Third, while several major Indian business houses are present in Indonesia and are expanding their footprint less than 5 percent of the major Indonesian business houses have a significant presence in India. It is vital that we attract FDI from Indonesia given Indonesia's growing list of billionaires and cash rich companies. It will be a win-win situation as the Indonesian markets are getting quite saturated and in order to continue to grow Indonesian companies will need to expand overseas. India is a great destination and under various flagship programs of the PM Narendra Modi led government such as Made in India, Digital India and various ease of doing business initiatives, it should be easier than before for Indonesian companies to penetrate Indian markets.
Prime Minister Modi is yet to visit Indonesia and I am once this happens there will be greater momentum on the trade and economic side. IndCham's revival is therefore timely and we will ensure that we are fully geared up and committed to enhancing trade and economic ties.
Q: At the meeting you mentioned that IndCham also wants to focus on cities outside Jakarta. Can you please elaborate on this?
A: As a Visiting Professor of Management at leading universities, I often advise my students to manage by visiting the frontline. As you well know there are no factories in Jakarta and India's business footprint is spread across cities like Semarang, Bandung, Surabaya, Purwakarta, Karawang, Medan and others. Even for services projects teams are often working at remote locations. Therefore IndCham would like to adopt a "roadshow" based approach and facilitate events in these cities and dialogue with local government authorities so that issues can be addressed and additional opportunities for collaboration are identified.
Q: Finally, Amol we all wonder about your ability to manage so many passions simultaneously – strategic advisory, education, writing and now IndCham. How are you able to juggle all these and more importantly to justice to them all?
A: The operative word you used Poonam is "passion". I do agree each of these is very time consuming and energy draining. However, if you have a passion and enjoy what you do then you are able to multi task and excel. Collaboration is also vital and I am grateful for the blessings and good wishes of my family and seniors.
Thank you and IndoIndians looks forward to supporting IndCham as a media partner.