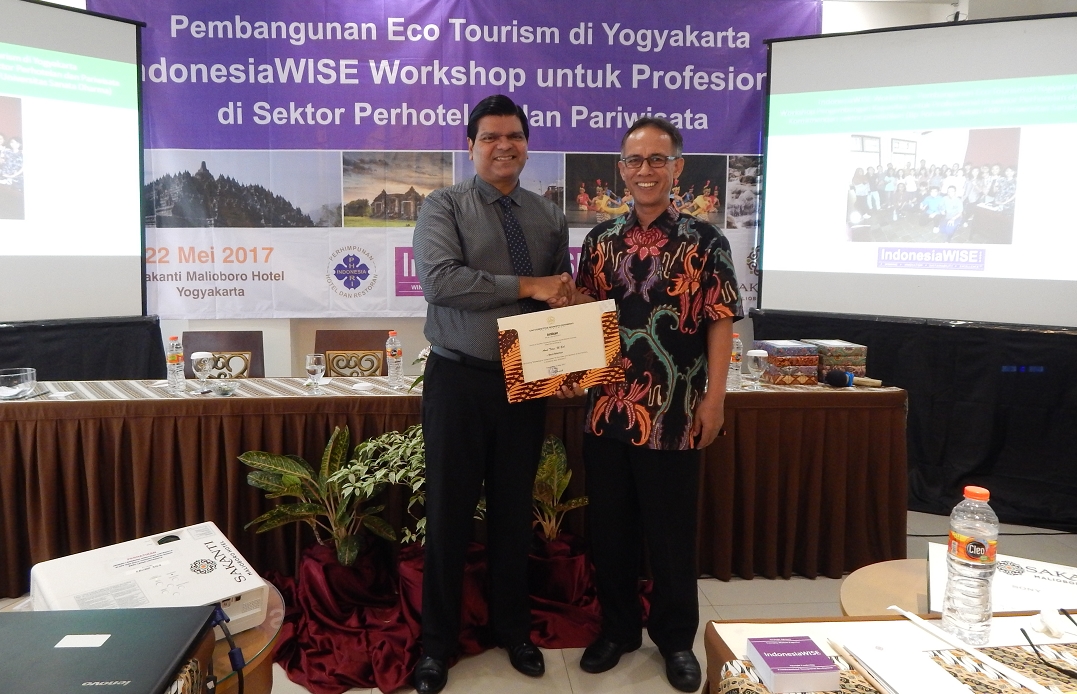 It is a matter of pride that India and Indians enjoy a positive reputation in Indonesia. While centuries old cultural, trade and political ties have played their part a major contribution has also been made by Indian professionals working across the archipelago. Well known senior strategic advisor, writer and educationist Mr Amol Titus is one such widely respected professional. For over a decade and a half he has been actively engaged in supporting the country's education sector through teaching, skills based training, institutional development and excellence and mentoring of youth and professionals. In recognition of his efforts Universitas Sanata Dharma, one of the top rated universities of Indonesia based in Yogyakarta, has awarded Amol its prestigious Best Mentor award. He is the first Indian to win this award and on behalf of the Indonesian-Indian community we congratulate him. Poonam Sagar spoke to Amol regarding this award and on the important topic of talent development and mentoring.
Q. Heartiest congratulations Amol. If I am not mistaken this is your hat-trick of awards from leading Indonesian universities – IT Bandung, Binus International Jakarta and now Universitas Sanata Dharma Yogyakarta. Tell us about how it feels to win this prestigious award.
A. Thank you very much Poonam. Yes this is the third award and I feel humbled. The first two awards were related to subject expertise and teaching while this award is for mentorship. So in a way this is recognition of my evolution from being a lecturer and coach to also being a mentor. As lecturers, especially as visiting ones, the initial scope given to us is quite limited. You are allotted a schedule with some classes related to your subject expertise. To be able to expand this scope through excellence that is recognized by peers and students and earn their trust so to be able to mentor young Indonesians, is truly satisfying.
Q. We have learnt that you have taught, trained and mentored around 5000 individuals in Indonesia. This is an amazing number. Please share with us about various facets of your teaching and mentorship.
When I first came to Indonesia in 1998 I realized that the country was in the process of rebuilding after the terrible political and socio-economic crisis that it had endured at the time. As a child my parents had taught me that it was much better to contribute rather than criticize and this lesson has been my driving force when working both in India and in Indonesia. Since both countries have very young populations with over sixty percent below the age of 30 years, I developed a passion of contributing through education. Fortunately, since I am also a writer some of my columns on management, economic development and sustainability got noted and I was invited by leading Universities to become a guest lecturer.
I quickly realized that much of the curriculum being taught was outdated of using a borrowed Western context that was irrelevant to the local condition. I started to develop my own case studies and focus on skills based competency development of students. This received an enthusiastic response from them as well as co-faculty and I was able to develop strong relationships with Universities.
I also realized that there exists a significant gap between academic institutions and the corporate world. Curriculum is not aligned with industry requirements, there is excessive focus on theory as opposed to practical problem solving and there is inadequate emphasis on values oriented learning. As a result many youngsters with degrees are struggling to find jobs in a challenging economic environment. As you are aware with a high degree of automation and technology companies are looking for 'knowledge+++' at the time of recruitment. In a nutshell this '+++' is right attitude, relevant skill and commitment to learn and grow with the organization. So I got involved in imparting competency based skills to students and young professionals and providing mentorship for their thesis, projects and career development.
The 5000 number is a combination of students attending my courses, professionals attending the various skills development programs and seminars offered by EmergingWISE and IndonesiaWISE and various multi-stakeholder projects we have undertaken with institutions and government agencies. It was in relation to one specific project on eco tourism in Yogyakarta and Central Java where I have been working since 2014 with Universities like Sanata Dharma to develop skills, interface with the hotel and tourism sector and mentor students. They have been kind enough to appreciate my contribution through the Best Mentor Award.
Q. What are the qualities of a good mentor and why is mentorship so important for leaders today?
I believe that there are 4 critical qualities in a good mentor. First, mentoring is about sharing without imposing. While mentors must share their knowledge, experiences and perspectives it is important that these are not imposed on mentees or individuals being mentored. You are there to provide guidance but let them blossom and grow in accordance with their ability and inclinations. I have observed that mentorship often fails in organizations because the mentor who is often senior and qualified ends up lecturing during mentoring sessions and tries to fashion the protégé's behavior and choices after his own. Mentoring requires a selfless guidance oriented mindset as opposed to the "boss is always right" approach which is locally also known as 'asal bapak senang'.
Second, mentoring is about patience without compromise on individual or project progress. Let me explain further. When I mentor a student on her thesis or a young professional at a company or a project that has been undertaken, I make it a point to be patient. There needs to be time for learning, understanding, clarification, debating of options etc. One has to be accessible and listen with an open mind. However, I keep the overall objective in mind also – there is a deadline for thesis completion, a professional has to address her weaknesses and improve in order to meet career development protocols and a project has got milestones in terms of time and expected outcomes. So a fine balance has to be struck between patience and ensuring that there is forward movement. Forward movement creates motivation amongst individuals.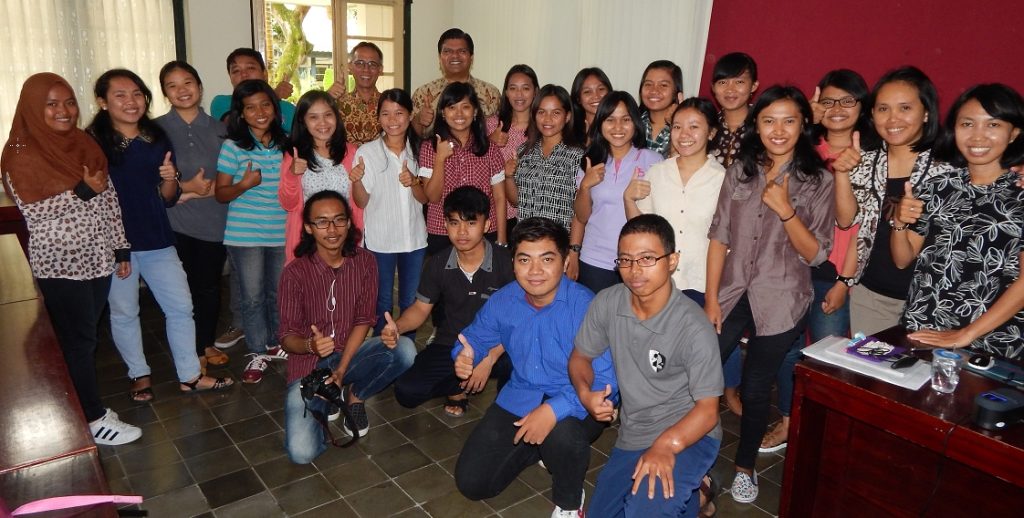 For example, in 2016 I was mentoring a research team on eco tourism in Yogyakarta consisting of professional researchers as well as students from Universitas Sanata Dharma. The students were included so that they could acquire practical skills, get project experience and exposure to a sector which is one of the major sources of employment in the province. One had to be very patient in the beginning and there were times when the students were discouraged by their experiences or found the tasks difficult to complete. Their doubts, questions and uncertainties had to be listened to and clarified. Often they were encouraged to find their own solutions which they did quite well. But in parallel the project was being moved along since research completion, analysis and multi-stakeholder socialization was scheduled for mid 2017. As the project progressed students grew in confidence, became more skilled and their contributions increased. When an important project milestone was achieved in February 2017 their sense of pride and self belief was very moving to observe.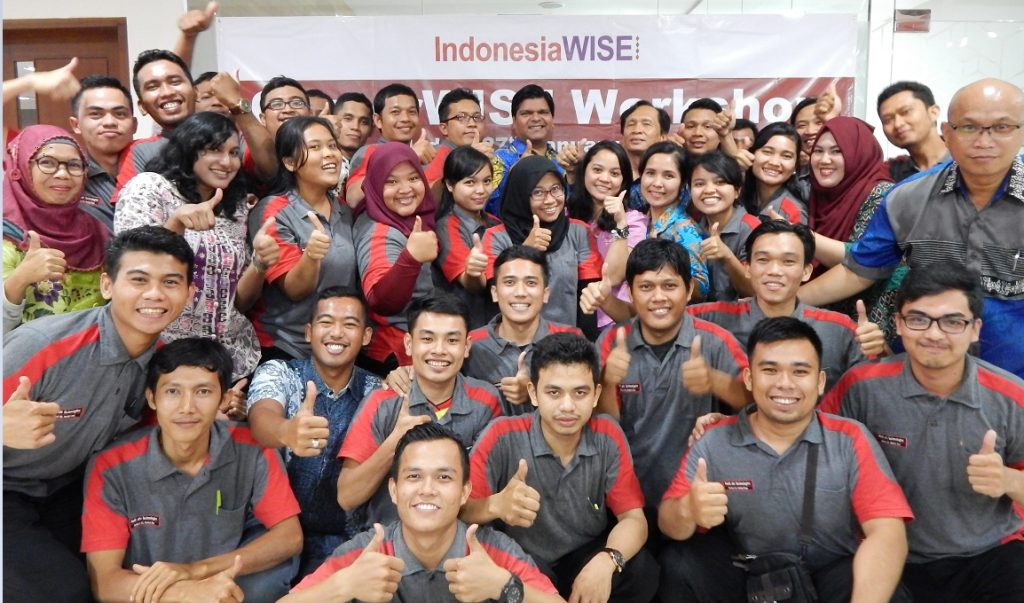 Third, good mentoring requires giving constructive feedback without personal putdowns. As a mentor you must give timely feedback and sometimes identify shortcomings. But this needs to be generally done through encouragement, positivity and by reiterating your belief in the protégé's potential. This will help the individual open up and trust you more. If you indulge in personal putdowns then the individual can retreat and withdraw which derails the mentoring process.
Fourth, good mentoring is about leading by example without hypocrisy. As a guide you are likely to be imparting advice on values and behaviors. The protégé is looking at you to see whether you are "walking the talk" on integrity, passion, commitment and personal standards of conduct. When mentors or leaders say something and do the other it creates a credibility gap. The power of youth also comes from their sense of idealism and mentors must, therefore, act as good role models to channel this idealism and energy in the right manner.
All the above points are very relevant for leadership and I am pleased to see several Indonesians whom I have mentored since 1998 rising to senior positions in their respective careers. I am also proud of mentoring projects related to factory supervisors working in remote locations across the archipelago. To help guide their careers, which at times are stuck for want of right advice, is also satisfying.
Q. How does it feel to be the first Indian to win this award?
A. Once again it's very humbling. I have always believed that the foundation of the Indonesia-India partnership must rest on people to people relationship and contacts. As you know Indonesia is a relationship based society and they value relationship based contributions more than transactional ones. Since I have been associated with educational institutions over the long term and helped complete projects from inception to launch, there are strong bonds of trust. If my commitment has been recognized and can possibly help others who are also similarly inclined then it makes me happy and motivated to keep moving ahead. In years to come India's contributions to Indonesia through education will increase and I am honored to have built a positive reputation in this area.
Q. Finally, Amol many people admire your ability to balance your professional work with your writing and achievements in education. How do you manage to do it?
A. I believe it is due to a combination of passion and collaboration. I approach teaching and mentoring with passion and that drives me to go the extra mile for my students and mentees. Since I often teach on weekends this involves sacrifice of family time and social activities but the smiles, gratitude and progress made by students and professionals makes it worth it. And I also enjoy collaborating with universities, companies, industry associations, government bodies and civil society organizations on multi stakeholder initiatives. One should never believe and he or she possesses all the answers. You learn through interaction and experience and a collaborative approach enhances the quality of your mentoring.
For example, last year I pioneered an initiative called Best of India KNITE (Knowledge-IT-Engineering) where an annual platform has been created for professionals from leading Indian companies to mentor students in these critical areas for Indonesia. Such collaborative mentoring approaches have a positive multiplier effect and will be an important part of my education based efforts in the future as well.