ASEAN Countries Chamber of Commerce and Industry Business Summit at Bengaluru on 25-27 Feb, 2019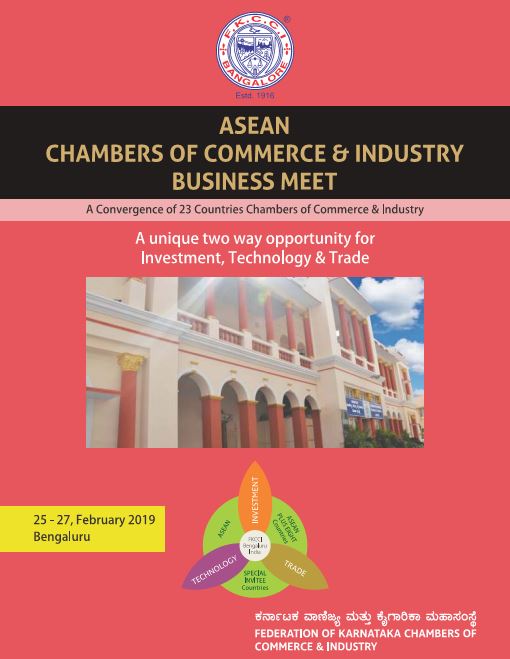 Federation of Karnataka Chambers of Commerce & Industry (FKCCI) is organizing the ASEAN Chamber of Commerce & Industry Business Meet on February 25-27, 2019.
H.E. Mr. Narendra Modi, Hon'ble Prime Minister of India, His Excellency Mr. VajubhaiVala, Governor of Karnataka, Mr. H.D. Kumaraswamy, Hon'ble Chief Minister of Karnataka & Mr. K.J. George, Hon'ble Minister for Large and Medium Scale Industries, IT, BT, S&T to inaugurate the event on February 25 at the Banquet Hall of Vidhana Soudha. Mr. Suresh Prabhu, Hon'ble Union Minister for Commerce & Industry and Civil Aviation will be participating with other Ministers from Central and State Governments. The inaugural event will be followed by a two-day Business Meet at Hotel Lalit Ashok.
This is a unique initiative by FKCCI that brings together the Chambers of Commerce, Exporters and Importers of ASEAN, ASEAN Plus countries along with some Special invitee countries, on a single platform to promote Trade, Business and Investments on one platform for mutual benefit of both the host country as well as the participating countries.
The ASEAN Meet will enhance the two-way investment, Trade and Technology flow from 22 countries into Karnataka in the 14 identified sectors with around 1,500 delegates from Chambers of Commerce, Business & Industry, Embassies, Consulates and Government expected to participate, apart from a slew of B2B, B2G, B2C meetings and a trade exhibition with 150 stalls of exhibitors from different countries including India with a footfall of 3000 per day.
Identified Sectors for the ASEAN Chamber of Commerce & Industry Business Meet are given below:
Automobile & Auto Components
Aero Space and Defense
Engineering/Fabrication
Smart Cities
Agriculture/Horticulture & Food Processing
Health & Pharmaceuticals, Ayurveda, Yoga & Herbal
Tourism
IT & Startups
Textiles & Garments
Gems & Jewellery
Eduction & Skill Development
Fintech
Logistics
Medical Electronics
FKCCI will extend Hotel Stay for two nights, i.e. for 26th & 27th February 2019 to all delegates.  US$ 480/- will be charged as delegation fee per participant.  The delegates are expected to explore the investments in the 14 sectors specified above.
A brochure on the event is attached herewith.