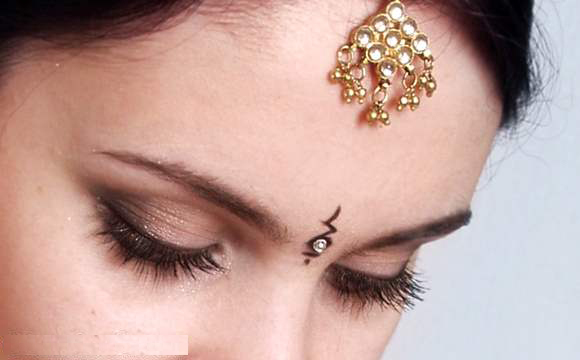 Creative bindis are making a fashion statement. Guess what, they are really simple as you can do them yourself! All that is required is a fine bristle paint brush, wax kajal, even poster colours will do and of course loads of your imagination!!!
---
These bindis look stunning with Indo-Western or fusion clothes specially. Black is the hot favourite here. So wax kajal is the best possible option for decorating your temple.
Take enough wax kajal on your paint brush but ensure that the bristles are intact. According to he size of your brow draw, elaborate zig zag, creeping, geometrical patterns vertically. If your forehead is wide compared to your face, draw thick lines and if your brow is narrow make the lines thin.
In order to ensure that the bindi does not get smudged you can touch up the design with a little eye liner. If you want to look funky with coloured bindis you can try poster paints that will match your attire!
But don't forget to give a black, navy blue, bottle green or dark brown outline to the bindis. These dark outlines will make your effort really stand out!