Diwali – New Year Annakut Mahotsav 2018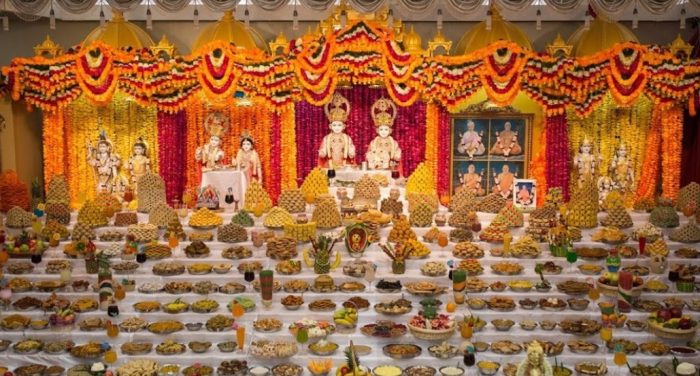 Jai Swaminaryan / Jai Shree Krishna,
We cordially invite you, your family and friends to celebrate the new year Annakut festival to be hosted by BAPS Swaminaryan Sanstha, Jakarta, and supported by Gujarati Samaj, on 10th November 2018 Saturday from  5:30 PM to 7:30 PM
In the Annakut celebration we will have unique devotional offering of many varieties of exquisitely decorated vegetarian delicacies arranged in tiers and steps, in front of the lord and thaal is sung in a pleasant manner, glorifying the food items, praying lord to accept them. Offering Annakaut ( mountain of food )  to Bhagwan  is  a symbol of appreciation & gratitude  for everything  He has given to us . This way we thank him before starting a new year. We will also have bhajan and videos followed by a grand Arti and serving of Maha Prasad (dinner).
DIWALI – NEW YEAR ANNAKUT MAHOTSAV, Supported by Gujarati Samaj
VENUE: Taman Kemayoran Condominum, Hall TKC, PRJ, Kemayoran, Jakarta.
RSVP :
Praful Gohel : 0815 1382 8819 Niket Parikh : 0815 1900 7880
Haresh Desai : 0812 9373 235 Vipul Thakkar : 0812 9087 7733
Tarun Kinariwala : 0818 0691 2441 Dharmesh Lathia : 0817 9938 190
E. mail : [email protected]
A Devotional and Decorative Annakut offering of Hundreds of Vegetarian Delicacies on
Saturday, 10 November 2018
Time : 5.30 PM to 7.30 PM
(Mahaprasad will be followed by the Event)
Please bring along  your family, friends and enjoy the celebration of Annakuth festival.
Thank you & Regards
BAPS INDONESIA / GUJARATI SAMAJ