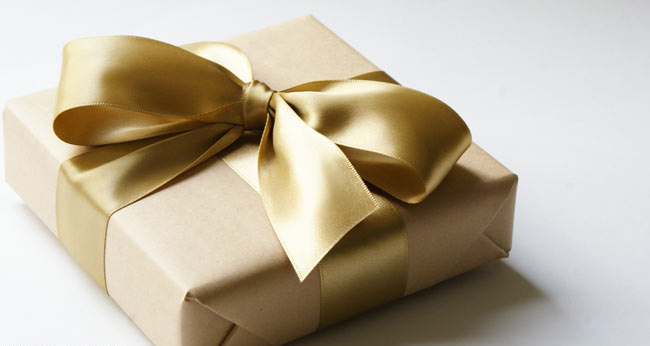 Whether you are looking for unique ideas for wrapping holiday
presents
, or a gift "just because" these simple, yet elegant wrappings will impress even the hardest to please recipients.
Antique Papers
When scouring flea markets, thrift stores and garage sales, look for old books of poetry, sheet music or beautiful illustrations. Don't worry about the shape they are in; you will be using the contents, carefully separated from their binding, to wrap your tiny treasures in. Although the less brittle the paper the better, find books that might be of interest to the recipient – an old book of poems for the secret scribe, sheet music of a favorite shared song, or illustrations of botanicals for the gardener in your life. I've found that library sales offer the best deals and selections when using antique papers in which to wrap your gifts. I've seen some books that contain several hundred sheets of paper sell for less than one dollar.
If the gift box is too big? No problem. Simply lay out several sheets, overlapping the edges slightly and glue them together with an acid free glue available in craft stores. Finish wrapping the package by tying a grosgrain or satin ribbon around the package adding the bow at the top. You may insert a sprig of dried flowers or fauna into the tie of the bow for a finishing touch.
Muslin
Before there was paper gift-wrap, people wrapped items in fabric. A simple, inexpensive way to use the same concept is to buy a few yards of unbleached cotton muslin available at any fabric store and some craft shops. Muslin can be bought for as little as .75 a yard and renders a beautiful, natural looking wrapped package.Â
Simply measure and cut the fabric just as you would regular wrapping paper and secure edges by using double-sided tape. Finish each package with torn strips of muslin for bows or for a more natural look, several strands of raffia.
Tulle
For baby showers, wedding gifts, gift baskets or wrapping several items up for your houseguests, nothing beats the ethereal look of tulle. Bought either in yardages (for as little as .35 per yard at discount stores) or ribbons in virtually any color, this versatile little netting can cinch up just about anything in a flash without going to too much trouble. Because the fabric is see-through, the look is ethereal.
To wrap with tulle simple place item or items in the center of a cut piece large enough to cover all items with approx. 5″-6″ as selvage. Gather all the fabric to the top and tie with a scrap piece of tulle or ribbon.
Vellum
Although vellum is widely used in scrapbooking, invitations and crafting in general, don't hesitate to use this versatile transparent paper in wrapping small gifts. Vellum comes in printed or plain sheets, large or small and can even be found at office supply stores.
To add finishing touches to a vellum wrapped present, loop a small piece of ribbon once, trim edges at an angle and attach to top of package with a wax seal.
Ribbon

If all else fails, always have a good stock of fabric ribbon to wrap last minute gifts. The world renowned Tiffany's, when asked to gift box an item, simply ties a white satin ribbon around their trademark robin's egg blue box. Beautiful. Simple. And while you may not be Tiffany's, you can still use their idea by using small or wide ribbons tied around plain white boxes. My favorite? White on white. It's timeless, effortless, sophisticated and is appropriate for any occasion.
Read also: eco-friendly gift un-wrapping.