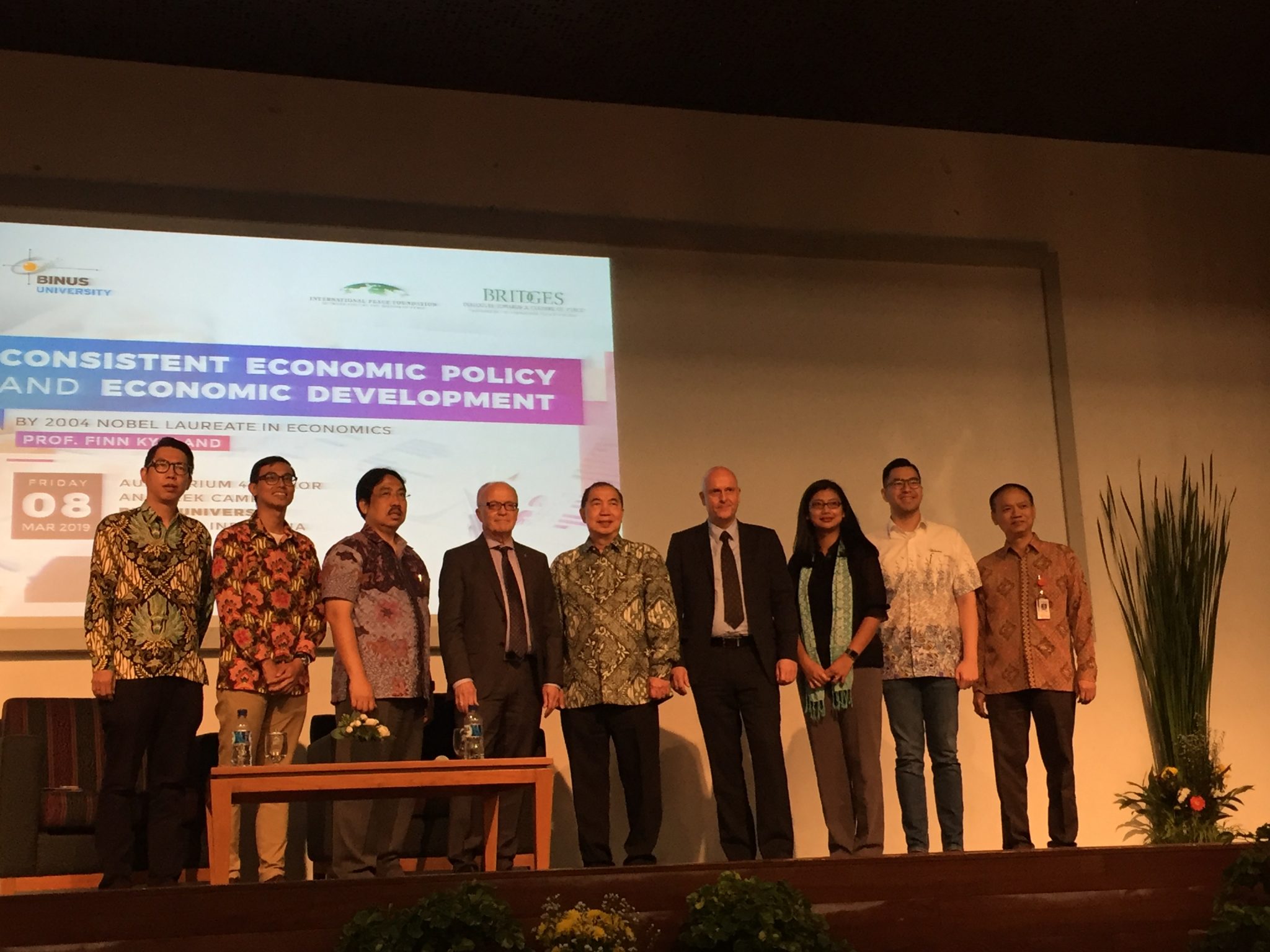 On the 8th March 2019, Bina Nusantara University  invited a prestigious speaker 2004 Nobel Laureate winner in economics category, Professor Finn Kydland to come to Indonesia for knowledge sharing economic seminar.
The auditorium was filled with participants abuzz when the seminar was opened by COO and Rector of BINUS, Bernard Gunawan. As Indonesia is in process of improving its economy, BINUS students are expected to fulfill their role and be able to participate in a more globalized world.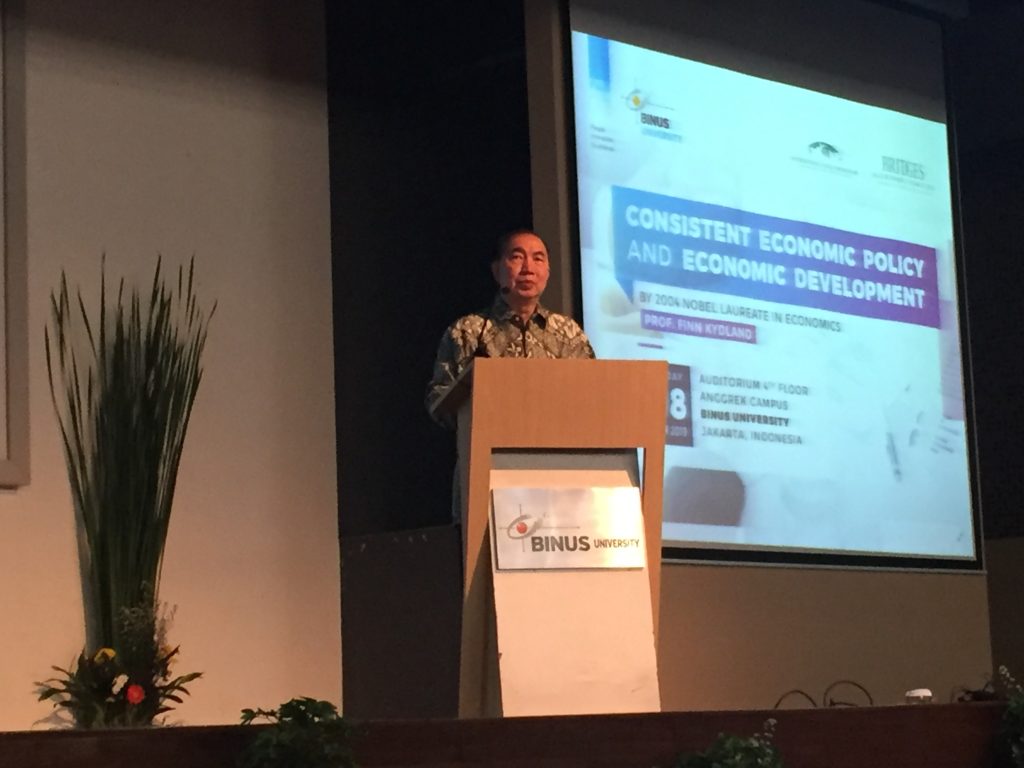 Chairman of International Peace Foundation, Uwe Morawetz, also spoke to the room. With this collaboration, he hopes to synergize peace and education in the growth of corporations which would spill over to various parts of life such as corporations, politicians, scientists, artists, the media and onwards to our families, friends and communities. Some of the foundation's efforts include building bridges among communities by listening, opening up to new talks and developing innovative forms of corporation.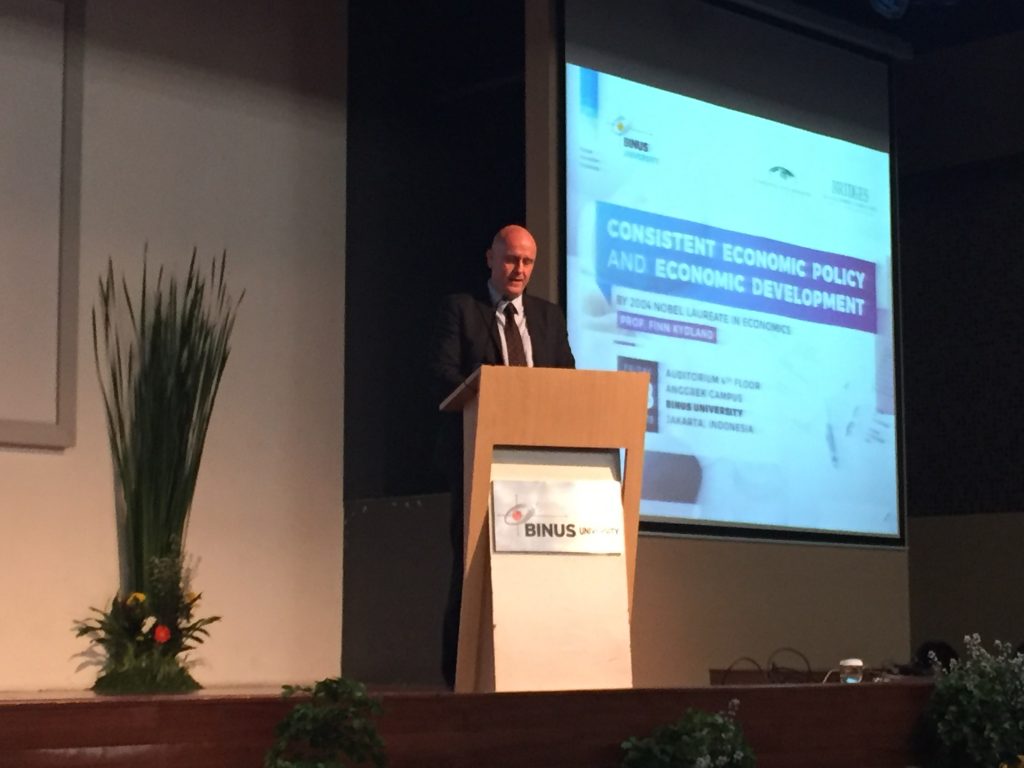 Finally, the economic seminar began with the introduction by moderator and lecturer Dr. Gatot Soepriyanto.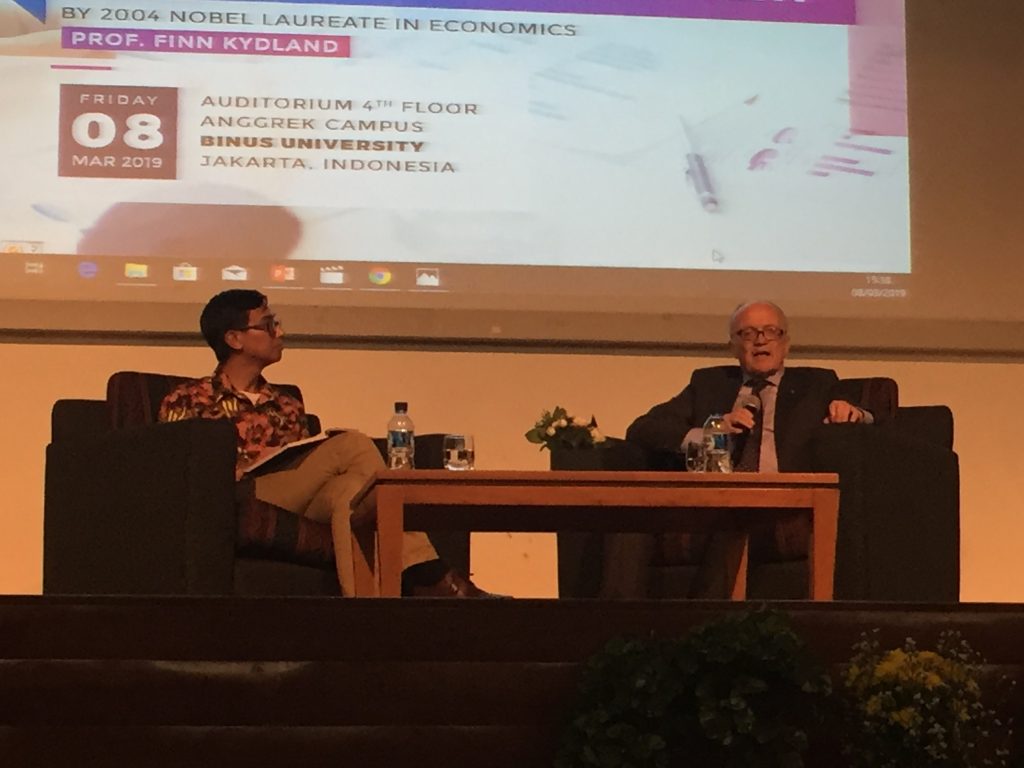 All in all, the seminar lecture by professor Finn Kydland was very informative and has opened up many eyes on the role of government and consistent economic policies to a country's economy. This trend is not only seen in some countries, but major countries who are economically strong as a whole. Even countries with moderate economic power have proven his views on the subject.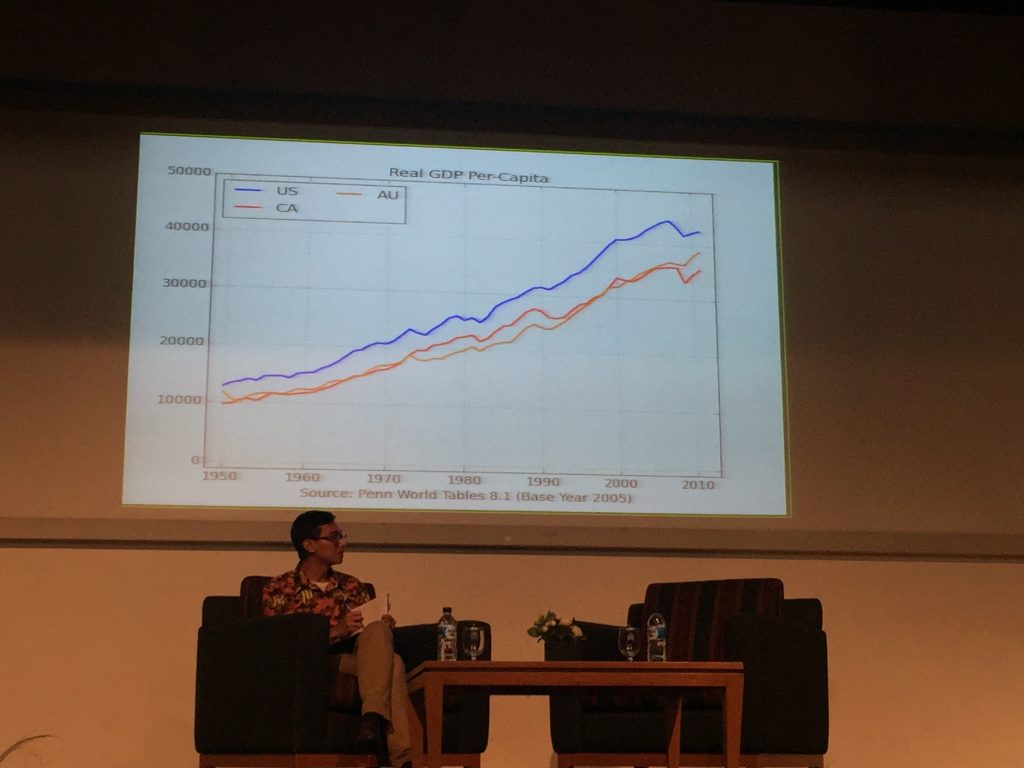 Many people raised their hands during the panel session to inquire his thoughts and opinions on various issues on economy including about Indonesia's economy in the future and the digital revolution. Interestingly, there is a large variety of people attending the event from BINUS school students to government project workers.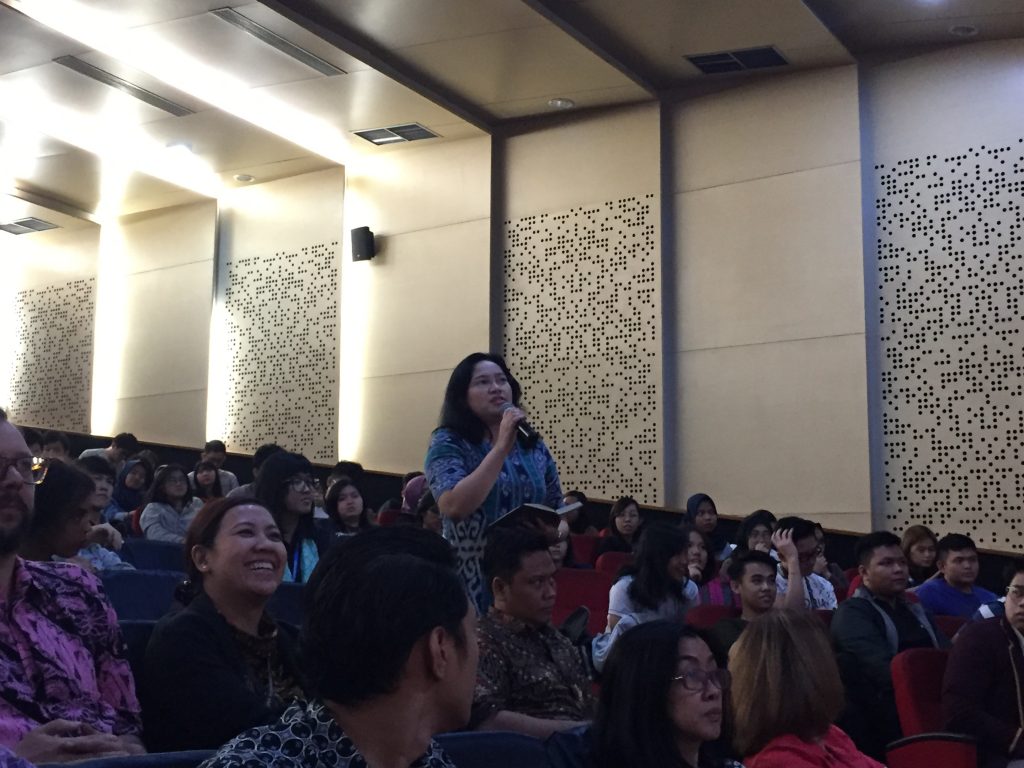 Press Conference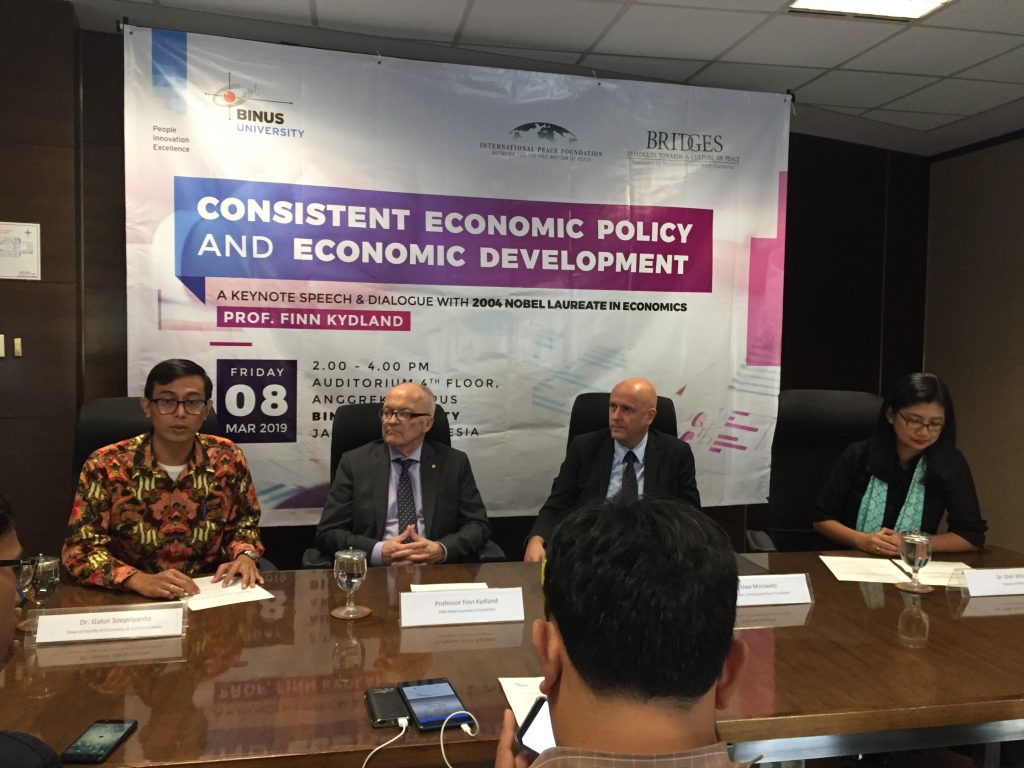 Afterwards, a press conference was held for any additional questions to Professor Kyland.
Dr. Diah Wihardini, director of BINUS Global and host of the event said in the press conference, "The primary reason is because BINUS university have a vision to become a global university by always facilitating our students to have a more global experience. We expect our students to have a wider knowledge base or have a much more global perspective, which is why we regularly invite foreign speakers and field experts. Second of all, we hope to apply our second mission which is to educate and empower society to help build and serve Indonesia through participation in ASEAN Bridges events. Other than that, we aim is to empower our students, the future generation and the general public to actively participate in the knowledge development brought by these Nobel winners. These educational talks serve as inspiration to motivate the future generation in working and persevering to helping our beloved nation on their efforts for a lasting development. It is also an effort on our part to strengthen the ties of friendship amongst us."
Uwe Morawetz was also present to answer questions, to which he was asked, "Why has IDF chosen indonesia and BINUS university to conduct the bridges program especially with the regard of sustainable economic development?"
As a reply, he explained, "We have hosted many bridges events in Indonesia since two years ago where we hosted events together with Universitas Gadjah Mada and University of Indonesia. During this time we bought various nobel laureates in physics, chemistry, medicine and economics to speak here in indonesia under the chairmanship of vice president Yusuf Kalla.
Uwe continued, "At that time we had no one for physics to speak at the university. Now, the university chose a nobel laureate for economics. Maybe in the future there will be other nobel laureates in other fields-someone from chemistry for example, can come and speak at binus university. Our foundation facilitates the dialogue because we think that the first step towards peace is dialogue and that the basis for peace is education. Those are the main reasons why we bring the nobel laureates to speak at the universities here in Indonesia."
Professor Finn Kydland present in the room was asked, "what are the lessons that you are hoping the audience took from your lecture?"
"The main one-which is the hallmark of modern macroeconomy-is about the hypotenuse of expectations for future policy. What happens, what actions are taken by households and businesses this year, next year and such. One of the key messages would be what represents good policy from perspective of welfare in Indonesia. Clearly it's better if you have had a good idea about what congregated circumfer would be a good thing. Even if it's not the completely optimal policy, yet it's a good policy and everyone can feel confident about making their important decisions in the expectation about what they would be from the next 5 or 10 years," he replies.
By Myanya Khintan Sabrina