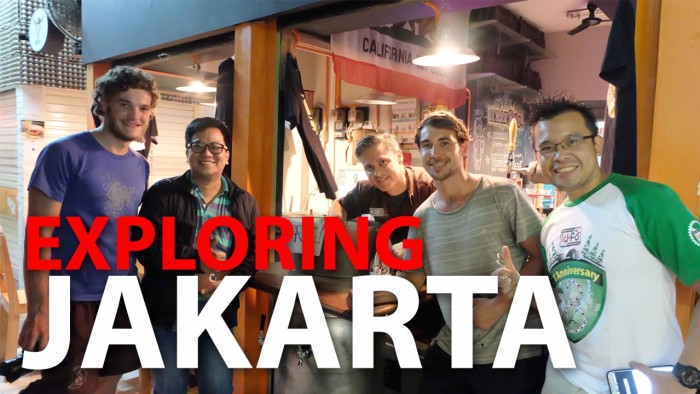 Here we are living in the vibrant city of Jakarta, capital of Indonesia one of the most diverse countries in the world. The largest archipelago in the world with more than 17,000 islands, this vast country stretches 5,000 kilometers from east to west. In an area so large, the range of customs, languages, architecture, religions, music, art and theatre is as great as you are likely to find anywhere on the globe. How can we possibly hope to learn it all?
---
Well of course, we can't. However we can set aside a little time to learn something about the culture of some parts of Indonesia, in particular the city that we are living in. With a population of over 10 million people Jakarta is home to a blend of international, modern, traditional and tribal communities and has many fascinating destinations just waiting to be explored. But where to start, what information is available and is it really safe to go off exploring on your own?
The Indonesian Heritage Society provides the answer to many of these questions. This group of over 700 members both Indonesians and expatriates from more than 40 countries is dedicated to the study and enjoyment of Indonesia's rich cultural heritage. Members of the Indonesian Heritage Society can take part in any of its activities, and you will find that the activities aren't stuffy and studious as you might imagine, but lively and fascinating. Members meet together in an informal atmosphere and every event is also a great opportunity to make new friends from many different countries and walks of life.
Of particular benefit to newcomers to Jakarta are the Explorers Groups, which visit interesting and unusual places that individuals might hesitate to visit alone. The philosophy of these groups is to try and encourage people to explore and learn about the enormous wealth and diversity of history and culture, both past and present, in Jakarta and its environs. The Explorers have three sessions each year; the first runs from October to December, the second from February to May, the third from June to August. Members of the Indonesian Heritage Society can join at any time, and even though it is not always possible to place people in their preferred group because of numbers all efforts are made to accommodate everyone whenever possible. Explorers Groups can choose whether to meet weekly, fortnightly, or monthly and, as a group, select their tours from a list of 100 options that have been researched and tested. The tours are designed to last from 2 to 3 hours and are held during the daytime, usually in the morning. Each group member has to organize a tour and register a tour report so that any advice or changes can help improve future tours.
Possible tour destinations include: gamelan and batik workshops, the National Museum or Wayang Museum, markets, a stained glass factory, a traditional Javanese wedding demonstration, an orchid garden or the Botanical Gardens at Bogor, a janur palm-leaf weaving workshop (hands-on craft lesson), the Presidential Palace, a gong factory, the orangutan shelter and primate centre (meet orangutans up close). This is just a small sample from the available tours, but it does reflect the diversity of activities and destinations.
The number of members making up each Explorers Group ranges from 15 to 24, but the optimum number is about 20 given the limited space in some of the venues visited. Group leaders meet at the start of the season to review any administrative developments, exchange ideas and provide a support system for their group members and the Explorers organization itself. The Explorers provides a valuable and unique opportunity for newcomers, long-term residents as well as Indonesians to find their way in and around Jakarta while learning about the citys vast repository of historical, cultural, creative and entrepreneurial skills within a welcoming, friendly atmosphere, where friendships are made and knowledge is increased exponentially.
The Indonesian Heritage Society Library houses an extensive collection of books, slides and magazine articles about Indonesia. The library is freely available for the use of members with the following opening hours:
Monday: 09:30 15:30
Tuesday: 09:30 15:30
Wednesday: 09:30 12:30
Thursday: 12:30 15:30
Friday: 09:30 12:30
Last Saturday: 09:00 14:00
(of each month)
---
If you enjoy museums you can also explore Jakarta's many museums with the Indonesian Heritage Society. A good way to start is by joining a tour of the National Museum conducted by trained Indonesian Heritage Society volunteer guides. This museum houses a huge collection of artifacts from all over the archipelago. Tours are available in English, French, Japanese, Korean, and other languages on request. Check with the Indonesian Heritage Society to find out when these tours are scheduled. The Indonesian Heritage Society works closely with the National Museum, being involved in projects involving photography, documentation, translation and labeling.
The Indonesian Heritage Society also offers Study Groups, which meet regularly to learn about particular aspects of Indonesian culture. In any one year there may be groups devoted to ceramics, textiles, Indonesian literature, peoples of the archipelago, contemporary Indonesian art, Indonesian history or how Jakarta works. Any topic can be studied, provided there is enough interest. Each participant studies and presents one topic and for the rest of the year enjoys learning from the other participants. Study groups meet once or twice a month and there is also an Evening Study Group.
Heritage Tours offer members a chance to travel to interesting destinations anywhere in Indonesia. Tours last several days and are led by people with knowledge and experience
of the area. Each participant must research a small topic to present during the trip.
Two series of Evening Lectures that are open to the public are organized each year, with members or invited guests speaking on a wide range of topics related to Indonesian heritage. The next series of lectures will take place in October and November on Tuesdays at 7:30 p.m. with the following schedule of fascinating topics:
October 6
THE CORAL TRIANGLE:
Indonesia at the Heart of Marine Bio-diversity by Rili Djohani
October 13
PRESERVING KOTA TUA:
Keeping up with History in Todays World by Budi Lim
October 20
FROM YOGYAKARTA TO THE OUTBACK AND BEYOND:
Indonesian and Australian Batik Encounters by Nia Fliam
October 27
LINGUISTIC DETECTIVE WORK:
Tracing the Origins of Loanwords in Indonesian by Uri Tadmor
November 3
CONTEMPORARY INDONESIAN FOOD:
Cooking for Todays Palates, combining Cultures and Cuisines by Petty Elliott.
November 10
THE ROLE OF ISLAM IN INDONESIA:
Putting a Historical Context to the Present by Robin Bush.
Other activities of the Indonesian Heritage Society include School Programs, whereby volunteers go to some of the international schools to give presentations to elementary level children, and a new program of daytime talks in homes called Rumahku. To learn more please see the website www.heritagejkt.org, call the Library on 572 5870 or drop in to the Library on the 17th Floor of Sentral Senayan I (beside Plaza Senayan). If you would like to join the Indonesian Heritage Society and take part in any of the activities offered you will be most welcome to attend the Indonesian Heritage Society's Annual Welcome Meeting to be held on Thursday, September 3.
Provided by: Colliers International