Global Housing Technology Challenge – India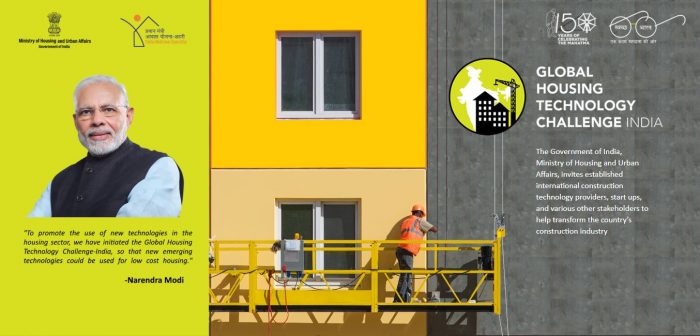 India's urban population is expected to reach 40% by 2030, contributing to 75% of India's Gross Domestic product (GDP) due to rapid urbanization. The increasing housing requirements of cities in India would provide enormous opportunities for investments by stakeholders from across the globe including from the housing technology providers.
2. Prime Minister of India has envisaged a paradigm shift in technology using large scale construction as an opportunity to get the best available construction technologies across the globe. The shift in technology transition will address the large scale housing construction in minimum time and minimum cost with efficient usage of resources and environmentally sustainable practices.
3. In this context, Ministry of Housing and Urban Affairs (MoHUA), Government of India has initiated a "Global Housing Technology Challenge-India (GHTC-India)". The challenge shall have various activities such as conduct of Grand Expo-cum-Conference, identifying Proven Demonstrable Technologies for 'Lighthouse Projects' and establishment of Affordable Sustainable Housing Accelerators – India (ASHA-I) for incubation and Accelerator support amongst others. The winners of this challenge will be suitably awarded by the Hon'ble Prime Minister of India. A dedicated website for the GHTC-India namely www.ghtc-india.gov.in has been created for easy reference and for participating in the challenge under various components.
4. GHTC-India has been launched on 14th January 2019 and a Grand Expo-cum-Conference on GHTC-India is being organized at Vigyan Bhawan, New Delhi during March 4-5, 2019 (tentative). This Global Expo intends to have participation from wide range of stakeholders such as global technology providers, private and public sector agencies, developers, entrepreneurs, researches, technical institutions among others from across the world. The Expo will have panel discussions, inspiring talks/sessions, exhibitions of prototypes, models, digital and poster displays, exchange of knowledge and business part from providing networking opportunities.
5. Through the Expo, the invitees will be able to showcase their technologies and expertise through Models, Prototypes, Digital and Poster Displays and Presentations. The Expo shall also provide a unique opportunity for B2B interactions with global as well as Indian industry partners and explore further areas of collaboration, signing of MoUs and work in India on housing construction sector. With US $2.85 trillion GDP, India is one of the largest and fastest growing economies in the world. The construction is emerging as the third largest sector globally; it may reach US $738.5 billion in value by 2022 and, therefore, it is an opportune time for these globally available technologies to come and be a part of 'Make in India'.
6. MoHUA have been undertaking consultations with various stakeholders in order to frame this challenge. During these consultations, MoHUA has identified 38 countries and Indonesia is one of them, which have done important/pioneering work in the area of innovative housing construction technologies which are sustainable, safe and can deliver affordable houses expeditiously.
7. Technology providers, Construction companies, Developers, Business entities, are suitable informed and encouraged to participate in the Expo-cum-Conference being organized in India through technology demonstration and further implementation of lighthouse projects in India.
8. Confirmation of participation may also be shared with Ms. Jessy Novrianti, Marketing Assistant at Indian Embassy, Jakarta on her mobile No. 085693999552 or email ID [email protected]