IEF 2016 – Driving Innovation: Reshaping Indonesia's Economy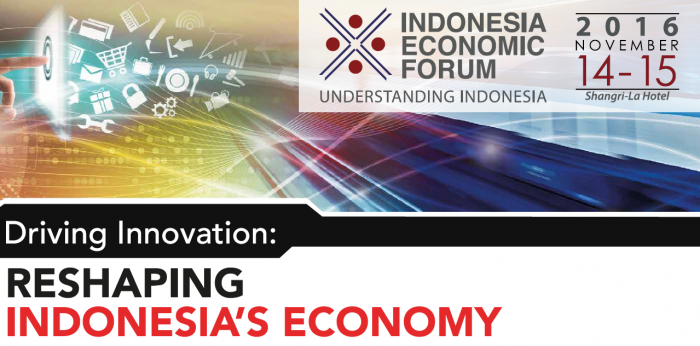 Dear IndoIndians  Members,
We are pleased to announce IndoIndians Partnership with the Indonesia Economic Forum.
The Indonesia Economic Forum (IEF)  welcomes IndoIndians members to attend the plenary session on November 15, 2016 that will be held at the Shangri-La Hotel in Jakarta.  IEF aims at creating actionable information and knowledge that will help business leaders contribute to the growth of their companies, their countries and the region. It holds a series of activities throughout the year, including an annual conference, monthly roundtables, weekly insight reports, daily news monitoring social media platforms and a quarterly journal.
Each year, IEF focuses on a unique theme that is fundamental to Indonesia's growth story. This year, the theme is "Driving Innovation: Reshaping Indonesia's Economy".
IEF 2016 will feature several key speakers such as BKPM Chairman Thomas Trikasih Lembong, Minister of Communication and Informatics Rudiantara,  Ancora Capital Founder Gita Wirjawan, Six Capital Founder Patrick Teng, Berkarya! Indonesia Founder Ilham A. Habibie, Managing Director of Tusk Advisory Raj Kannan, Fintech & Data Science Expert Abdalla Kablan, Director MatahariMall.com John Riady, Nickhil Jakatdar, Co Founder and CEO Vuclip Inc, USA, and Rector of Gadjah Mada University Dwikorita Karnawati.
Please visit http://indonesiaeconomicforum.com/conference for the detailed program.
IndoIndians members receive special rates for attending the conference.
Rp 2,500,000 per seat
Rp 18,000,000 per table (seating 8)
For further inquiries and bookings, kindly contact Jessica Sihotang at [email protected]
We look forward to seeing you at IEF 2016.
Best regards,
Indoindians Team