Incredible India Education Fair 2017 (IIEF2017)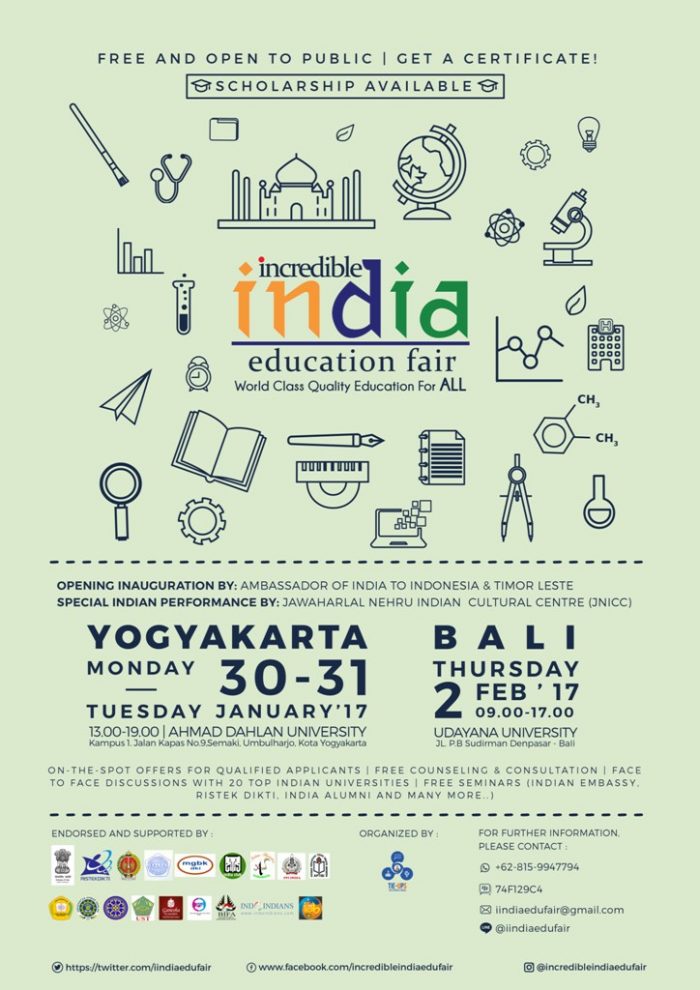 Incredible India Education Fair 2017 (IIEF2017) an initiative of TIE UPS in coordination with Embassy of India in Indonesia and conducted in response to the continuous growing interest among STUDENTS (Indonesian, Persons of Indian Origin and Indian Expatriate /NRI) to study overseas (India) for their tertiary education (Bachelor, Masters and/or Doctoral Programs).
The Indian Education System (TIES) is well known for providing world class education in IT, Management, Engineering, Medical Science, Media, Social Sciences and other fields of study. This is evident from the fact that Major MNC's across the globe flock to India's various institutes to recruit students. The aim of IIEF2017 is to create awareness and showcase to the diverse community in Indonesia (including NRI, OCI, PIO and Indonesians) about the positives of TIES which includes:
Quality of Education – Lecturers, Facilities
Affordable Cost of Tuition Fee & Living (including Books)
Friendly Environment – including Halal Food (for Indonesians)
Cultural Similarities – Language, Food, Entertainment (Bollywood)
IEF2017 is endorsed and supported by Embassy of India Jakarta, Ministry of Research, Technology and Higher Education Indonesia, Association of Private Higher Education Institutions in Indonesia and Ministry of Higher Secondary Education Indonesia and will be held as per the following schedule:
Yogyakarta: 30 – 31 January 2017 (13.00 – 19.00) at Universitas Ahmad Dahlan, Yogyakarta
Bali: 02 February 2017 at Universitas Udayana, Bali
To vist the Education Fair, you need to register. The details are as follows:
Yogyakarta – http://www.itie-ups.com/iief/?page=14&act=YG
Bali – http://www.itie-ups.com/iief/?page=14&act=BL
The objective of IIEF2017 is to establish:
Opportunity for NRI / OCI, Indonesians (Parents and Students) to obtain information about Indian Universities and Institutions.
One-stop point for all matters pertaining to travel to India for educational purposes including Scholarships
Educational links between Universities of India and Indonesia for mobility of students/academic staff.
The Indian Universities who have registered to visit Indonesia (list incomplete; though till date):
Manipal University (www.manipal.edu)
SRM University (www.srmuniv.ac.in)
Delhi Technological University (www.dtu.ac.in)
AIMS Institutes (www.theaims.ac.in)
Sathyabama University (www.sathyabamauniversity.ac.in)
Vellore Institute of Technology (www.vit.ac.in)
Dr Ambedkar Institute of Technology (www.dr-ait.org)
Nitte University (www.nitte.edu.in)
Garden City College (www.gardencitycollege.edu)
Hindustan University (www.hindustanuniv.ac.in)
Chandigarh University (www.cuchd.in)
Christ University (www.chirstuniversity.in)
Somaiya Vidyavihar (www.somaiya.edu)
Thapar Univeristy (www.thapar.edu)
For regular updates on the universities participating (details) in IIEF2017 and other related information, please join us at:
FB: www.facebook.com/incredibleindiaedufair
Twitter: @iindiaedufair
Instagram: @incredibleindiaedufair
In case you need any further information or free counseling for Indian Education, please do not hesitate to contact us at:
HP/WA: +628159947794 or
Email: [email protected] / [email protected]
Thank you and we look forward to seeing you at IIEF2017!