INDO TAMILS brings Tamil Movies to Indonesian Theaters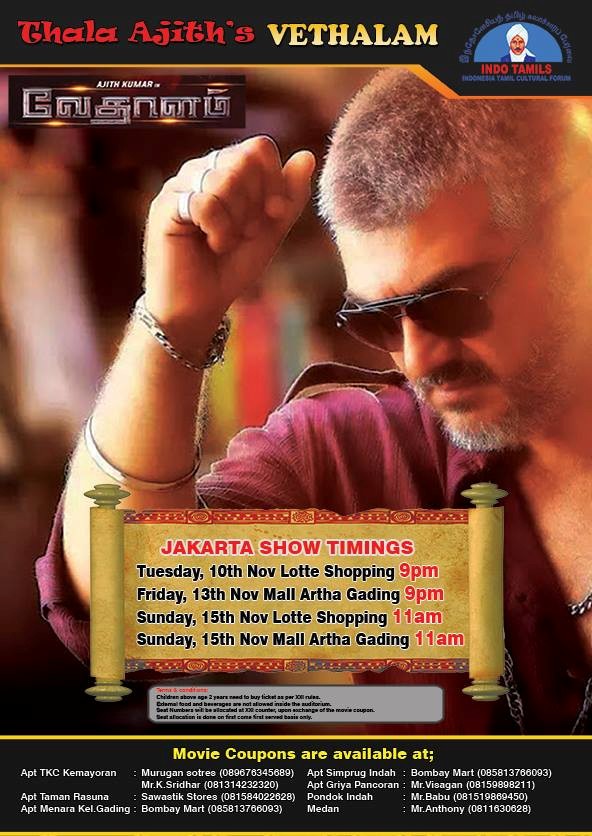 INDO TAMILS is the first Tamil forum to bring Tamil movies to Indonesian Theaters, Inspired by the overwhelming support of all our followers & well wishers, we have been bringing Tamil movies consistently for the past 1-1/2 years, Starting from our first movie KOCHADAIYAAN by Superstar Rajini kanth, which was released on 23rd May 2014, followed by several super hit movies such as LINGAA,YENNAI ARINTHAL, UTTAMA VILLAIN, MASS, PULI, and VEERAPANDIA KATTABOMMAN.
INDO TAMILS is very proud to announce the release of it's EIGHTH Tamil movie"VETHALAM" in INDONESIA which is a special show for DEEPAVALI 2015.We request your continued support for our efforts to entertain the Tamil population living in Indonesia. With all your whole hearted support, we are very hopeful to march ahead to serve the Tamil community, in spite of hindrances that might block our way time to time.
VETHALAM is an Action masala commercial film written and directed by Siva, withThala AJITH Kumar and actresses Shruti Hassan and Lakshmi menon acting in lead roles, Music by Anirudh, cast Soori, Thambi Ramaiah, Aniket Chouhan etc.,
Almost Similar to our previous Tamil movies, VETHALAM will be released as per the following schedule;
Jakarta Schedule:
Tuesday,10th Nov [email protected] 9PM
Friday,   13th Nov  MAG    @  9PM
Sunday 15th Nov  MAG    @11AM
Sunday 15th Nov  [email protected]
Medan Schedule:
Friday,  13th Nov HERMES @ 9PM
Sunday 15th Nov HERMES @11AM
Sunday 15th Nov HERMES @ 9PM
Bandung Schedule:
Tuesday10th Nov CIWALK @ 9PM
Please book your tickets in advance;
Please contact VISAGAN-08159898211 for any further info;
INDO TAMILS wishes all of you a very Happy Deepawali

Regards,
VISAGAN – INDOTAMILS