Indoindians next event is Indoindians Holi Color Run 2020  is a 5 Km color run/walk to coincide with the Indian festival of colors HOLI on Sunday, 1st March 2020. An opportunity for families to participate in a fun, color-filled event which will culminate in a Bollywood Dance along and DJ with lots of food tents – A festive celebration of the colors of joy with fun 5k run/walk, dance and food.
IDCR Indoindians Holi Color Run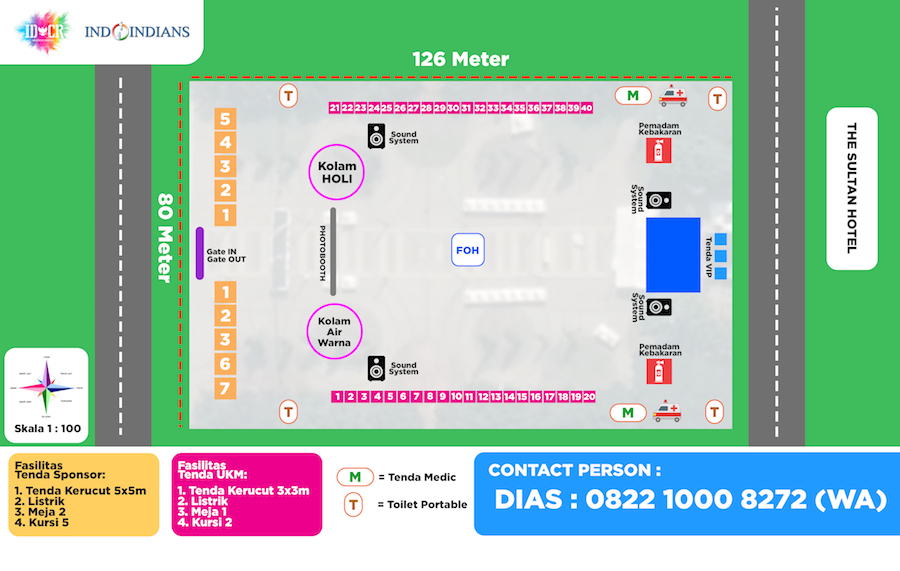 Only 40 tent booths are available at IDR 3 million each for vendors. Hurry Register today!
An opportunity to showcase Indian food, products and services while connecting  to the local communities and the Indian diaspora in Jakarta. Over 10,000 participants are expected at this Holi Color Run. The event will also generate a huge amount of offline and online promotions.
Featuring:
Live cooking stalls
Food products
Household products
Handicrafts
And much more
Also an opportunity for service providers to promote themselves at the event.
More information on Holi Color Run here as a presentation.
Tent Booth Specifications:
Size: 3m x 3m
Furnishing: 1 table + 2 chairs
Electricity available
Terms & Conditions:
Only products specified by the vendors in the registration form can be sold during the event
Set Up: Doors for set-up for exhibitors will be opened from 5.00 am on the day of the event. Kindly be early for set-up and avoid traffic congestion in the loading area. All Exhibitors must complete their table display 30 minutes before the event start time on the same day. Should you need assistance from any venue staff, please go through the Organizer. Vendors are required to stay till the closing time of the event.
Timings: Indoindians Holi  Color Run – Sunday, 1st March 2010, 6:00 am to 11:00 am. Kindly note that all participants need to be present for the entire duration of the event.
Sub Letting: Sub-letting of the table space by vendors is strictly prohibited. Substitute vendors will not be permitted to participate.
Cancellation: Last Date for Cancellation Should be by 30 days before the event date, in writing to event@indoindians.com. A cancellation fee of IDR 1000,000/ is applicable to any cancellation of a confirmed booking, under any circumstances. Cancellations made less than 30 days of the event will not be eligible for any refunds, under any circumstances. After the cancellation the exhibitor will have no claims on table space.
Payment: participation fees have to be paid in full to be eligible. Payment details will be shared with registered vendors. Tables cannot be put on hold for more than 3 days without receipt of payment.
Loading and Unloading: Loading and setup need to be complete at least 30 minutes before the event starts. Loading / unloading instructions will be provided prior to the event.
Advertising: Extensive advertising is done through Indoindians website and its communications channels to relevant audiences and communities. Further advertising is ensured through promotion campaign to over 100K reach.

Holi Run page with vendor listing on Indoindians website
Holi Run update mailer every 2 weeks featuring all new vendors
Please join our facebook page at www.facebook.com/IndoindiansJkt to help cross promote your brand.