Indonesia Economic Forum 2018 – Connecting Indonesia: A New Five Year Agenda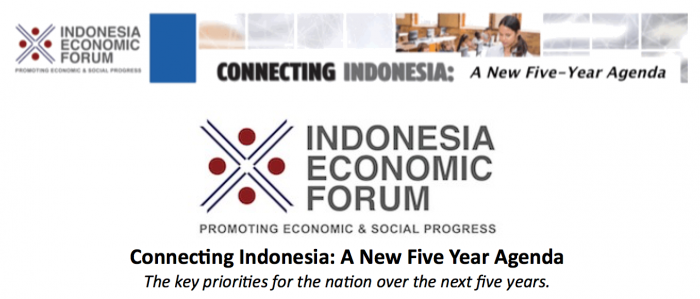 Connecting Indonesia: A New Five Year Agenda 
The key priorities for the nation over the next five years. 
Wednesday, 21 November 2018
08:00 hrs – 18:00 hrs
Hotel Shangri-La, Jakarta
Pricing & Booking Your Seat
LIMITED SEATS AVAILABLE.
Special Partner Ticket Price: Rp.1.200.000 per delegate 
(normal price Rp1.500.000)
Please register at  https://ief.co.id/2018/partner
The Path Ahead for Indonesia
Prabowo Subianto; Founder Gerindra Party and Presidential Candidate
Moderator: Shoeb Kagda, Founder, Indonesia Economic Forum
ASEAN In The New Asian Paradigm 
Dato Sri Anwar Ibrahim, Founder and Chairman, People's Justice Party
Moderated by Shoeb Kagda, Founder, Indonesia Economic Forum
Key Economic Priorities for the Government: 2019-2024    
Luhut Pandjaitan, Coordinating Minister for Maritime Affairs, RI
Moderated by James W Castle, Chairman & Founder Castle Asia
Navigating Global Uncertainty: Threats to Growth
Thomas Lembong, Chairman, Indonesia Investment Coordinating Board, RI
Driving Economic Growth Through Syariah Economy
KH Ma'ruf Amin, Vice Presidential Candidate, Rais 'Aam Syuriah, Pengurus Besar
Nahdlatul 'Ulama dan Ketua Umum Majelis Ulama Indonesia
Moderated by Dr. Ilham A. Habibie, Chairman National ICT Council
Connecting Indonesia: Creating New Growth Hubs
Sumit Dutta, President Director PT HSBC Indonesia
The Importance of Boosting Start-Ups in Job Creation
Sandiaga Uno, Vice Presidential Candidate, Former Vice Governor Jakarta  DKI
Moderated by Sachin V. Gopalan, Co-Founder Indonesia Economic Forum
Building a Digital Jawa Barat, Indonesia's High Growth Province
Ridwan Kamil, Governor, Jawa Barat Province, RI
Improving Indonesia's Competitiveness in the Global Era (TBC)
Gita Wirjawan, Founder & Chairman, Ancora Group, Former Trade Minister RI
Elections 2019: Impact on The Economy
Shinta Widjaja Kamdani, Vice Chairman APINDO;
Fauzi Ichsan, CEO, Indonesia Deposit Insurance Corporation (LPS);
Nico Purnomo Po, President Director, Pollux Properties
Raj Kannan, 
 Partner, Deloitte Consulting, South East Asia
Moderated by George Iwan Marantika, Vice Chairman for Global Engagement, APTISI
Boosting the Digital Economy
(speakers to be confirmed)
Dato' Seri Ivan Teh, CEO FUSIONEX
Erik Koenen,
 Partner, Deloitte Consulting, South East Asia
Rosan Roeslani, Chairman of Indonesia Chamber of Trade and Industry (Kadin);
Moderated by Eric Lee, Partner Cognito Communications.
EdTech: A New Frontier for Education
presented by Extramarks Indonesia,(speakers to be confirmed)
Dr. Ilham A Habibie, Chairman WANTIKNAS,
Adri Lazuardi, Head of Institution Penabur,
Fernando Uffie, Country Manager, PT Extramarks Indonesia,
Moderated by Florence Armein, Indonesia Content Coordinator, Earth Journalism Network
Steam Education: Creating New Jobs of the Future
              Presented by Kalebr Technologies Canada
Ananto Kusuma Seta, Senior Advisor Innovation & Competitiveness, Ministry of Education & Culture
Dr. Ilham A Habibie, Founder, Berkarya!Indonesia.
Jaspal Sidhu, CEO & Founder, SIS Group of Schools.
Sayed Hyder Ali, CEO Millennia 21 Century Academy.
Aaditya Tangri, Chief Executive Officer,  Kalebr Technologies Canada.
Moderated by Wan Nor Zaleha Radzi, Co-Founder CATEC
Powering Indonesia's Future – The Renewable Energy Opportunity
Presented by APINDO, (speakers to be confirmed)
Hilmi Panigoro, President Director MEDCO,
Arsjad Rasjid, President Director, Indika Energy,
Emma Sri Martini, President Director, Sarana Multi Infrastruktur,
Hendra Tan, CEO Star Energy,
Rosar Mamara CEO, Sintesa Green Energy
Pricing & Booking Your Seat
LIMITED SEATS AVAILABLE.
Special Partner Ticket Price: Rp.1.200.000 per delegate 
(normal price Rp1.500.000)
Please register at  https://ief.co.id/2018/partner