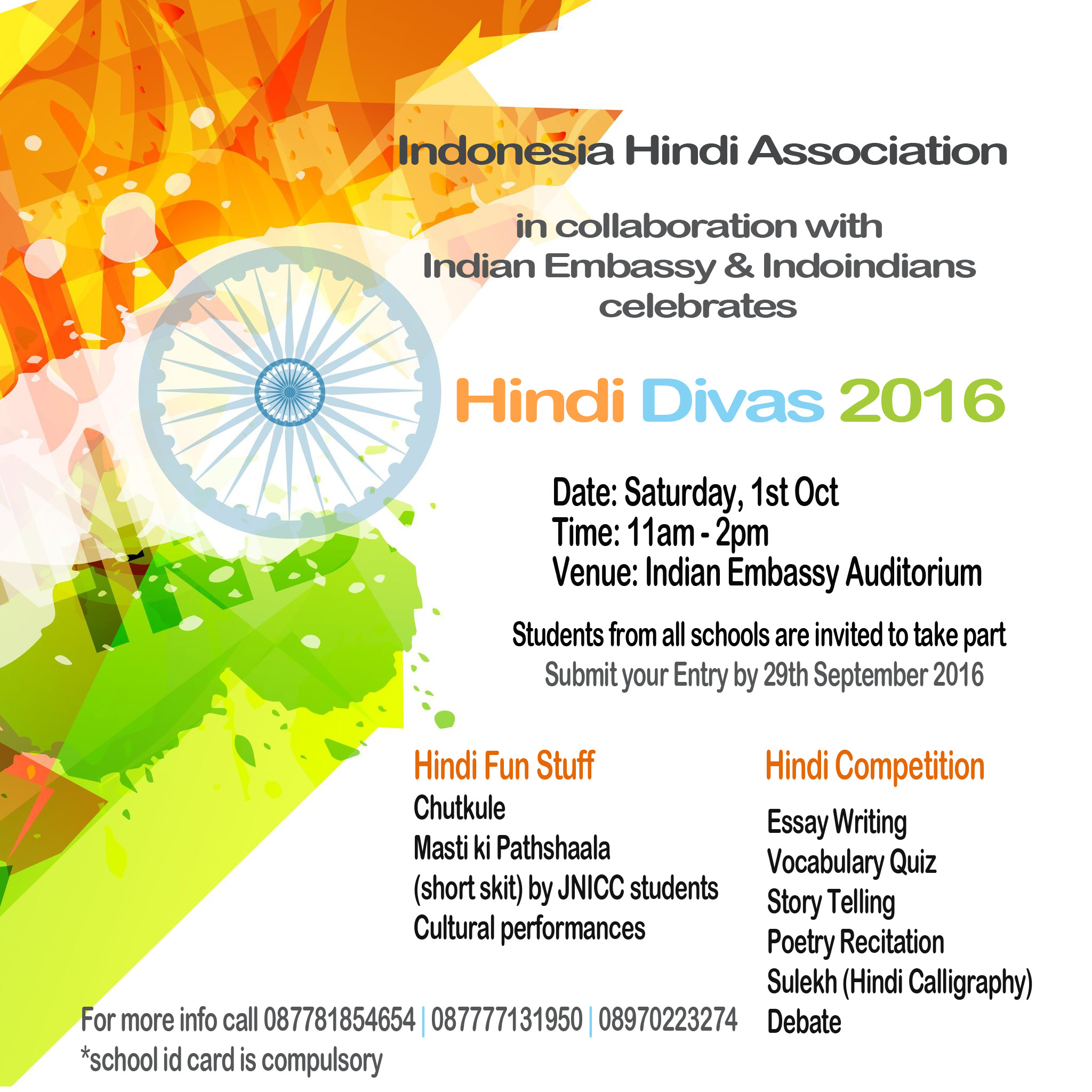 Indonesia Hindi Association in collaboration with India in Indonesia (Embassy of India, Jakarta) & Indoindians celebrates Hindi Divas 2016
on 1st Oct 2016 (11:00AM -2:00 PM) at Indian Embassy Auditorium, Kuningan.
Please give your names before 29th Sept 2016
Competition for school going students from class 1st till class 12th,
students from all schools are invited to take part.
Details of the Competitions:
हिन्दी निबंध प्रतियोगिता ( Hindi Essay competition)
Category & Topics
Grade 4 – 6 स्वस्थ जीवन शैली (Healthy life style) –Word Limit 150
Grade 7 – 9 हिंदी के विकास में कंप्यूटर का योगदान (How computers are contributing in the development of Hindi) Word Limit 200
Grade 10 – 12 युवा पीढ़ी और हिंदी ( Youth & Hindi ) Word Limit 300 words

हिंदी शब्द ज्ञान (Vocabulary Quiz)
Category
Grade 1 ,2, 3 B) Grade 4,5,6
[ Vocabulary Quiz will be based upon पर्यायवाची (Synonyms) , मुहावरे (Proverb) , नए शब्द बनाना (Making new word from the word given), शब्दार्थ (Word Meaning), मात्रा ज्ञान (Knowledge of Hindi Matra) ]
Note: -Participants will be given a written quiz on Hindi vocabulary, which they need to finish in a limited time. The questions will be in the form of pictures, jumble words etc.

 कहानी पाठन (Story telling)
Category
Grade 1- 6 B ) Grade 7 – 10
Note :- A group of 2 to 4 students can prepare story at their home and enact on stage with dialogues. Students are allowed to use props and costumes to make it more interesting. Students should tell the title of the story and story must have a moral lesson . Time limit is maximum 4 minutes. Music or videos will not be allowed. However students can give the musical effects themselves.
कविता वाचन (Poem Recitation ) Kinder garden to Grade 5
Note :- Kids can write poem on their own or they can choose any poem from books or from internet. Papers will not be allowed on stage & Mantras/shlokas will not be considered as poems. They need to tell title & poet's name. Time limit is 2-3 minutes.
सुलेख ( Hindi Calligraphy)
Category
Grade 1-3 B ) Grade 4-6 C) Grade 7-9 D) Grade 10-12 E ) Audience
Note:- A Hindi paragraph will be given to the participants according to their class level . Students will copy from the sheet. Judges will consider good handwriting & less Matra mistakes.
हिन्दी वाद-विवाद ( Hindi Debate )
Category
Grade 7-9 B) Grade 10-12
Note:- Student will get topic for debate on the spot. Hindi should primarily be the main language of delivery. Each student will get 1 minute to put his/her point after that they will be open for debate with each other. Avoid slangs – use good conversational Hindi. Students should also maintain the decorum of competition.

Contact Details
For more Details please contact or WhatsApp –
Kanika Rajpurohit 087781854654
Kim Gupta 87777131950
Shilpi Dheeraj Sharma 08970223274