Section:
The list of tourist attractions in Indonesia is never ending! This country has many beautiful beaches, exciting man-made amusement parks, lots of shopping centers, and a very rich with culinary heritage as well as its mountains.
As an archipelago, most of the larger islands are mountainous, with peaks ranging between 3,000 and 3,800 meters above sea level in Sumatra, Java, Bali, Lombok, Sulawesi and Papua. These natural conditions have created beautiful and challenging landscapes, calling you to hike, reach the summit, and admire the beautiful scenery.
Hiking in the mountains of Indonesia is the only way to take in Indonesia's beautiful surroundings. Here's our list of some of the best Indonesia mountains to climb for their breathtaking sceneries.
Mount Rinjani, Lombok
Mount Rinjani is one of the Indonesia's most popular hikes. Rinjani is also the second highest volcano in Indonesia, rising to a height of 3,276 meters. People love to hike this mountain not only for its surreal views, but also its eerie isolation. During your way to the top, you can admire the view of green forests, gurgling waterfalls, and the Segara Anak—a crescent-shaped lake within the mountain. However, the hike is not easy and as there are several different routes up the volcano. A guide is recommended.
Address: Mountain Rinjani, Sembalun Lawang, East Lombok regency
Getting there: The closest airport to Rinjani is Lombok International Airport in Mataram. From Mataram, you can access Mount Rinjani through Senaru, Sembalun, and Torean by car or public transport.
Contact: For inquiries about hiking in Rinjani, you can contact 0370-6608874 (Taman Nasional Gunung Rinjani)
Gunung Api, Banda Islands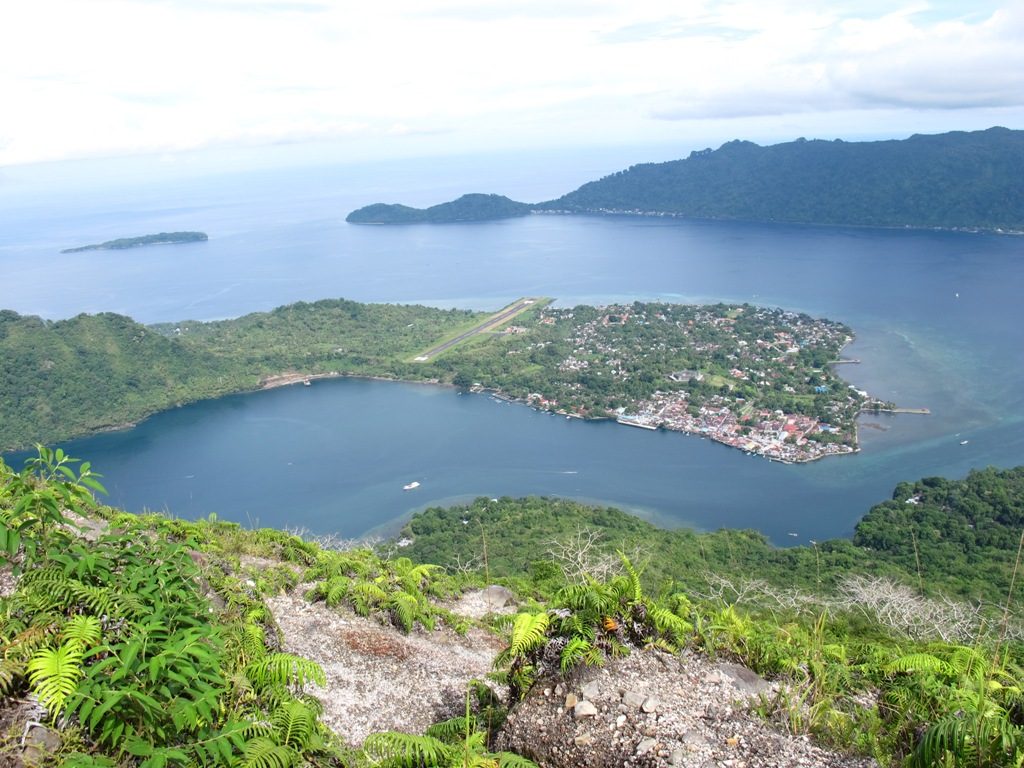 If you love the view of the sea from up above the mountain, you must add Gunung Api to your to-go list. Gunung Api is actually an island with a volcano that erupted last in 1988 and left a black trail on one side of the island. The now coral reef started to grow soon after the eruption, and even science couldn't explain why.
The climb to this mountain is quite tough. There are two trails toward the top: one ascends straight up the mountain, and the other one is a longer but easier path around the back side of the island. Just make sure that you bring a local guide, so he or she can find the easiest trail for you to climb.
Address: Banda Api, Nusantara, Banda, Central Maluku Agency, Maluku
Getting there: Susi Air flies from Ambon on Monday to Bandaneira, the capital city of Banda Islands. Otherwise you can also opt for choosing Tidar or Kelimutu ships calling at the Bandaneira port. Once you get to Bandaneira, you can go to the mountain by boat or paddling with a canoe.
Hiking: contact a local guide near the port if you want to hike Gunung Api. The mountain is not too high but you would want to take a guide with you  for easier hike.
Mount Kelimutu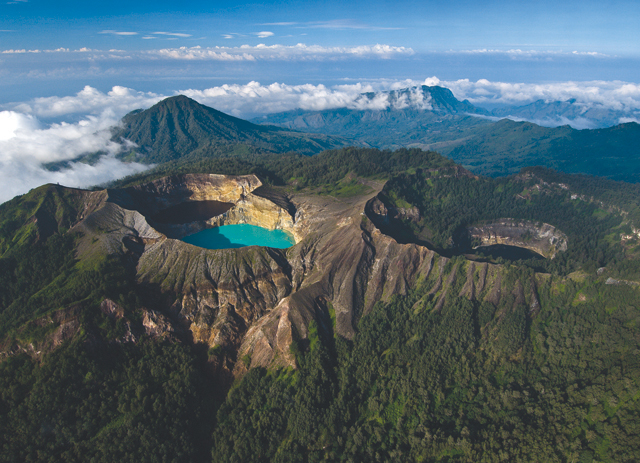 Mount Kelimutu is home to the famous three-colored lakes. The lakes are in hues of blue, green and red due to its volcanic substances. Depending on the season the colors will change, making it somewhat magical to see. Many people go through tortuous roads just to get to see the magnificent scenery of Mount Kelimutu. The highest peak of the mountain is Mount Kelibara at 1,713 meters above the sea level.
Address: Moni, Flores, East Nusa Tenggara, Indonesia
Getting there: the nearest airport to Kelimutu National Park is Frans Seda Airport in Maumere. From Maumere, you can take the Maumere – Ende bus and get off in Moni. You can also take a taxi to Moni. From Moni, you can walk 20km to the lakes or catch public transportation or taxi to the Kelimutu National Park parking lot.
Tips: find a travel package that includes Kelimutu and Komodo Island, so you can make most of your time to enjoy the beauty of Flores.
Puncak Jaya
The eastern part of Indonesia really has hidden paradises. One of them is Puncak Jaya (Cartensz Pyramid), which is one of the world's seven ultimate summits and the only mountain in Indonesia which has a glacier top. The climb up this mountain is highly technical and tough, therefore it is strongly recommended if you get a guide and prepare yourself thoroughly before climbing it.
Address: Puncak Jaya, Tembagapura, Mimika Regency, Papua
Getting there: the nearest airport to Puncak Jaya is Mulu Airstrip in Tsinga, Timika. Flights to this airstrip usually depart from Wamena or Sentani—however the flights are infrequent and expensive. From the airstrip, climbers need to have arranged for guides and porters that will take you through the jungle to the base camp.
Tips: you will need a travel permit to explore all places in Papua, except for Sentani/Jayapura. For more information about travel permit and Puncak Jaya expedition providers, click here.
Ijen Crater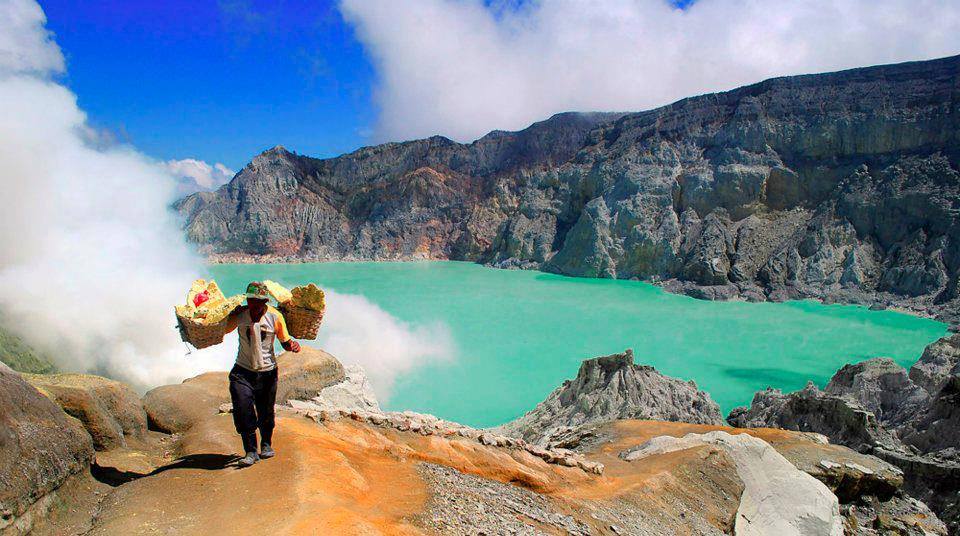 If hiking on the eastern part of Indonesia seems too difficult for you, you can always opt for mountains around Java. One of the popular mountains of Java after Bromo is Kawah Ijen or Ijen Crater. Inside the crater you will see a magnificent turquoise sulfur lake that exudes flames, blue fire at night and smoky white in the day. Many people also risk the night hike to see the clue fire phenomenon on the crater.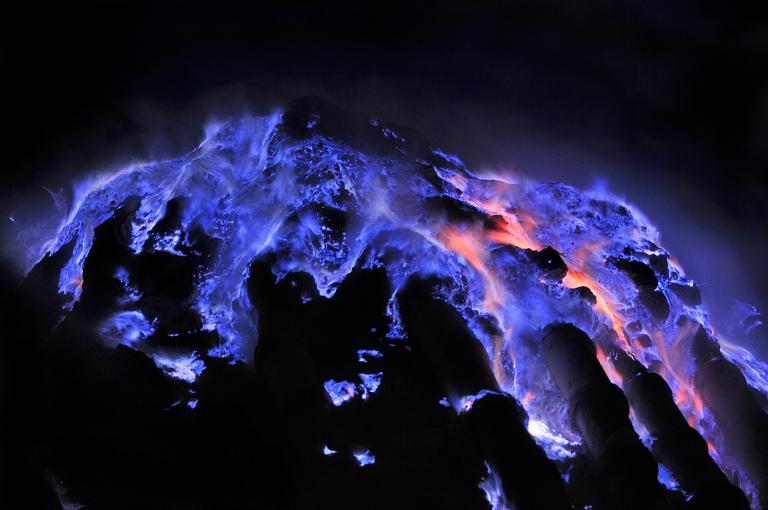 Address: Tamansari, Licin, Banyuwangi Regency, East Java
Getting there: the closest airport to Ijen Crater is Juanda International Airport in Sidoarjo. From there, take a public bus to Bondowoso and then transfer to other public transportation to go to Paltuding. The 3km walk to the crater begins in Paltuding. Contact https://ijenexpedition.com/ if you are planning to explore this hiking trail. They provide English-speaking tour guides and have served for many foreign tourists.