Invitation to join the 4th India ASEAN Expo and Summit, 21-23 Feb 2019, New Delhi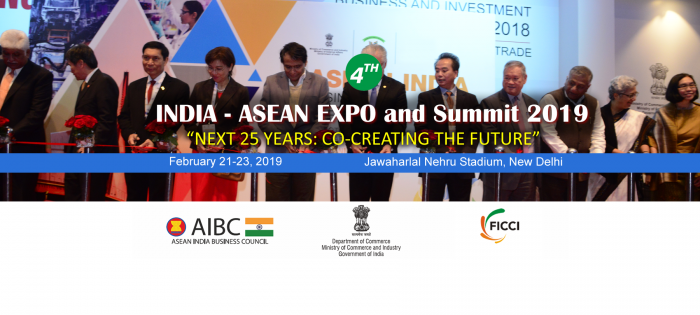 4th India-ASEAN Expo and Summit 
"Next 25 Years: Co-Creating the Future"
21-23 February 2019, New Delhi
Embassy of India, Indonesia is pleased to inform that Federation of Indian Chambers of Commerce & Industry (FICCI), with the support of Department of Commerce, Ministry of Commerce and Industry, Government of India is organising the 4th India-ASEAN Expo and Summit under the overarching theme "Next 25 Years: Co-Creating the Future" from February 21-23, 2019, in New Delhi.
Participants will include Ministers, senior government officials and business delegations from the 10 ASEAN countries (Brunei, Cambodia, Indonesia, Laos, Malaysia, Myanmar, Philippines, Singapore, Thailand, Vietnam). The program will also have participation of industry from the Dialogue partner countries of ASEAN.
The program includes exhibition from Indian and ASEAN industry, pre-fixed buyer and seller meetings, business conference and interaction with state and central government officials.
The Expo and Summit will focus on key sectors including Agri & Food Processing, Agri Machinery & Equipment's, Artificial Intelligence, Auto & Auto Components, Banking & Financial Technologies, Chemical & Petrochemicals, Construction & Infrastructure, Education & Skill, Gems & Jewellery, Handicrafts, Carpet Leather & accessories, Healthcare & Medical Device, Information & Communication Technology (ICT), Logistics, Warehousing & Transportation, Manufacturing, Pharmaceuticals, Renewable Energy, Science & Technology, Innovation, Sports Goods, Textiles & Textile machinery and Tourism.
 Please find enclosed for your reference the detailed brochure:  India ASEAN Expo and Summit Brochure 2019 
Website: www.india-aseanexpoandsummit.com