Invitation to Partner at 8th Global Economic Summit scheduled from March 6-8, 2019 at WTC Mumbai, India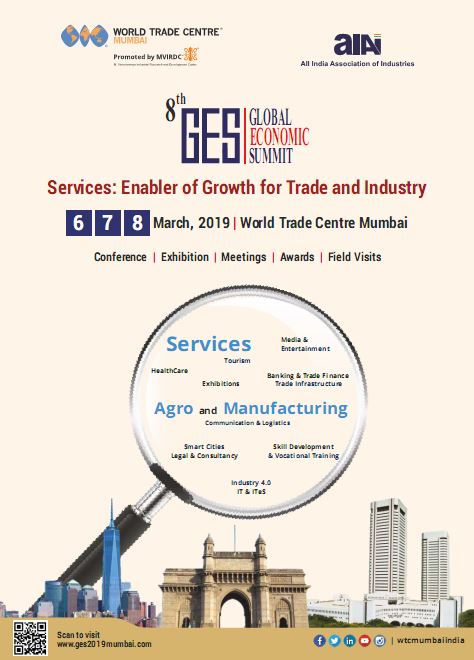 World Trade Centre (WTC) Mumbai and All India Association of Industries (AIAI) are jointly organizing the 8th Global Economic Summit 2019 on the theme 'Services: Enabler of Growth for Trade and Industry'  scheduled from March 6-8, 2019 at World Trade Centre Mumbai.
Mr. Suresh Prabhu, Minister for Commerce & Industry has been invited to Inaugurate the Summit and deliver the Keynote Address on  this occasion. Further IIM Bangalore is associated with this Summit as a 'Knowledge Partner' who along with their 'International Partners' Polish Investment and Trade Agency, Estonia International Chamber of Commerce, Indian Business Chamber of Commerce Luxemburg, World Trade Centre Dresden, World Trade Centre Algiers and 'Exhibitions Partner' Indian Exhibition Industry Association  are supporting in promoting this Summit.
Service sector is the largest contributor to the world economy, as it accounts for nearly 70% of global GDP, 60% of world employment and 46% of global exports measured in value-added terms, yet there is further scope of enhancement. At present, the growth of the service sector across the globe is highly uneven. While in the developed countries the service sector has witnessed rapid progress, in many developing and least developed countries (LDCs), the service sector's contribution to the overall economy remains insignificant. This is largely because world-over several services have not been able to penetrate across sectors.
The Summit will showcase opportunities for small, medium and large organizations to integrate services in enhancing manufacturing and agriculture sectors. It will also enable governments to enhance their competitiveness in global services by helping them to adopt various social and policy initiatives as well as advancements in information and communication technologies. (A brochure and draft programme is enclosed for your reference)
 On March 8, 2019, a field visit to Nashik Engineering Cluster, Nashik Winery, and Food Processing Unit in Nashik has been organised which is approx 3 – 4 hour drive from Mumbai. This will help interested delegates to broaden their outlook with exposure to different work forces from different industries and also get first hand information as well as become more aware of industry practices and regulations of the state.
a) Nashik Engineering Cluster (NEC) – This is one of the most accomplished engineering cluster in the state of Maharashtra. It provides support to engineering, manufacturing and auto component manufacturers in the area. Participants will get firsthand experience on various initiatives under industrial cluster development and regional value chain.
b) Nashik Winery – Nashik is the hub of grape production in Maharashtra. The wine produced here is exported all over the world. Participants will understand different aspects of Agri value chains.
 In view of the importance of the Global Economic Summit 2019, we are pleased to invite you to participate in this Summit, also solicit the support of your good office to:                                                                                                     
Invite Ministers/Government officials/Authorities or Trade Promotion organisations from your country to share policy, trade and industry measures to integrate local SMEs.
Disseminate the Summit information through the Embassy/Consulate website and newsletter and communicate the same to the potential SMEs and other stakeholders.
Provide contact information of the government agencies, trade bodies, Small and medium enterprises (SMEs), research & educational institutions, and financial institutions from your country who can participate in this Summit and Exhibit at the GES 2019.
Inform us if there are any delegations visiting India / Mumbai during this period, to enable us to invite them to the Summit.
Contact information of companies from your country located in India who have linkages with Indian MSMEs as these can be presented as Case Studies.
The earlier editions of the Global Economic Summit addressed various topics on MSMEs to promote Trade and Investment opportunities, Clusters, Agriculture, Women Empowerment, Global Value Chains in Manufacturing and had seen participation of over 500 delegates from across 30 countries including India. We expect a similar level of participation in this edition as well.
For further information, please contact World Trade Centre, Mumbai on [email protected] or (+91) 22 – 6638 7373 / 272. Please find attached brochure here.