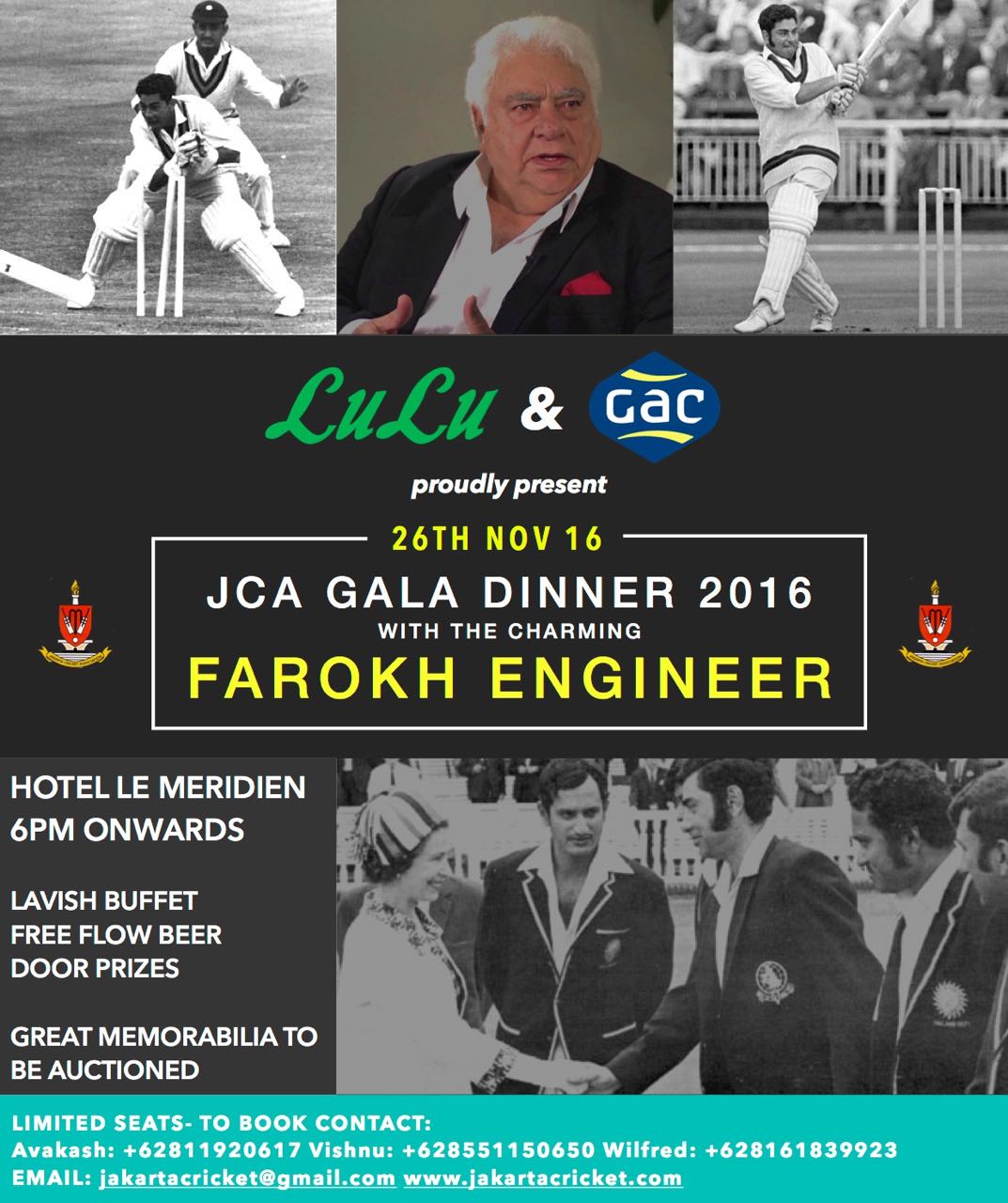 Friends,
It is time for the much sought after Cricketing event of the year, the JCA Annual dinner. Our VIP Guest this year is the dashing former Indian Wicket keeper and Padmashree Award Winner Farokh Engineer.
This function is being held to celebrate the successful completion of the JCA 2015/16 Cricket Season and as a fund raiser for the development of cricket in Jakarta. It is a night of Cricketing stories, magic and entertainment and of course as with all these events, plenty of door prizes and attractions for the guests.
The JCA Dinner & Awards Night is a much sought-after event in Jakarta's expat circle and has been held regularly since 1993, with an average attendance of around  300 persons. Over the years the event has featured a number of cricketing greats from across the globe such as Fred Truman, Max Walker, Kapil Dev, Ian Botham, Viv Richards, Richard Hadlee, Sunil Gavaskar, Zaheer Abbas, Tom Moody, Geoff Marsh, Kris Srikkanth, Syed Kirmani, Ian Chappel etc.
Date and time: 26th November 6.30 PM onwards
Venue: The Ball Room Hotel Le Meridien.
Dress code: Formal.
Dinner and drinks will be served.
Each table of 10 persons will be for Rp 7.5 million.
For details contact any of the following: Wilfred 08161839923, Vishnu 08551150650, Avakash 0811920617 or William 081514123467
or email jakartacricket@gmail.com or visit www.jakartacricket.com
It should be a fun evening, with the opportunity to pick up a couple of fantastic mementos that Farokh is bringing with him, for example:
Two signed Cricket Bats with signatures of TENDULKAR; DHONI; FLINTOFF; VIRAT KOHLI; OTHER ENGLISH STARS
Wicket Keeping glove signed by ALL TIME WICKETKEEPING GREATS WHO ARE ALIVE FROM ALL TEST PLAYING COUNTRIES (Dujon, Gilly, Alan Knott, Rod March etc)
Cricket Shirt signed by FREDDY FLINTOFF;SACHIN TENDULKAR & OTHERS
Two miniature Cricket Bats signed by World Cricketing Stars.
Plus, hopefully a signed Manchester United Shirt.
In addition to these fantastic items, there will be the normal Aussie cricket and sporting paraphernalia.
It has a good cause because any excess proceeds go to supporting the development of Indonesian youth in the great game of cricket. In fact, a young Indonesian lad is just about to jet off to South Africa to play. Tremendous progress has been made to introduce and nurture some very good talent.
The all inclusive cost is for food and beer and entertainment. At the last dinner, some of you will recall that we had a terrific magician with us; well, Josh the Magician is joining us again. So should be a very fun night.