Kaju India 2019 – The Global Cashew Summit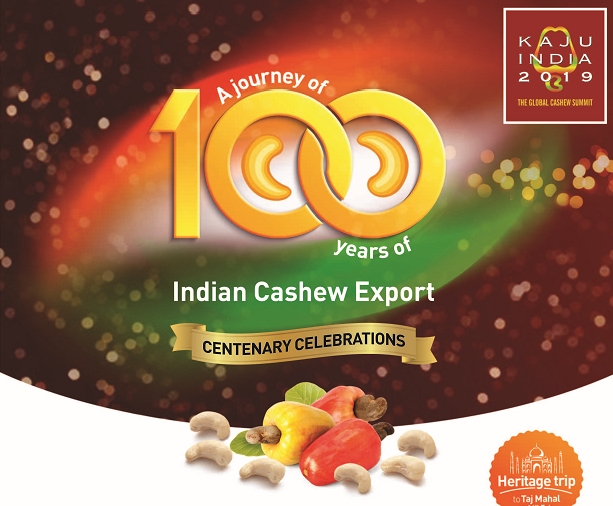 The 6thedition of "Kaju India 2019-The Global Cashew Summit" will be organised by the Cashew Export Promotion Council of India (CEPCI), which is established by the Ministry of Commerce & Industry, Government of India, at The Taj Palace Hotel, Diplomatic Enclave, New Delhi, India from 13th to 15th February 2019.  A special promotion for our products under "Indian Cashew" brand is also proposed to be launched during the said event "KAJU INDIA 2019".  The theme of the global event has been rightly chosen as "Indian Cashews – The Superfood" due to its dietary fibre, nutrients and health benefits.
Kaju India 2019 is also the curtain raiser for the yearlong celebrations to commemorate the 100th year of Indian Cashew Export. It was in 1920 that India exported its first consignment and introduced cashew kernels as a commodity to the international market. Today, India is the largest producer, processor and consumer of cashew in the world. Indian Cashew is accepted all over the world for its high quality, taste and rich tradition.
"KAJU INDIA" is the largest cashew related event worldwide where large number of stake holders right from cashew farmers, traders, agents, processors, business customers all meet and interact. Brain storming business sessions, live machinery expo, motivational speeches, presentation of Excellence awards etc., are the key features of this mega event. About 75 Overseas Delegates from all over the world and 800 Indian Cashew Traders / Exporters are expected to take part in the Kaju India 2019.

This Mega Event is expected to be a premier gathering of world leaders of the Cashew Industry including Ministers and diplomats from cashew producing / consuming countries. It is so envisaged to strengthen the industry under the "MAKE IN INDIA" scheme and promote 'INDIAN CASHEW' brand globally.
Delhi has a rich heritage and the power centre for all policy decisions and hosts historical monuments, which are of course a perennial source of tourist attraction. A heritage tour to "TAJ MAHAL' one of the 'seven wonders of the world' is scheduled on 16th February will definitely be an added attraction and a rich experience to the delegates of KAJU INDIA 2019.
Considering the national, social and historic importance of the Cashew Industry, we request for your kind participation to this prestigious event. The whole Cashew Fraternity would be obliged to have your participation on this prestigious moment and request you to be our Guest of Honour to the inauguration of the Centenary Celebrations of India's Export of Cashew and Inauguration of KAJU INDIA 2019 on 13th and 14th February 2019 at Hotel Taj Palace, Diplomatic Enclave, New Delhi.
All the foreign delegates registered for Kaju India 2019 will be getting a bunch of special privileges including complimentary accommodation (13th & 14th February 2019) at the venue hotel and complimentary heritage tour package to visit to Taj Mahal on 16th February 2019 (with accommodation on 15th February 2019) and also foreign nationals can avail a free economy class air ticket (subject to a maximum of USD 750)  for the visit to Kaju India 2019 (which will be reimbursed on their attending Kaju India 2019). This special offer is valid for a limited period (Upto 15th January 2019). For registrations, kindly log on to www.kajuindia.com