Home
Associations
Logo Competition by India and Indonesia to commemorate 70 years of Diplomatic...
Logo Competition by India and Indonesia to commemorate 70 years of Diplomatic Relations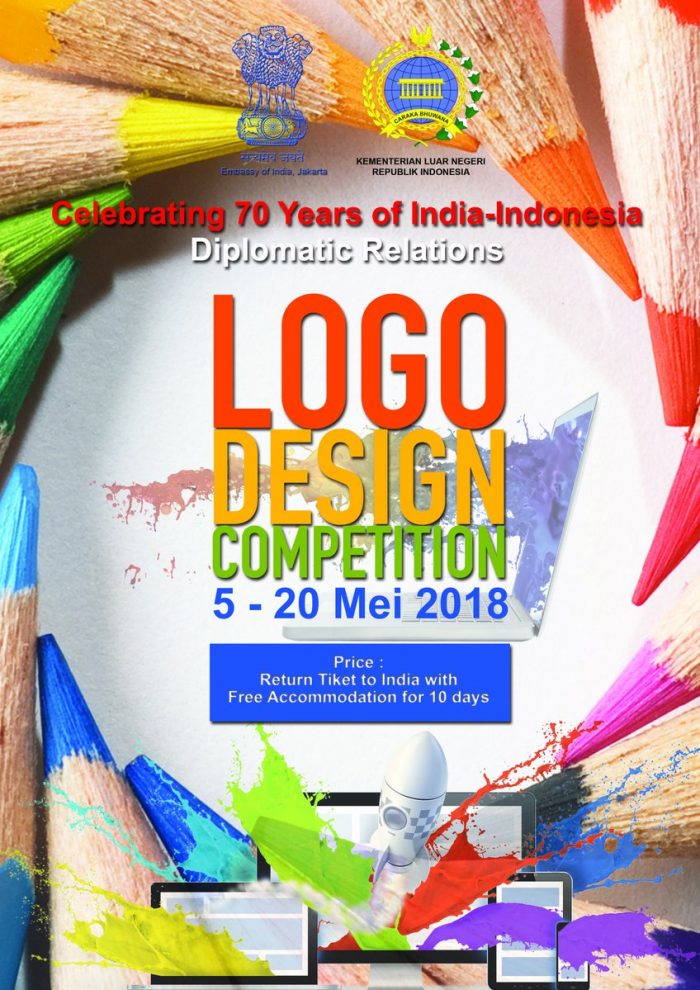 In 2019, India and Indonesia will commemorate 70 years of the establishment of diplomatic relations. Apart from various celebrations to commemorate the occasion, a logo design competition may also be held as a part of the pre-event commemoration activities.
Content of the Contest:
Making of the logo "Celebrating 70 Years of India-Indonesia Diplomatic Relations"
(A Logo representing friendly relations between India and Indonesia with designs that can be used for various publications and publicity)
Registration Guidelines:
On behalf of an individual, an Indian or an Indonesian national or on behalf of an Indian / Indonesian group / company
Submit Your entry Before:21 May 2018
Scoring system
All designs will be assessed by a joint committee from India and Indonesia. The committee will select
1) Best design (which will be announced as the official LOGO for the commemoration of 70 years of Diplomatic Relations between India and Indonesia)
Winner:                                                                                                               
Winner will be announced on the websites of both sides. (Websites of Ministry of Foreign Affairs Republic of Indonesia, Ministry of External Affairs Government of India, Embassy of India in Indonesia, Embassy of Indonesia in India and Consulate Generals of Both Sides )
Appreciation:
Best Design Winner will be awarded return air tickets for the winner plus one between Indonesia and India.
How to Register:
Each person / company can only register 1 (one) design
Acceptable design formats should be in the form of .png, .jpg, .jpeg or .pdf, maximum file size below 3 MB, with 300dpi resolution (A4-size printable)
* the shortlisted entries will likely be requested to enhance the design format by the assessment committee. 
Brief description and design background created, may be written in Hindi, Bahasa or English languages on the registration form.
*This explanation and background will be announced at the time of the announcement of the winning entry.
Designs may be submitted in 2 (two) versions: Full Colour / FC (no limit on the number of colours or gradations) and Black & White / BW
The logo data should be original and never been published, both in India and in Indonesia before.
Designs once submitted and accepted by the committee cannot be withdrawn / cancelled.
Entries will only be accepted / registered via email
* Email address:

[email protected]

 / 

[email protected]

 and 

[email protected]

Important:
Please include an alternate phone number or email (if any)
The winner design will be displayed on the websites mentioned above. If the participant has any objection to revelation of his personal information, such as name etc., the same may be mentioned in "Other information" in the body of the email. If there is no such statement, the committee will consider it as a consent statement regarding the inclusion of a name on the website.