Meet Aarti Garde, Founder of BookMyFit.com
#Indoindians had the pleasure to meet up with Aarti Garde. The India-born woman is the founder of a new fitness marketplace BookMyFit, launched recently.
Book My Fit was started when her husband decided to start his own business. Together they brainstormed many different ideas before landed on the idea of a fitness and health business.
"Fitness has been the latest and hottest trend worldwide. People start to be more aware of their health, nutrition, and physical activity" she said. That trend, along with her love for fitness and health resulted in the startup of fitness marketplace. And now BookMyFit website and mobile application on google playstore is available to help people on their fitness journey.
BookMyFit is a fitness marketplace where people can choose the schedule and class from fitness and gym centers available on the website. It doesn't require people to be a member of certain fitness or gym centers, but of course they need to be the member of #BookMyFit .
"Actually BookMyFit is not the only fitness marketplace in Indonesia," said Aarti. "But we are the only one which is originally from Indonesia. Our website and mobile app are bilingual, and of course we have made its specially for people in Indonesia." And unlike other fitness marketplaces, people have wide options to join the classes. "They can choose the limited or unlimited package, and they also can pay it by bank transfer which is more familiar for people in Indonesia."
As the competition between startups and marketplaces in Indonesia is tough, she is excited. "Without competition, we tend to be more relaxed. Competition allows us to be more creative in creating more features," she explained. That is why she is sure that competition is also an opportunity for the startups and marketplaces to learn from each other.
She said that BookMyFit is one of her biggest achievements so far. "I took a break from workplace for about 6 years. During that time I enjoyed my life as expat's spouse, I used to have blog called 'A Busy Life of Leisure'. I was busy enjoying my life because I had no work," she laughed. On top of that, since her husband had to work elsewhere, she launched the website by herself, with the help of her local partners. "It is really an achievement for me," she added.
Apart from developing her business venture, Aarti also has been the member of Indonesia Heritage Society. Along with other members (which mostly are expats), she's been exploring Indonesian heritage and culture. "Our latest activity has been the museum tour guide training. I don't participate as much as I used to, but I do volunteer to the museum," she said. She is excited to that activity since she loves to meet new people and try different things every day.
When we asked about where she sees BookMyFit in 5 or 10 years from now, she gave us an interesting answer.
"Nobody can see the future," she said. "I don't know where I see BookMyFit in the future. But one thing for sure, in the future I see more people become more fit than they are today. But of course we are keeping up with the trend to know what people need."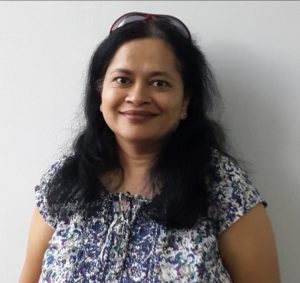 Lastly, she gave us interesting point about starting a business.
"To have a startup or whatever business, you need to be fearless and break all the boundaries which are in your head. You also have to be fully committed to it. No matter what gender you are, what nationality you hold, if you have that wish and you want something, then go for it. Nobody can stop you."
We hope her spirit can inspire other people who want to have their own business.
You too can book a FREE workout at studio near you in Jakarta using BOOKmyFIT.com. Sign up today, to get a special launch price (for a limited period only).
Wishing Aarti success with her startup.