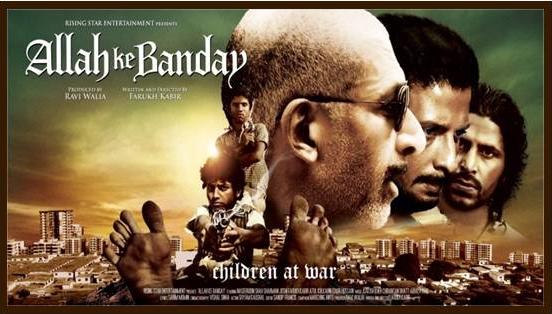 By Aditi Agrawal: We live in a world that is governed by marketing. Everything that we see and do, need and want is an end result of marketing so why should movies be any different. The most heavily marketed movies are the ones that are usually given the thumbs down while the less promoted ones usually make the mark.
Allah Ke Banday is one such movie. Vijay (Sharman Joshi) and Yakub (Faruk Kabir) are born in the slums of Mumbai and struggle in its by lanes smuggling drugs and contraband for the local mafia. However, they land up in a juvenile home for boys after a plan goes horribly wrong. Life at the center is worse than the slums they inhabited outside. What follows is a process of growth as 11 years later, they emerge as gangsters with their own army of slum kids who are what they were 11 years back. The story traces their journey and how a life of crime always comes back to haunt the criminals.
The film deserves applause at the pace of direction, stellar performances and great visual scenery. Sharman Joshi is good as Vijay, the elder brother. The scene-stealers for me however, are debutante Faruk Kabir, who is also the director of the film and Naseeruddin Shah. Yakub's reaction when he is not allowed to go and light his mother's funeral pyre along with Vijay because he is Muslim and adopted makes you ache for the poor boy and the unfairness of the situation. The killer however, is Naseeruddin Shah who has a small role as the Warden in the film. Watch him as he is led out of the juvenile house after being discharged from his duty or eating at a roadside cafe, dribbling all over and then struggling to pay up. These are true visual treats in the film. The music integrates well with the script and is pleasing. It's a take on how different our lives can turn out to be depending on our opportunities and circumstances. According to the director, "Sometimes all it takes is a little love."
This review comes way too late as the movie was released back in November. However, I have recently watched this movie and felt compelled to write about it. So, everyone out there, take a risk and do watch movies made by new directors or unknown names. They are sometimes better than the best.
About me:- I am currently based in Jakarta and can be reached at aditiagrawal9@gmail.com