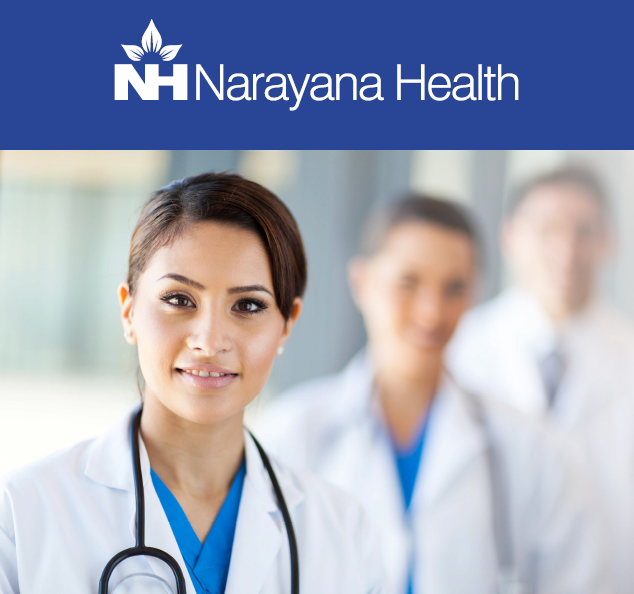 Narayana Health, is one of India's largest healthcare groups, with a total of 25 Hospitals, 7 heart care centers and 19 primary care facilities spread across India and the Cayman Islands (North America). They manage more than 7000 beds spread over their various JCI and NABH Accredited hospitals.  NH has dedicated centers of excellence for:
Cardiology                     * Cardiac Surgery                * Orthopedics
Organ Transplant          * Neurosciences                  * Gastroenterology
Opthalmology                * Nephrology                        * Obs & Gynaec
Critical care                   * Urology                              * Cosmetic Surgery
Cancer                          * General Surgery
Bone Marrow Transplant
Contact in Indonesia: Kathleen at +62 21 250 1025 | +62 857-9465-4043
email: kathleen@pravisgroup.com
url: www.pravisgroup.com

Equipped with the latest technology, the highly experienced group of Doctors are known for their excellent clinical outcomes and dependability. A typical day at NH includes:
 534 Inpatient admissions,
131 Surgeries,
39 Cardiac Surgeries,
4477 Outpatients,
141 Cath Procedures,
513 Dialysis Procedures and
2 kidney Transplants.
Innovative thinking like Tele-Medicine and Tele-Radiology Centres, Trainings of Doctors and Paramedics etc are their strengths. 

Patients from more than 77 countries trust NH for their treatment and Care. The international Patient team at NH believes in providing personalised care and attention through its services such as:
Medical Query response in 24 hours       * Visa Assistance
Complimentary Airport Pick & Drop         * Assistance in accommodation
In House 24/7 Translator Services           * In house 24/7 Forex Services
Availability of Intl Channels                       * Executive Deluxe Rooms
Preference in OPD and Diagnostics        * Concierge Services
NH Hospital Bangalore, was fortunate to be able to successfully treat and to cure Kevin, a child from Indonesia, who recently underwent a Bone Marrow Transplant, and is fine now. Gradually more and more patients from Indonesia, are discovering the joy of personalised, world class treatment at very affordable costs.
We would be glad to be of assistance for any medical opinions and strategic alliances with Hospitals, Institutions, Diagnostic Labs, Insurance companies etc. in Indonesia.
Contact in Indonesia: Kathleen at +62 21 250 1025 | +62 857-9465-4043
email: kathleen@pravisgroup.com
url: www.pravisgroup.com