Rohit Babbar, SS (Culture) & Acting Director JNICC, Jakarta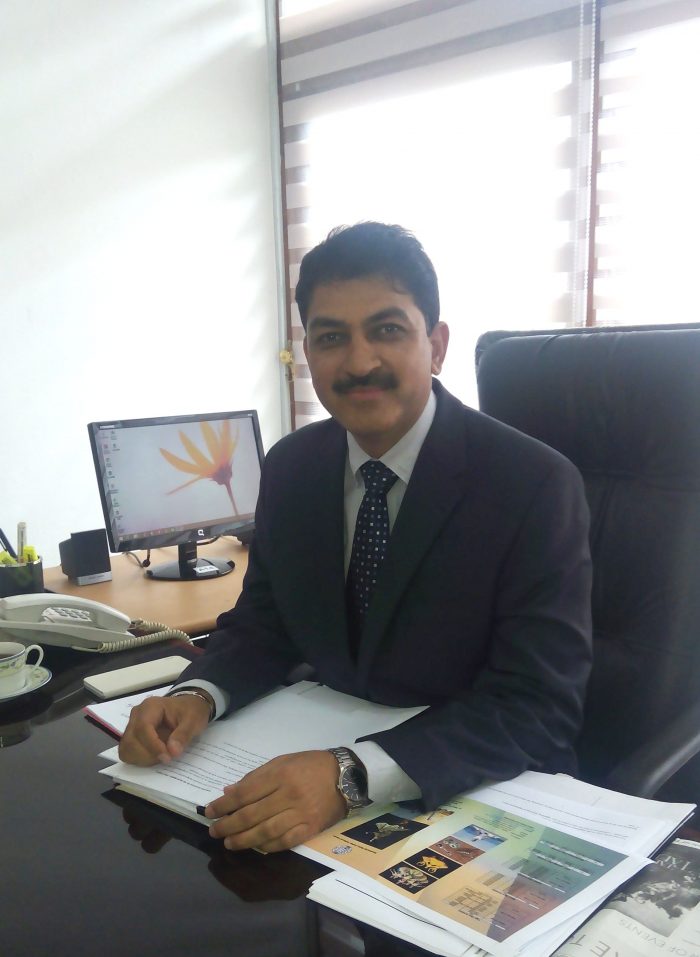 Recently, Indoindians had a chance to have an interview with Rohit Babbar, SS (Culture) & Acting Director of Jawaharlal Nehru Indian Culture Center (JNICC) Jakarta. We sat in his office at JNICC in Kuningan, South Jakarta, sipping hot tea and talking about his role in JNICC.
Rohit moved to Indonesia since September 2015. "Previously, I was Second Secretary at Indian Embassy in Brussels, Belgium and moved to Jakarta in September 2015," he stated. "I really enjoy being here," he added.
As SS (Cul) & Acting Director, JNICC, his role is not only about handling cultural issues between between India and Indonesia, he also supervises, monitors, and directs the functioning of JNICC. His main responsibility is to develop a strategy to promote Indian culture in Indonesia. "We have a wonderful Ambassador, who has been an institution herself and under her able guidance, I am particularly keen to showcasing collaborative fusion of Indian and Indonesian culture and present it locally, in art, cultural exchange, and cultural performances in Indonesia" Rohit explained.
Regarding Indian culture in Indonesia, Rohit said that many Indonesian people are deeply familiar with it. "The moment I talk to them (the Indonesians) about Mahabharata, Indonesians know more than many of the Indians!" he smiled. He said that the long history of relationship between India and Indonesia has many similarities in terms of the culture. "So it is easier for us to relate to the things regarding the culture itself. You can see it when you talk about Indian culture to Indonesian people. Of course what comes first to their mind is Bollywood. Even many Indian television serials have been aired here, such as Uttaran which have been receiving good response here."
JNICC is the main institution which is responsible for promoting Indian culture in its widest sense in Indonesia. It has many activities including classes and workshops to disseminate culture-related information. "In JNICC, we have some teachers from India. They teach Yoga, Kathak (traditional dance from North India), Bharatanatyam (classical dance from South India), Music and Vocal," he said. Besides these, JNICC also conducts Hindi language classes for those who want to learn Hindi, for professional as well as personal interest.
"We have also held many cultural activities and festivals in Indonesia. Last year, we had Festival of India called Sahabat India from January to August 2015. We had troupes from India coming to Indonesia, and showcased Indian culture in various parts of Indonesia. More than 35 events involving performances of folk dances, masked dances, puppet shows, contemporary, traditional, Sufi and orchestra music, exhibitions etc. spread over 15 cities were organized during the Festival of India." he explained.
In March 2016, JNICC also invited Joe Alvarez and Indian All Stars to perform in Indonesia in the Java Jazz 2016 event. "It was huge success! People became aware about the little lesser known fact that Indian music is not only about traditional music or Bollywood—we also have one of the finest Jazz music artists. And the audience loved that. It was really good to see all the cheering during the performance," he said.
For him, his job is fun and exciting. He has many chances to spread the Indian culture as well as learn more about the culture itself. "When you meet new people and talk about culture, it gives you a sense of newness and excitement. You can explore the culture and share it. Of course, we (Indians) can relate our culture to Indonesian culture quite easily when we talk about that," said Rohit.
For those who've been waiting for JNICC's next program, there is good news for you!
"In June, the Embassy of India and the JNICC is going to celebrate the International Day of Yoga in Jakarta, Medan, Bali, Yogyakarta and Dili (Timor Leste)," he said. "In Jakarta it will be on June 18th at Gelora Bung Karno, on 19th we will celebrate it in Bali where have a Consulate, the next week on 25th June we are going to celebrate it in Dili, and on 26th the celebration will be held in Medan and Yogyakarta," he added.
It was wonderful to meet and talk with Rohit. We wish him success at JNICC in his mission to promote Indian culture in Indonesia.
For event calendar of JNICC, do visit http://indianembassyjakarta.com/index.php/2013-05-20-10-04-59/jnicc