Home
Associations
Remarks by Shri Manish, Charge d' Affaires, Embassy of India Jakarta on...
Remarks by Shri Manish, Charge d' Affaires, Embassy of India Jakarta on the Occasion of Pravasi Bharatiya Divas 2016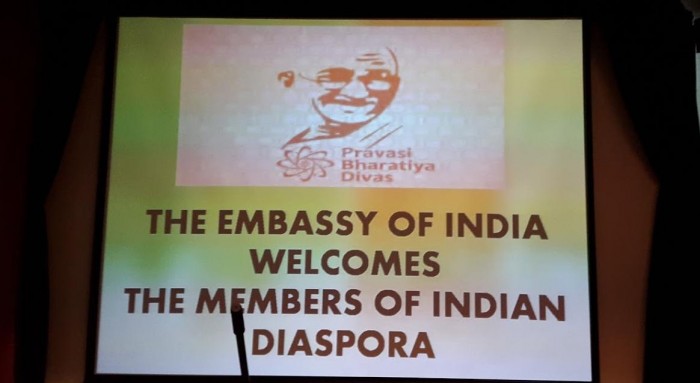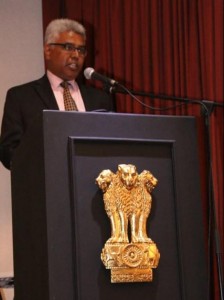 It gives me immense pleasure to be amongst you today and to have the opportunity of meeting you all. I thank you for responding to our invitation, and coming to this function today, to celebrate Pravasi Bharatiya Divas.  My greetings to you all.
Pravasi Bharatiya Divas (PBD) is celebrated on 9th January every year to mark the contribution of Overseas Indian community in the development of India. January 9 was chosen as the day to celebrate this occasion since it was on this day in 1915 that Mahatma Gandhi, the greatest Pravasi, returned to India from South Africa, led India's freedom struggle and changed the lives of Indians forever.
Since 2003, every year the Government of India holds the PBD in India to provide a platform to the overseas Indian community to engage with the Government and people of the land of their ancestors for mutually beneficial activities.
In this increasingly inter-dependent and inter-connected world, overseas Indians are becoming 'Global Citizens'. Our shared culture and shared values bond all of us together. The Indian Diaspora is a pluralistic community, just as we are in India. It holds within its fold, people of different languages, faiths and regions. The spirit of India transcends the narrow barriers of religion, language, caste or class, both within and outside the Indian nation.
Indian community in Indonesia has contributed substantially to the development of close ties between India and Indonesia. You are familiar with the historic linkages between India and Indonesia. Indians have been living in Indonesia for centuries, from the time of the SriWijaya and Majaphit Empire. Indians were later brought to Indonesia by the Dutch in the 19th century. While the majority of these came from South India, a significant number also came from the North. The Medan Indians included Hindus, Muslims and Sikhs. They have now been in Indonesia for over four generations, and hold Indonesian passports. The Indian Diaspora also includes several thousand Sindhi families who constitute the second wave of Indian immigrants who made Indonesia their home in the first half of the 20th century.
The inflow of major Indian investments in Indonesia starting in the late 1970s drew a fresh wave of Indian investors and managers to this country. This group of entrepreneurs and business professionals has further expanded over the past two decades, and now includes engineers, consultants, chartered accountants, bankers, and other professionals.
Our interactions at the people-to-people stage have been warm and friendly. This has been exemplified by Indonesian interest in our culture, cinema, heritage. The last ten years have seen a quantum jump in our relations with Indonesia. With the signing of a declaration on India-Indoneisa strategic partnership in 2005, our association has continued to grow and diversify into newer areas.
Our relations now touch almost every field of human endeavor including cooperation in political, security, defense, trade and economy, science and technology, education and culture. Having said that, there is a need to further enhance our level of economic engagement in the new context.
In 2014, our international trade amounted to USD 765 billion and our trade with Indonesia is about USD 20 billion, which is about 3%. From April 2000 to 2015 India has received USD 246 billion from different countries as FDI, but hardly any FDI from Indonesia. This story is not encouraging.
I am mentioning this only to point out that there should be effort from both sides, India and Indonesia. And you can contribute substantially- as many of you are engaged in trade, commerce, investment, industrial activity–and we must expand our economic cooperation, trade and investment with Indonesia because it is an emerging economy which is playing a crucial role. There is a challenge for all of us to utilise the synergy which exists between our two conditionalities to exploit it fully. All of you as repositories of unique information and insight about India and Indonesia have an important role to play in propelling our economic ties to a higher trajectory.
Indian community in Indonesia, as in other countries also, has made us proud by contributing both to the country of adoption and the country of their origin. You have a reputation of being disciplined, hardworking, law abiding.
As you are all aware, Government of India under the leadership of Prime Minister Shri Narendra Modi have provided a fresh impetus to India's economic growth and development. Through new initiatives like 'Make in India', 'Digital India', 'Smart Cities', 'Model Villages' and 'Clean India', we seek to transform India. The Indian community abroad can contribute to these initiatives by bringing their skills and capital.
New opportunities have been created especially for NRIs and PIOs to come forward and play a major role in contributing to India's success, such as the NRI Fund to clean and develop the Ganga River. You can also acquaint enterprises in your adopted country of the new opportunities available in India. We need to forge partnerships in friendly nations like Indonesia to bring in ideas, innovations, technologies and investment. You have to facilitate the creation of such partnerships.
The adoption by the United Nations of June 21 as the International Yoga Day explains the global reach of India's soft power. The Indian diaspora has played a crucial role in promoting and showcasing to the world our rich traditions and values. We deeply value your contribution to the propagation of Indian culture in Indonesia. I am confident you will continue to promote India's heritage here.
The welfare of NRIs and PIOs is one of the topmost priorities of the Government. Last year, the OCI and PIO cards have been merged. All existing PIO cardholders have been given lifelong validity. Through the Indian Community Welfare Fund, we are in a better position to assist Indian nationals stranded or in distress abroad, including crisis spots. The Government has also introduced a web-based service for Indians called 'MEA in Aid of Diaspora in Distress' (MADAD). This will improve the quality of services extended to the Indian community abroad. The Indian Embassy in Jakarta is also included in this platform.
All of you here are a part of a proud tradition of close partnership between India and Indonesia. You are at the cutting edge of our effort to strengthen our political, security, economic and cultural partnership to a level that meets the aspirations of our peoples and promotes the interests of both the nations.
I sincerely hope that our deliberations today with the participation on eminent members of diaspora will contribute to further enhancing partnership between our two nations.
Thank you.
Remarks by Shri Manish, Charge d' Affaires, Embassy of India Jakarta on the occasion of Pravasi Bharatiya Divas 2016
[ 9 January 2016, Jakarta]