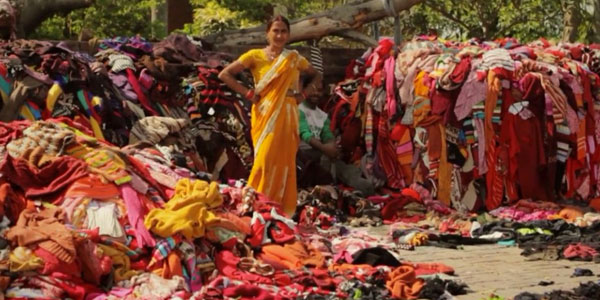 From being the most-cherished treasure to making a fashion statement, the sari has come a long way. With a little effort, age-old ideas and contemporary fashion secrets can be combined to convert the six-yard wonder into a trendy garment.
Quintessentially Indian, the sari evolved out of a complex physical, historical and cultural environment differing from region to region. This six-yard affair has romanced the Indian woman for more than five millennia.
It is time you flaunted your grandma's envious treasure. This attempt – overwhelming in the beginning – would certainly be rewarding at the end. The introductory pointers are for zari- bordered cotton and silk saris. If the sari drifts away from the contemporary weaving ideas, it could be transformed into garments.
If the body of the sari does not indicate a good life, only the zari borders could be cut and employed in panel details and yoke details. Short cap sleeves could be constructed from thick borders. The body could be lined, if the fabric has gone too supple over the years. In tune with the trends, these zari borders could be patched on hems of denim skirts or trousers. Zari patch pockets on shirts and trousers could make heads turn. One could buy silk and edge borders in a customised fashion. The pallav could be employed for halter-tops, spaghetti tops and boleros that could be thrown over evening gowns in silk. Remaining left over pieces could be used for accessories like bags with slings or small `batuas', headscarves (bandannas) and even `tie-me-up' waist belts. Delicate zari dories could be employed in strap areas of spaghetti tops or dresses. Men's kurtas with asymmetric details, shirts with interesting panelling, could also be constructed from the old saris.
At a time when "India is stealing the show across the globe", zari components teamed with varied surface ornamentation techniques hint towards a perfect fashion setting. `Badla' work and `Sitara' work are ideal compliments of zari incorporated panels. Cropped spaghetti kurtas with cigarette pants and a textured stole give you designs that understand elegance.
Linear lurex embroidery with bead work also form a part of this story. Chikankari saris are sure to pop out of your granny's treasure. Over the years, the sari might have been damaged in certain areas. You could go for small patterns that probably call for less fabric consumption. Styles like tanks with cut-away sleeves, shirts with three-fourth sleeve length and A-line skirts give you just what you need to highlight the charm of women's dressing.
Granny's trousseau would gift you heavily ornamented zardozi saris.
Again, depending on the quality of the body, designs could be planned. Zardozi with `that' tarnished face could help you create a splendid garment without disclosing the inside secrets! If need be, zardozi work could be polished and customised on your garment.
You might be lucky to lay your hands on sheer saris that could wonderfully gel with today's fashion scene.
For instance, Parsi georgette sari could be employed in the construction of a layered kurta and dupatta which could have embroidery (from the sari) edged on all four sides.
A matching bottom could be coordinated with the same.
Apart from apparel, home accessories like cushion covers, runners, place mats could be developed with granny's blessing.
And even curtains, bags and bedspreads
Although the digital revolution reforms the modern landscape, allures of the intra family bonds hold us captive.
It is no surprise that objects of our previous generation have renewed appeal.
Today's fashion mixes all periods and technologies to give birth to `newness' – paying a tribute to grandma's treasure.
Do not discard antiques. Just don't throw…. use and throw!