Upon arrival in Jakarta, you need to deal with many things—getting settled to your job, finding a house/apartment, getting your kids enrolled in school, buying or leasing a car, and many more. Until you find a suitable housing and get settled down with your life in Jakarta, there are many options for you to stay in. You can stay in a hotel, guest house or serviced apartments before you find the perfect residence.
Jakarta has extensive options of serviced apartments for short stay as well as long stay. These are available all over Jakarta, from the CBD area in Sudirman to the northern Jakarta in Pluit. The options come in different sizes, facilities, benefits, and price as per your preference. In Jakarta, expats can rent on a monthly basis with upfront payment. But it is cheaper to rent for a longer period of time, for example six months to a year.
Why serviced apartments?
Serviced apartments are fully furnished apartments which are available for both short-term as well as long-term stays. They usually offer hotel-like amenities such as swimming pool, restaurants, gym, children's playground, and many more. Serviced apartments include all convenience of hotel rooms with less expensive than hotels for longer stay.
South and Central Jakarta are the most popular areas among expats in Jakarta. In these areas, there are many apartment blocks that offer serviced apartments for both short stay and long stay. These areas also have easy access to central business districts, shopping malls, and other important facilities like hospitals. The convenience, facilities, and affordable prices offered by serviced apartments are the reasons why most foreigners choose to stay there rather than other housing options.
Most serviced apartments consist of 1 to 4 bedrooms, living room, kitchen, bathroom, and dining room. Some are also equipped with other small bedroom for household staff, which is usually connected to kitchen or laundry room. All are fully furnished so you don't have to worry if your household stuff has not arrived in Indonesia yet.
Here are some recommended serviced apartments in Jakarta for you to choose:
Fraser Residence
Fraser Hospitality is one of the largest hospitality operators in the world, with more than 22,000 keys worldwide. In Indonesia, Fraser Residence units are located in Sudirman, Setiabudi, and Menteng area. All the locations are close to the central business districts and shopping centers. So, if you look for an apartment with easy access to important places and in the heart of the city, Fraser Residence can be your option. The apartments are also fully furnished, with amenities such as swimming pool, children's playroom, library lounge, 24 hours reception and concierge services, and many more.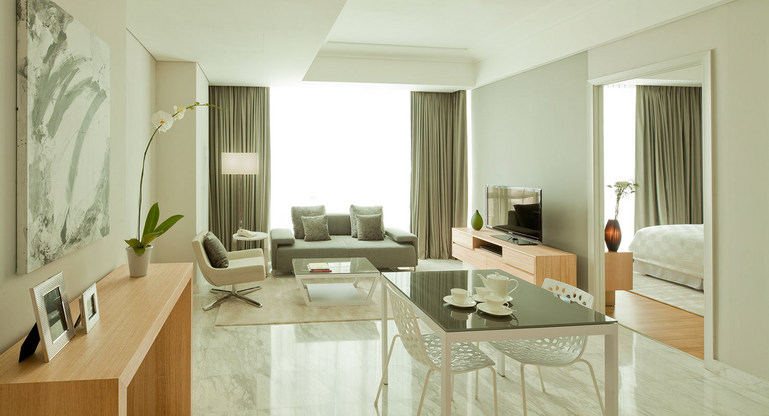 Address and contact:
Fraser Residence Menteng
Jalan Menteng Raya No 60 Menteng, Central Jakarta
Phone 021-29551888
Fraser Residence Setiabudi
Jalan Setiabudi Selatan Raya No 2, Karet, Setiabudi, South Jakarta
Phone 021-30020888
Fraser Residence Sudirman
Jalan Setiabudi Raya No 9, Sudirman, Central Jakarta
Phone 021-29272888
Website: http://jakarta.frasershospitality.com/en
Denpasar Residence
If you have a keen interest in Balinese architecture, then Denpasar Residence could be your option. The apartment is designed by combining modern living with a touch of Balinese ethnic and exotic cultural elements. Aside from complete facilities and amenities it offers, the towers soar above Kuningan City Superblock with breathtaking view of Jakarta's skyline. The location is also strategic; it is near to office buildings in Jalan Rasuna Said area, Mega Kuningan, and Sudirman area.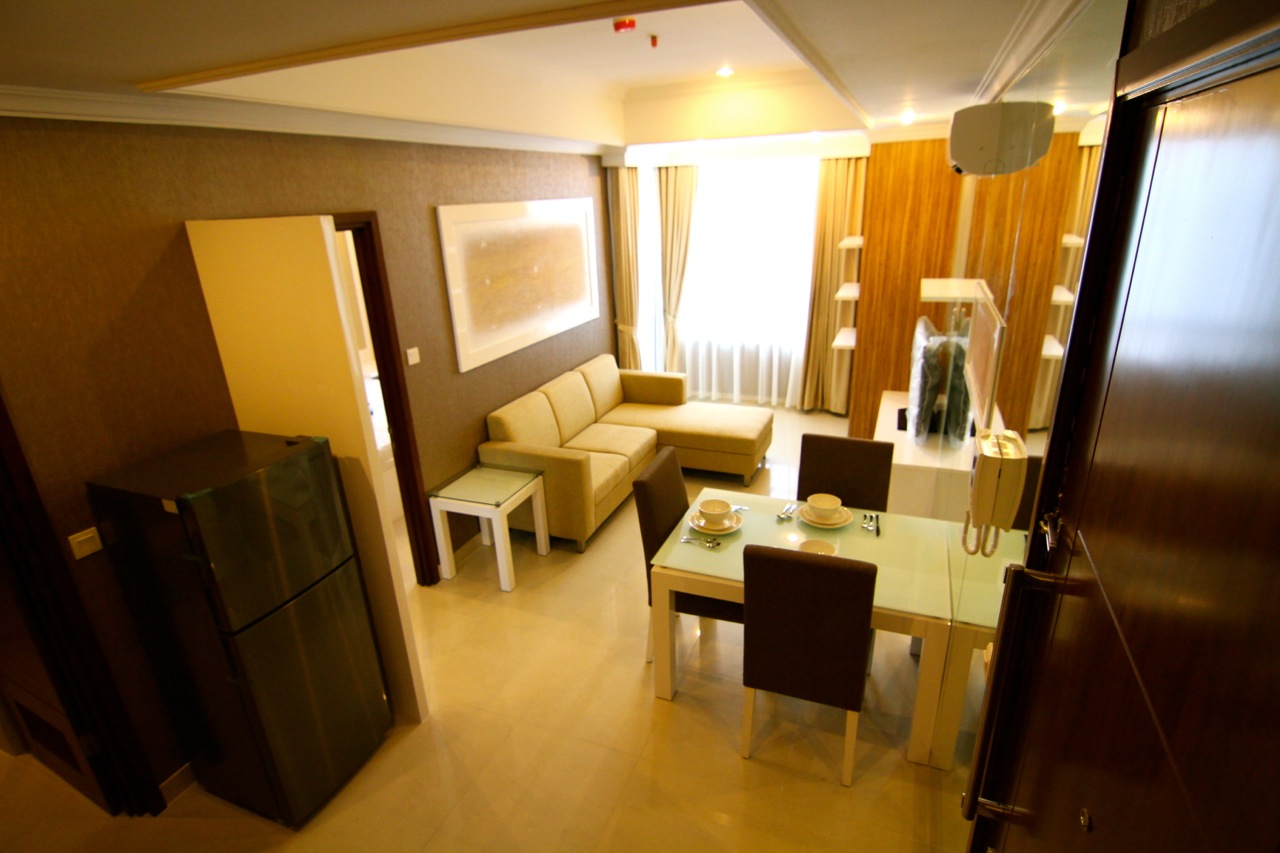 Address and contact:
Jalan Prof Dr Satrio Kav 18 Setiabudi, Kuningan, South Jakarta
Phone 021-57905555
Website: www.kuningancity.com; www.denpasarresidence.com
Citadines Rasuna
Citadines Rasuna Jakarta offers serviced apartments, located along the main arterial road of Jakarta city centre. It is situated next to Metropolitan Medical Center (MMC) Hospital, just a short walk to Epicentrum, and only several minutes drive to numerous embassies and office towers along Rasuna Said. The building comprises of studio, one-to-two bedrooms stylish apartments with fully equipped modern kitchen, internet access, and phone facilities. Swimming pool and fitness corner are also available for you to recharge yourself.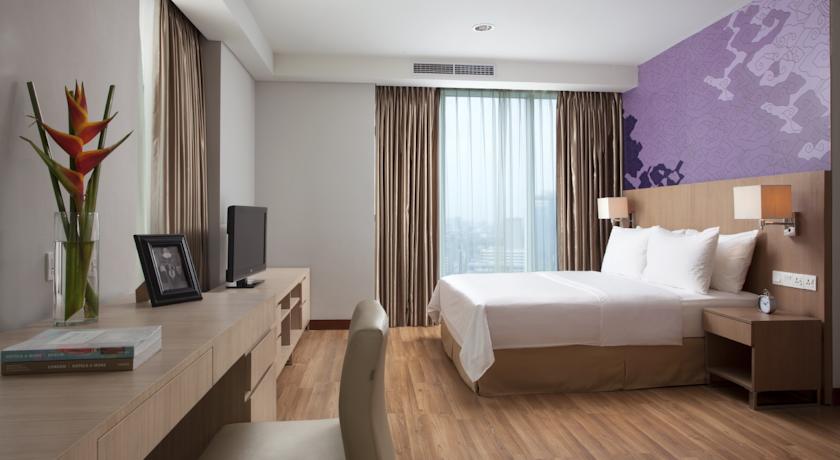 Address and contact:
The H-Tower, Jalan HR Rasuna Said Kav 20 Kuningan, South Jakarta
Phone 021-29533123 / 29956888
Website: http://www2.citadines.com/en/indonesia/jakarta/rasuna.html#
Ascott Jakarta
Ascott Jakarta is another option for you who look for apartment at strategic location in Jakarta. The apartment is less than 2 km from Tanah Abang train station, so it is very convenient for you who need to commute by train every day. There are many offerings, from 1 to 3 bedrooms and all fully furnished. Parking is free, and there are also amenities including fitness center, sauna, and outdoor pool and tennis courts. The other tower is located at Ciputra World Kuningan.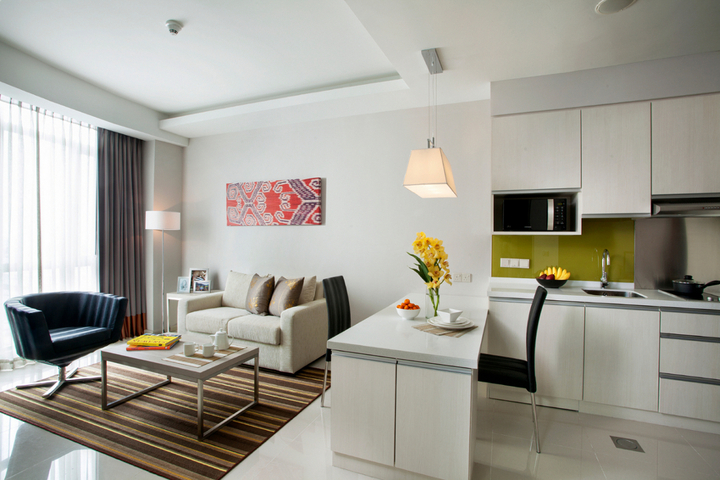 Address and contact:
Jalan Kebon Kacang Raya No 2, Tanah Abang, Central Jakarta
Phone 021-3916868
Website: http://www.the-ascott.com/en/indonesia/jakarta/ascott_jakarta.html
The Mansion at Kemang
Kemang Mansion is located at one of the vibrant spots in Jakarta. The units are beautifully furnished with quality furniture and equipments. This apartment is also completed with facilities such as Kem Chicks supermarket, spa and salon, fitness centre, ATM centre, and jogging track. Kemang is also one of the favorite spots for Jakartans to hang out—so it's close to many hype hangout places.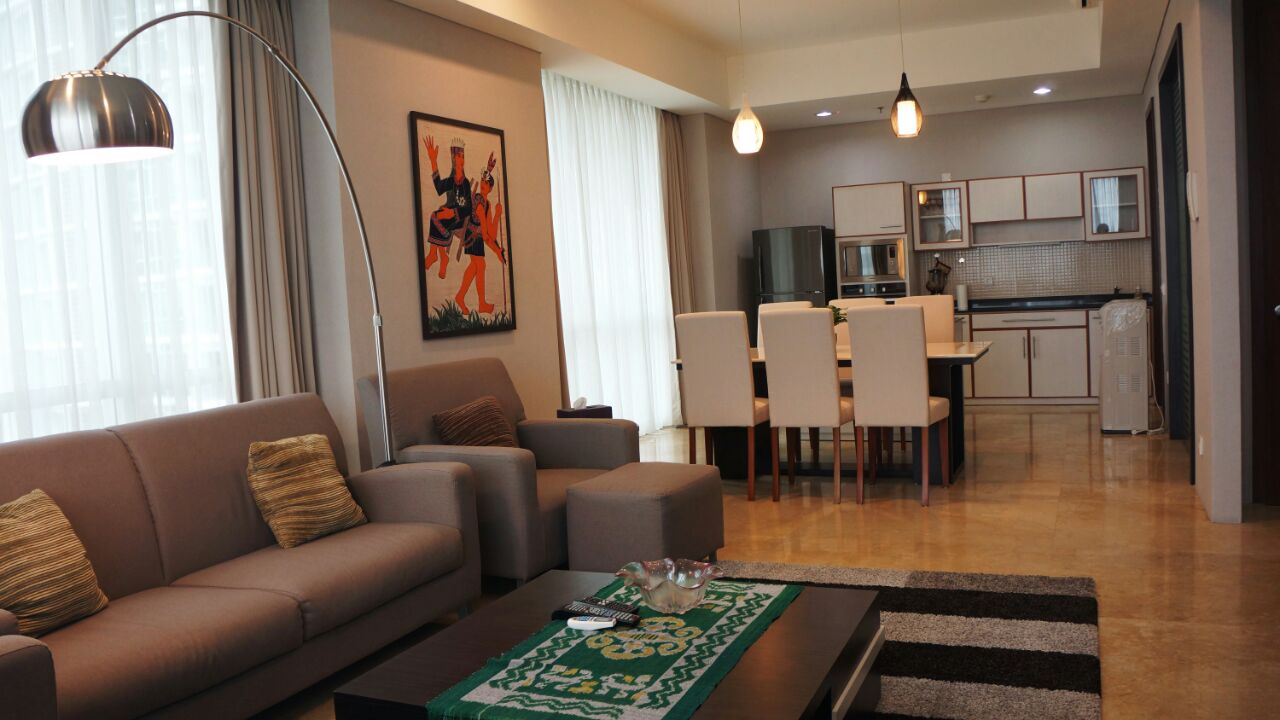 Address and contact:
Jalan Kemang Raya No 3-5, South Jakarta
Phone 021-7195900
Website: http://www.agungsedayu.com/?commercial_site=the-mansion-at-kemang
Morrissey
These hip serviced apartments are only 7-minutes walk from Gondangdia train station and only a few minutes drive away from Plaza Indonesia shopping mall. The industrial-style studios offer free WiFi, flat screen TVs and DVD players, and fully equipped kitchen. For the amenities, there are also residents' lounge with cooking facilities, Japanese and Italian restaurant, fitness center, as well as rooftop swimming pool.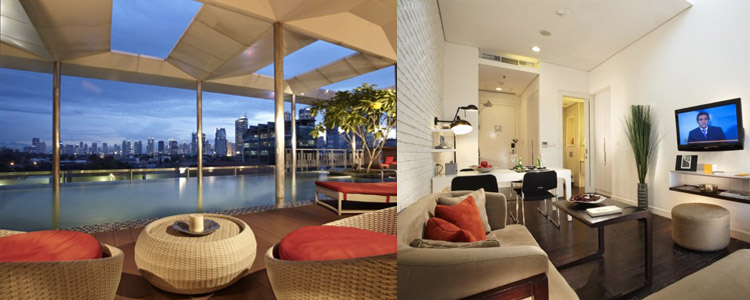 Address and contact:
Jalan KH. Wahid Hasyim No 70 Menteng, Central Jakarta
Phone 021-29933333 / 29932222
Website: www.iammorrissey.com
Green Bay Pluit Residence
Green Bay Pluit is one and only superblock that located at northern coast of Jakarta. It is located at golden area of Pluit which is a safe, elite, and strategic with high investment value. If you want a calm place with nice sea view, Green Bay Pluit provides it for you. There are three housing offered by Green Bay Pluit: Coastview Apartment, Bay View Apartment, and Seaview Apartment. The facilities and amenities include water sport recreation, swimming pool, shopping mall, and Botanical Park.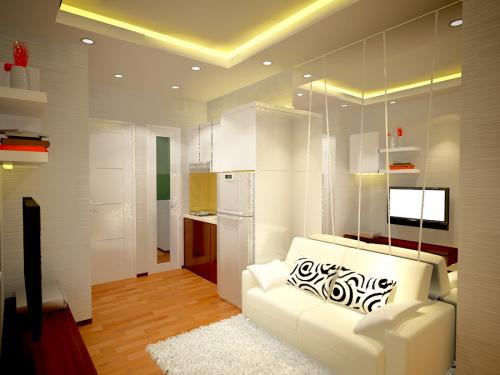 Address and contact:
Jalan Pluit Karang Ayu, Pluit, North Jakarta
Phone 021-622188
Website: www.greenbaypluit.com
If you've just moved to Jakarta and still settling down with your new life, it is recommended to stay in full-furnished serviced apartment. As you wait for your stuffs to arrive in Jakarta, the complete facilities and amenities in serviced apartment will help you cut your time (and energy) to set up your new lives. Make sure you get complete and clear information about your apartment before you decide to rent or buy it. Contact the marketing office of the apartment management or visit their websites to gain more information. Happy hunting!