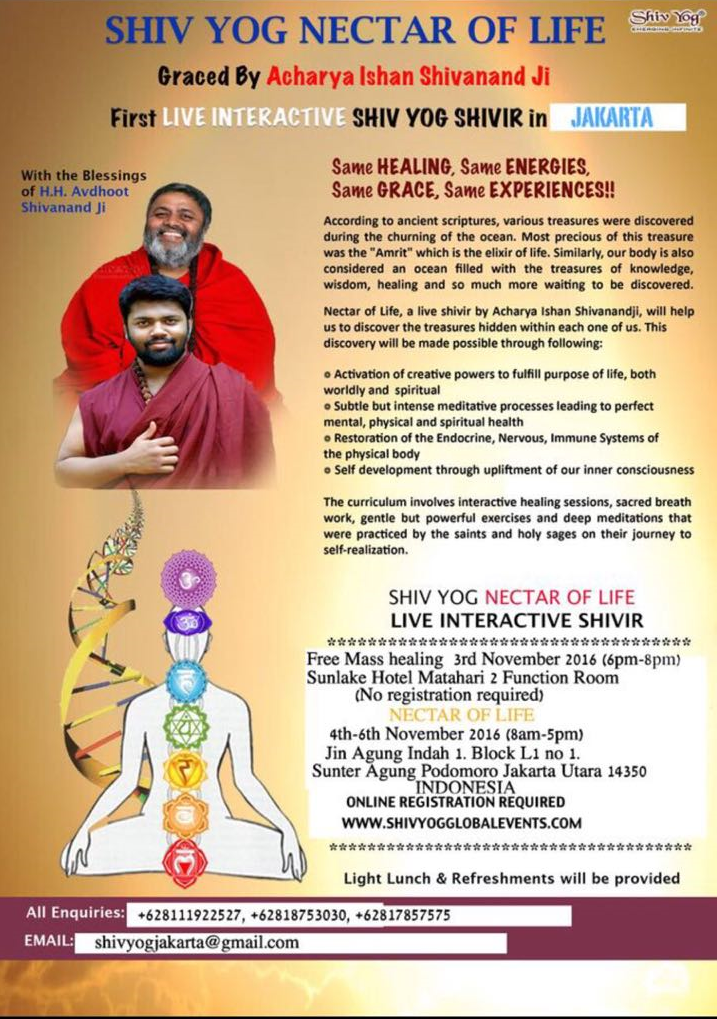 SHIV YOG NECTAR OF LIFE
Graced By Acharya Ishan Shivanand Ji
First LIVE INTERACTIVE SHIV YOG SHIVIR in JAKARTA
With the Blessings of H.H Avdhoot Shivanand Ji 
Same HEALING, Same ENERGIES,
Same GRACE, Same EXPERIENCES!!
According to ancient scriptures, various treasures were discovered during the churning of the ocean. Most precious of this treasure was the "Amrit" which is the elixir of life. Similarly, our body is also considered an ocean filled with the treasures of knowledge, wisdom, healing and so much more waiting to be discovered.
Nectar of Life, a live shivir by Acharya Ishan Shivanandji, will help us to discover the treasures hidden within each one of us. This discovery will be made possible through following :
Activation of creative powers to fulfill purpose of life, both worldly and spiritual
Subtle but intense meditative processes leading to perfect mental, physical and spiritual helath
Restoration of the Endocrine, Nervous, Immune Systems of the physical body
Self development through upliftment of our inner consciousness
The curriculum involves interactive healing sessions, sacred breath work, gentle but powerful exercises and deep meditations that were practiced by the saints and holy sages on their journey to self-realization.
SHIV YOG NECTAR OF LIFE LIVE INTERACTIVE SHIVIR
*********************************************************************
Free Mass healing 3rd November 2016 (6pm – 8pm)
Sunlake Hotel Matahari 2 Function Room
(No registration required)
NECTAR OF LIFE
4th – 6th November 2016 (8am – 5pm)
Jln Agung Indah 1, Block L1 No. 1
Sunter Agung Podomoro Jakarta Utara 14350
INDONESIA
ONLINE REGISTRATION REQUIRED
**********************************************************************
Light Lunch & Refreshments will be provided
All Inquiries : +628111922527, +62818753030, +62817857575
EMAIL : shivyogjakarta@gmail.com