Home
Associations
TAMIL SANGAMAM, Spectacular Tamil Carnival on Saturday 14th April, 2018
TAMIL SANGAMAM, Spectacular Tamil Carnival on Saturday 14th April, 2018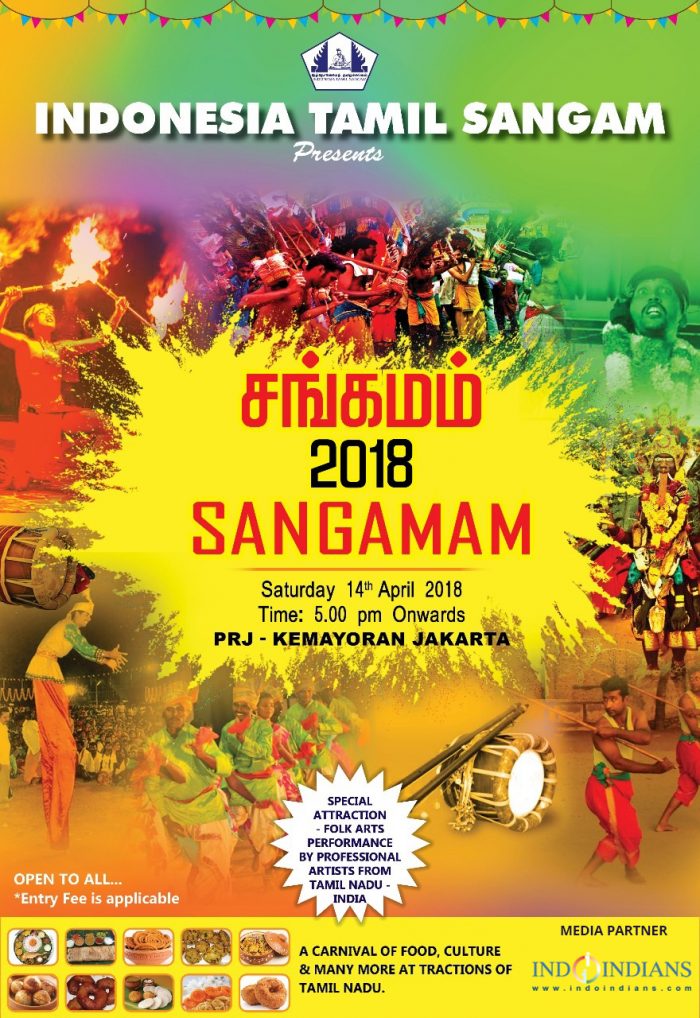 TAMIL SANGAMAM  2018 –  a Spectacular Tamil Carnival for this year – is back on Saturday 14th April, 2018 at PRJ, Kemayoran, Jakarta
Please mark this date and do not miss this event.
Home made Traditional and authentic Tamil foodstalls!
SpectacularTamil folk arts !
Tamil Traditional games such as Uri adithal  & Pambaram Suzhatruthal !
All are Invited ! (Entry Fee Rp 30,000/pax)
Please circulate this message to all your friends – bring your Family, Children and Friends to experience the richness of Tamil culture and Cuisine!
Based on the massive response and reception from you all for the performances of professional folk artists during the Sangamam 2017, as a special attraction we are bringing again for this Sangamam 2018, a team of 6  Professional Folk Artists from India, to perform some of the Folk Arts such as ;  Kattakalattam, Kali attam, Oyilaattam, Silambam, Kaavidi, Fire Dance etc. This is a rare opportunity to have such a live performance in Jakarta
This is an initiative by Indonesia Tamil Sangam to educate our next generation and the world about our heritage!   Please come and participate to save our culture!
PLEASE BRING YOUR FAMILY & FRIENDS
DON'T MISS IT!
THANKS
இந்தோனேசியத் தமிழ்ச்சங்கம்