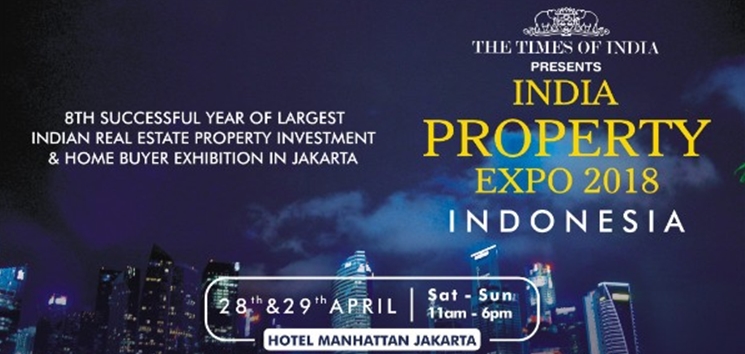 Exclusively for Indians in Indonesia !
Wondering if the "Time is Right" to invest in Indian Properties? Why wait when you can get the best deals now. Find out about incredible Realty Deals from top 20+ developers, spanning across Bangalore, Hyderabad, Mumbai, New Delhi, Delhi NCR, Pune, Chennai, Goa and much more…
Learn about Pre-launch offers, special discounts, flexible payment plans, buy back schemes and many investment options across India!
28th & 29th of April (Sat- Sun)
Walk in anytime between 11am – 6pm at
MANHATTAN HOTEL (GRAND CAPITOL BALLROOM)
Casablanca, Kuningan Jakarta Selatan
* Join us for Indian Lunch / Hi Tea / Coffee & Snacks on both the days.
Register now @ http://bit.ly/2IIYxsF
You DO NOT want to MISS this LIMITED PERIOD OPPORTUNITY !
List of Developers & Cities
1) Sobha Developers : Bangalore
2) Phoenix Residencies Bangalore
3) Puravankara Bangalore
4) Gera Developers : Goa, Pune, Bangalore
5) Godrej : Ahmedebad, Bangalore, Mumbai, Chennai
6) Puranik : Thane Mumbai
7) Sallarpuria Developers : Bangalore Chennai
8) World Trade Centre : Noida , Delhi
9) Ozone : Bangalore, Chennai
10) Mudra Consultancy : NRI Tax Consultancy
For further information / registration / rsvp :
– email : jivesh@infairs.in | Whatsapp no. +919322228089
– or call Utin at +62-21-5228775