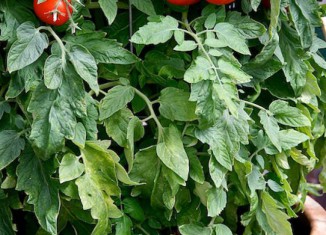 Tomatoes here, tomatoes there, tomatoes everywhere. When we're adrift in a sea of tomatoes, why a column about growing more tomatoes?
You don't need a green thumb or a greenhouse to grow vine-ripened tomatoes indoors. "Window-sill" tomatoes will do well in 6-inch pots filled with good potting soil. You'll also need the right tomato seed, seed starter mix, fertilizer, and plant stakes. Presto! Tomato salad comin' up!
Windowsill tomatoes are smaller than their outdoor relatives –Quarter-to-half-dollar-size. But don't let their small size fool you – they come with a big tomato taste. They aren't "slicers," but they are perfect for salads or snacks.
Grow Your Own Tomatoes
You can grow one plant in a 6-inch pot or two plants in larger pots. For a continuous supply, start one or two new plants from seed every two weeks. Recommended varieties are Pixie, Patio, Toy Boy, Small Fry or Tiny Tim. These varieties will produce small plants, but they still may need to be staked, especially when they begin to bear fruit. Quarter-inch dowels make good stakes.
Germinate seeds in a small pot with starter mix. Plant seeds about 1/4 inch deep and water. Keep starter mix moist but not soggy. Germination should occur in 5 to l0 days.
Transplant from starter mix into potting soil when seedlings are about 3 inches tall. Fertilize regularly, but lightly, beginning about two weeks after transplanting. Water plants thoroughly, but not too frequently. A catch pan under the pot will keep windowsills dry.
When plants bloom, help Mother Nature along: Tap the main stem and larger side branches with your finger. This moves the plant slightly and encourages pollination. As you tap the plant, you might see a small cloud of pollen falling from the open flowers.
Turn plants occasionally, so all sides get a fair share of sunlight. After each plant has provided a bumper crop and has become unproductive, cut it off at the base, saving the potting soil for future transplants. Toss the old plant in the compost pile.