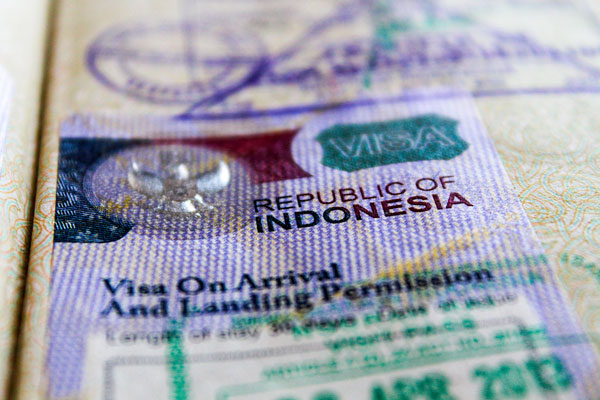 VISA ON ARRIVAL
I. The list of 52 nationalities, which can enjoy the facility of Visa on Arrival, is as follows :
South Africa
United States
Argentina
Australia
Austria
Belgium
Netherland
Bahrain
Brazil
Bulgaria
Cyprus
Denmark
Estonia
United Arab Emirates
Finland
Greece
Hungary
India
United Kingdom
Iran
Ireland
Italy
Iceland
Japan
German
Canada
Cambodia
South Korea
Kuwait
Luxembourg
Liechtenstein
Laos
Maldives
Egypt
Mexico
Monaco
Malta
Norway
Oman
France
Poland
Portugal
Qatar
China
Russia
Switzerland
Saudi Arabia
New Zealand
Spain
Sweden
Suriname
Taiwan (Region)
II.  Visa on Arrival will be issued at the Immigration Check-Point at the following Ports:
AIRPORTS
| | |
| --- | --- |
| 1. Polonia in Medan; | 8. Juanda in Surabaya; |
| 2. Sultan Syarif Kasim II in Pekan Baru; | 9. Ngurah Rai in Bali; |
| 3. Tabing in Padang; | 10. Selaparang in Mataram; |
| 4. Soekarno-Hatta in Jakarta; | 11. El Tari in Kupang; |
| 5. Halim Perdana Kusuma in Jakarta; | 12. Sepinggan in Balikpapan; |
| 6. Adi Sucipto in Yogyakarta; | 13. Hassanuddin in Makassar; and |
| 7. Adi Sumarno in Surakarta; | 14. Sam Ratulangi in Manado |
SEAPORTS
Sekupang, Batu Ampar, Nongsa, Marina Teluk Senimba, and Batam Center in Batam;
Bandar Bintan Telani Lagoi and Bandar Sri Udana Lobam in Tanjung Uban;
Sri Bintan Pura in Tanjung Pinang;
Belawan in Belawan;
Sibolga in Sibolga;
Yos Sudarso in Dumai;
Teluk Bayur in Padang;
Tanjung Priok in Jakarta;
Padang Bai and Benoa in Bali;
Jayapura in Jayapura;
Bitung in Bitung;
Tanjung Balai Karimun in Tanjung Balai Karimun;
Tanjung Mas in Semarang;
Tenau in Kupang;
Pare-Pare in Pare-Pare;
Soekarno Hatta in Makassar; and
Maumere in Nusa Tenggara Timur
III. Visa on Arrival is not extendable and not convertible into other types of visa.
IV.  Visa Fee :
Visit up to 7 (seven) days : US$ 10.00
Visit up to 30 (thirty) days : US$  25.00
V. Nationalities not listed above should obtain visa prior to departure.