Home
Associations
WPP India XI, Senayan CC, TKCC & Challengers CC emerge winners this...
WPP India XI, Senayan CC, TKCC & Challengers CC emerge winners this weekend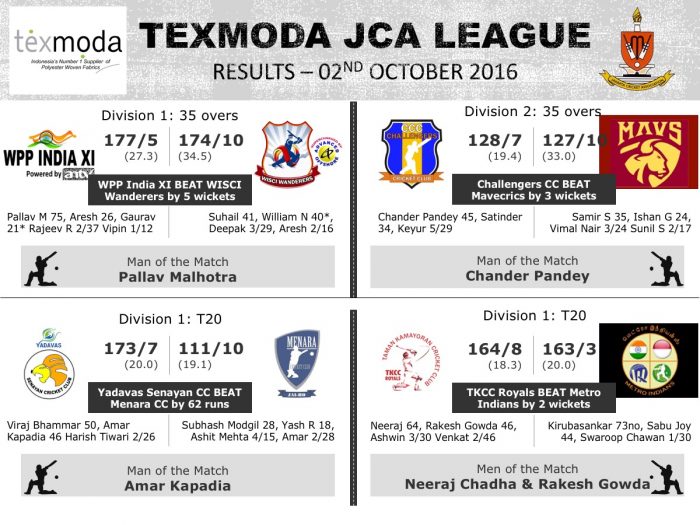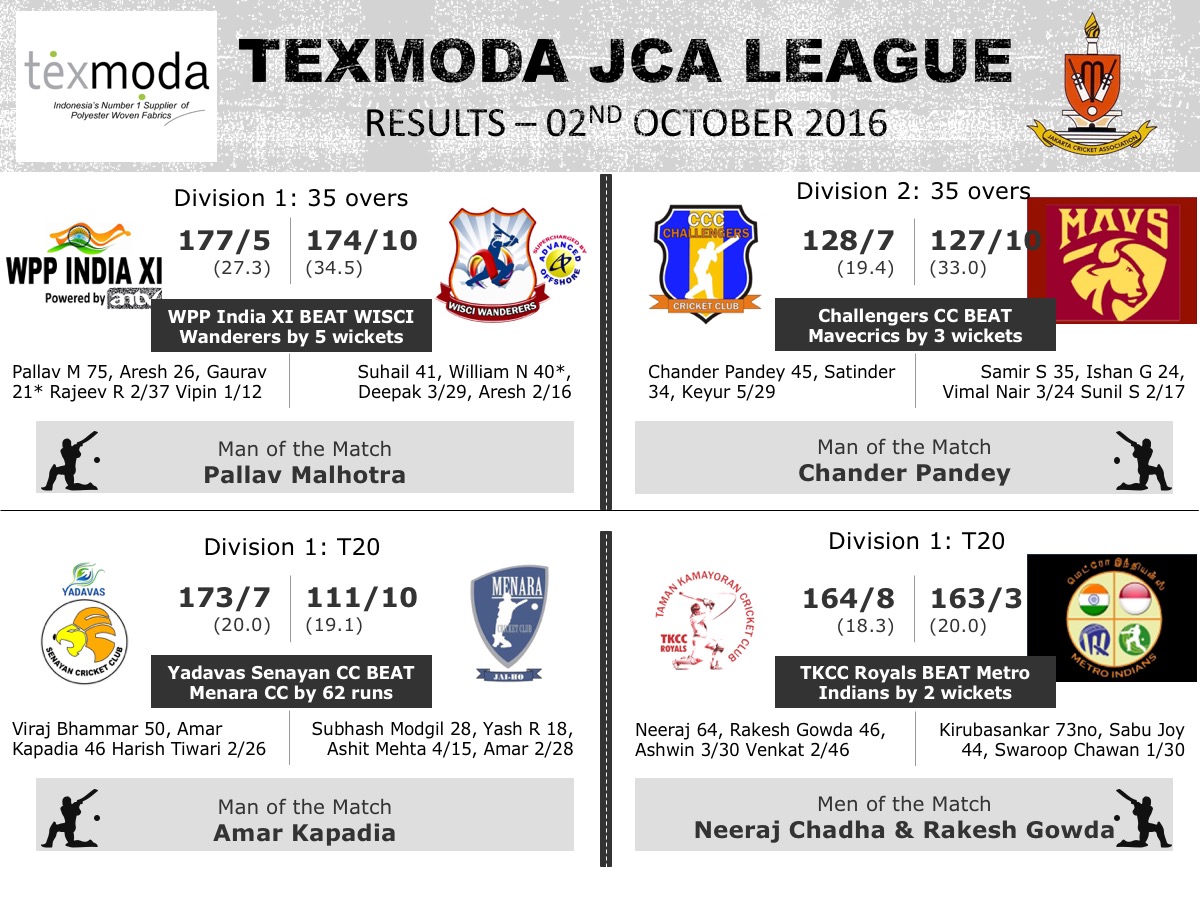 Defending champions WISCI Wanderers's new opening pair got them off to a steady start & when Pallav Malhotra (2/31) got rid of both the openers, Suhail Modak (41) then had to hold one end up as Deepak Sarika (3/29) kept chipping away at the wickets. The loss of the dangerous Navin Param & Rajeev, put WISCI in further trouble & needed their captain William (40 not out) to take them to a decent total of 174 all out. In reply, Rajeev Rajeswaran (2/37) in a new opening bowler role, took early wickets to have WPP India XI in trouble at 32/3. In walked the captain Pallav Malhotra (75) who built partnerships, first with Aresh Srivastava (26) & later with Gaurav Pathak (21no) to take WPP India XI to a comfortable win with 5 wickets & more than 7 overs to spare. "Felt great that my knock helped the team upset the defending champions" said Pallav, the man of the match.
The second 35 over game was a low-scoring, attritional fight of temperaments as Challengers CC prevailed over Mavecrics CC by 3 wickets. The Mavecrics batting once again struggled to force the pace & wickets for each of the first 5 bowlers had the Mavs in deep trouble at 21/5. Samir Sharma (35) & Ishan Gambhir (23) then, put on a 73 run partnership to bring some respectability as the Mavecrics were bowled out for 127 in 33 overs. Low targets have a way of confusing the chasing side and Challengers CC quickly realized this as Keyur Moradia (a fantastic 5/29) had them in trouble at 41/5. Debutant, Chander Pandey (45), then, probably inspired by Chulbul Pandey, played a Dabangg knock and he along with Satinder Minhas (34) blitzed Challengers CC out of trouble and steered the team to a 3 wicket win with more than 15 overs left.
Metro Indians took on TKCC Royals in the first of the two T20s. In what has now become a very predictable pattern, Kirubasankar (73 not out) once again was the batting star as he & Sabu Joy (44) took Metro Indians to a seemingly comfortable 163/3 in 20 overs. In hind-sight, maybe they should have looked for quicker runs, especially with so many wickets in hand. Neeraj Chaddha (64) who, on his day can be un-stoppable, was having one of those days, as he got TKCC off to a brisk start and his team was comfortably placed after 6 overs. Ashwin (3/30) & Venkat (2/46) then put the cat among the pigeons and triggered a mini-collapse. Rakesh Gowda (46), had to ensure he guided his team across the line with only 2 wickets in hand.
The Yadavas Senayan CC (playing 5 Indonesian players) won comfortably against Menara CC in the second T20 game of the day. Viraj Bhammar (50) & Amar Kapadia (46no) set up a good platform and a few lusty blows by Anjar Tadarus (18) took Senayan CC to 173/7 in 20 overs. In reply, Menara CC couldn't force the pace well enough & though, Subhash Modgil (28) seemed to be showing some of his past form, Ashit Mehta (4/15) & Amar Kapadia (2/28) ensured Menara CC couldn't break away and bowled them out for just 111 with an over to spare.