Youth Cricket Coaching Program @ AIS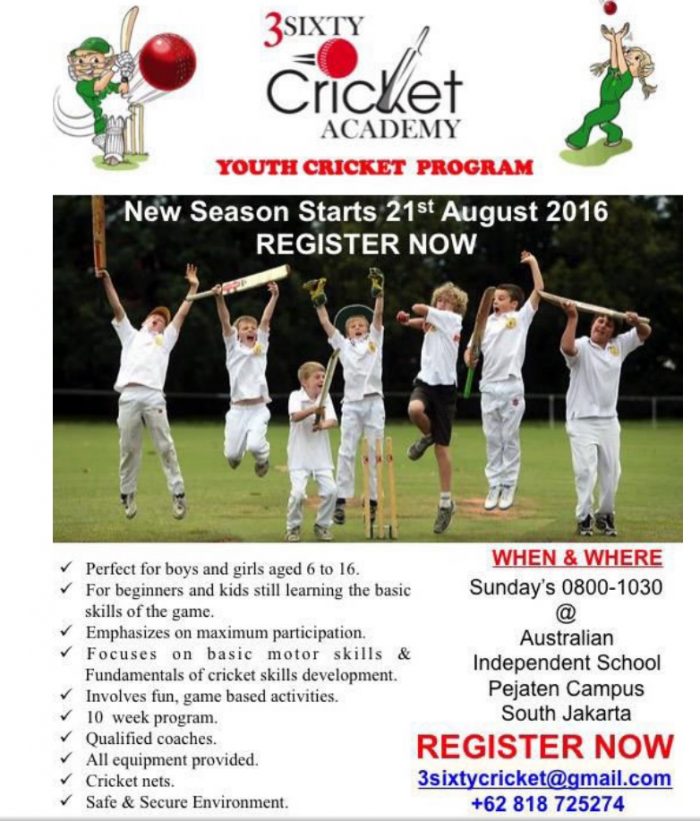 The 3SIXTY Cricket Academy's youth cricket coaching programs on Sundays at the Australian Independent School @ the Pejatan campus, South Jakarta, starting from August 21, 2016. The academy will offer cricket-coaching programs, open for boys and girls from the age of 6 to 16 years, conducted by qualified Coaches (Cricket Australia Certified), in an enjoyable, safe and friendly environment.
The cricket coaching programs are based on MILO IN2CRICKET programs, which are fun programs for kids to learn the fundamentals of Cricket.
BEGINNERS PROGRAM
This program is designed for boys and girls, who have never played cricket before. It is a fast, fun and active program that emphasizes maximum participation, basic motor and fundamental cricket skills development.
CLICK HERE FOR PROGRAM INFORMATION
CLICK HERE FOR ONLINE REGISTRATION
Features:
Perfect for boys and girls aged 6 – 10
For beginners and kids still learning the basic skills of the game
Teaches basic cricket skills (Batting, Bowling & Fielding)
10 Week program
Coaching Sessions 60 mins + 60 mins games
Game based activities
All equipment provided
What they will learn:
Hit a moving ball
Bowl with a straight arm
Throw, pass and catch balls
Track & trap balls
Game Sense
Teamwork
Communication
Sportsmanship
ADVANCED PROGRAM
This program is designed for boys and girls, who have played the game before –
backyard cricket, with friends, dad etc. or those who have attended coaching programs in
the past.
Features:
Perfect for boys & girls ages 11 – 16
For kids who have basic cricket skills
Sessions include fitness, batting, bowling, & fielding Skills development.
10 Week program
Coaching Session 60 mins + Game 90 mins
Everyone gets to bat, bowl and field
All equipment provided
What they will learn:
Judge, respond and hit a moving ball
Run between wickets and calling
Bowl over 15m with a straight arm
Catch & throw over 15m
Game Sense & Game Strategy
Teamwork
Communication
Sportsmanship
FACILITIES:
The facilities at the AIS campus include:
Dedicated two lane Astro Turf cricket nets.
Astro Turf playing field
All equipment
Access to change rooms, toilets and showers.
Security – All participants will be given photo identity access badges to enter AIS
campus.
TIME & VENUE:
SUNDAYS 8am – 1030am
Australian Independent School
Pejaten Campus
Jl. Pejaten Barat No. 69
Jakarta Selatan 12510
CLICK HERE FOR PROGRAM INFORMATION
CLICK HERE FOR ONLINE REGISTRATION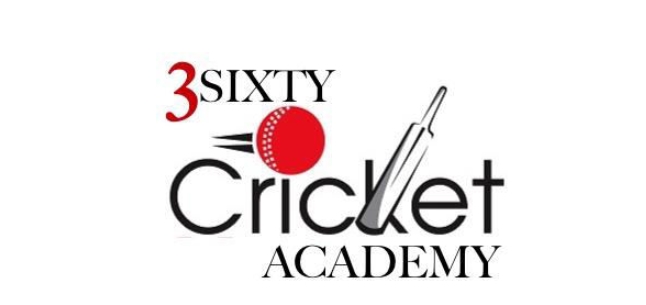 Email [email protected] 
Mobile +62 818 725274
(Preferably after office hours & Weekends)