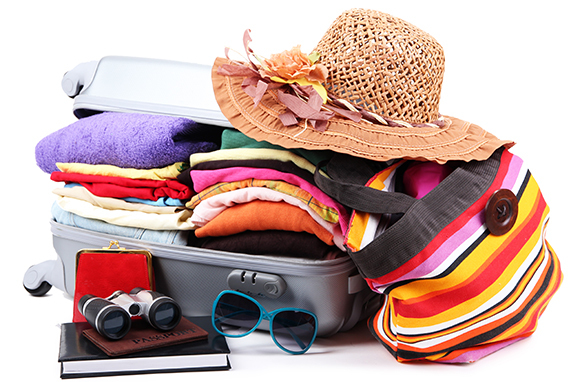 No need to pack everything you own for vacation. The right tote, a versatile dress and quick-change separates can make all the difference. Here are 10 essentials for a summer vacation.
Our wardrobe picks make travel and packing a breeze.
1. Canvas tote bag
A carryall is a travel must! Look for leather-trimmed styles for classic
chic, groovy patterns to show your wild side and convenient.
2. Sarong
Worn low on the hips over a swimsuit, it becomes a cute skirt; knotted at the chest it is a short dress. It can chase away chills at night as a shawl or carry around beach necessities as a knapsack.
3. Knit dress
Choose, solid strapless, halter or stripe. An easy dress is a vacation no-brainer to take you from shopping to dinner.
4. Staw hat
Nothing says "relaxed" like a great straw hat. Choose a floppy style for maximum UV coverage. Just slip on a pair of dark shades and you're ready!
5. Leather sandals
Leave the sneakers at home and opt for naturally comfy leather sandals instead. The right pair is goes as well with a breezy sundress as shorts (Hint: flat thongs in brown go with everything!)
6. Mix and match separates
Basic knitwear coordinates are the workhorses of the travel wardrobe: just layer and accessorize to complete mix-and-match potential.
7. Reversible clothing
One day it's a print, the next a solid. You'll love how much reversible clothing can stretch your wardrobe (and save on packing space).
8. White shirt
It's a workwear staple and a great vacation partner. Wear it over a tank, knotted at the waist with shorts for sight-seeing style. Or roll up the sleeves, unbutton at the top, tuck into your fave jeans and add strappy sandals for easy chic.
9. Cool shades
Of course you'll need an excellent pair of sunglasses to fend off sunny days. Look for rectangular shapes, chunky plastic rims, sleek wire rims or fun lens colors. Save the obviously designer shades for home (don't want to flaunt that you're a tourist!)
10.Sporty watch
Make sure you don't miss your flight with a watch that goes with everything casual. Look for high-tech features, even waterproof styles that can keep up with your active lifestyle.
Did we forget anything? Do share in the comments below…