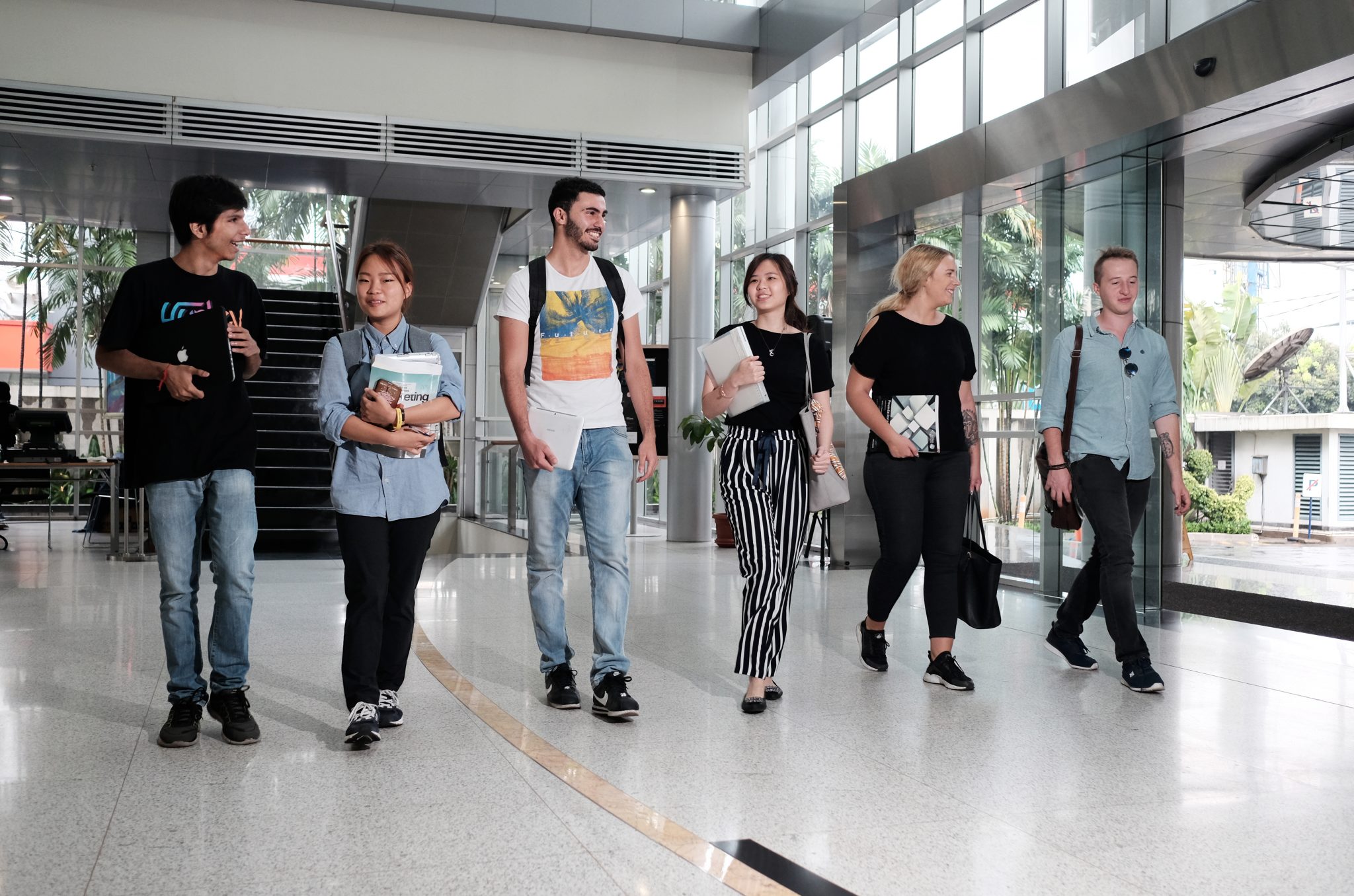 Established in 1996, BINUS UNIVERSITY is a premier private institution of higher education offering international standard courses at both the undergraduate and postgraduate degree level. Today, BINUS educates 30,000 students across its ten campuses in greater Jakarta area, Bandung and Malang. BINUS UNIVERSITY is a part of the BINA NUSANTARA Foundation. Originally founded in 1974 as a provider of vocational training introducing modern informatics to Indonesia, the foundation today also runs international standard schools. BINUS is well known for ICT as its core pillar, global mindset pedagogy, and employability rates.
Synonymous with a modern approach to higher education in Indonesia, BINUS UNIVERSITY provides ICT focused learning experience. BINUS implements IT-based processes in the course curricula and at every level of internal operation. State-of-the-art campuses are well equipped supporting familiarisation with the latest technologies. The university's learning management system unfolds online learning opportunities.
3+1 Enrichment Curriculum run by undergraduate programs mandates all students to experience 1 year of the real world through overseas study, internship, entrepreneurship, community development or research. This program is made possible in cooperation with 160 universities worldwide and over 5,000 companies. The result is that 2 in 3 BINUS graduates become entrepreneurs or are employed by global organisations shortly after completing their studies.
BINUS offers a range of programs in computer science, business, accounting, communication, international relations, engineering, fashion and graphics design. Its international campus in the city's business district Senayan executes programs fully in English. Double degree options are possible with reputed universities in Asia, Australia, and Europe, such as ASO Group, SolBridge International School of Business, Queensland University of Technology, Cologne Business School and Northumbria University. Students can as well enjoy English programs with a study abroad option at the university's green campus in Alam Sutera. These programs host some 500 foreign students annually.
BINUS lecturers and staff are dedicated to pedagogical breakthroughs and international quality assurance. Having graduated from leading Indonesian or foreign universities and carrying extensive industry experience, the lecturers illuminate theories with real life examples. CIDER, the university's idea incubating community at Senayan campus, runs project hatchery course based on the design thinking method. The university works with quality assurance agencies to ensure continuous improvement. It is currently ranked by QS in the top 10 in Indonesia and top 2% in Asia with 4 stars institutional ranking. Majority of its programs hold the government's "A" rank as well.
Globally-competitive human capital developed at BINUS is dedicated to diversity and fostering and empowering the society. The university houses its students from outside of Jakarta and Indonesia in its cozy dormitory. International Office's intercultural celebration events keep BINUS diverse community throughout the year in a continuous dialogue. And by the time they graduate, the students have engaged in numerous community development programs that help sharpen the graduates' vision of their personal contribution to the society during later career stages. Check out the story about the university as shared by Sreeya, BINUS INERNATIONAL Computer Science freshmen student from India here.