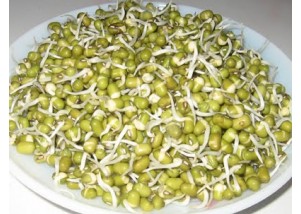 Green Sprouts Mango Masti
This dish is a delicious and wholesome mixture of green sprouts, raw mangoes and veggies served with sassy seasoning. You can have it as an evening snack or even as a chilled salad along with your meals.
Ingredients :
1 cup sprouted green sprouts
1/4 cup shredded raw mango
1 tablespoon grated coconut
1/4 cup chopped tomato
1/4 cup chopped onion
1 teaspoon coriander leaves
1/2 teaspoon chaat masala
1 chopped green chilly
1 teaspoon sugar
1 teaspoon lime juice
1 tablespoon crushed peanut
1 teaspoon chopped mint leaves
Salt to taste
Method :
Wash the sprouted green mung and dry in a cloth till all the water is removed. Shred raw mango into fine shreds using a grater. Grate coconut and chop tomatoes, onions, coriander leaves and green chilli. Mix all the ingredients together in a bowl and then add sugar, limejuice and salt. Sprinkle crushed peanut and chopped mint leaves over the mixture. Chill for about an hour before serving.
Cheesy Green Mung Sprout Bites
The goodness of sprouted green mung and chopped vegetables with a dash of vinegar and grated cheese is served prettily on a cream cracker. Its ideal as an evening snack with your high tea!
Ingredients :
1 cup sprouted green mung
1/4 cup grated cheddar cheese
1/4 cup chopped green capsicum
1/4 cup chopped onion
1/4 cup grated carrot
1 tablespoon chopped green chilly
1/2 teaspoon white vinegar
450 gms packet cream crackers
Salt to Taste
Method :
Wash the sprouted green mung under flowing water in a strainer. Over low heat, blanche the green gram for approximately 3-4 minutes and keep aside. Finely chop the green capsicum and onions and add to the mixture. Grate carrots and add this to the mixture as well. Put in a dash of vinegar and green chilli, sprinkle grated cheese and mix thoroughly. Finally garnish with coriander. Mount small portions of this mixture on each cracker. Serve at room temperature.
By, Poonam Sagar