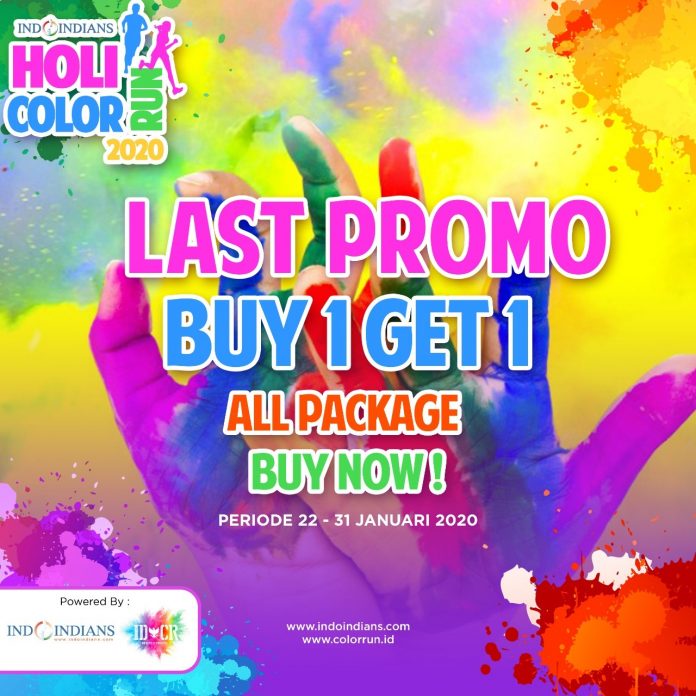 Namaste Friends,
Special Promo: Buy 1 Get 1 till 31st January. Ready, Get Set, Go Friends, Get your tickets for the IDCR Indoindians Holi Color Run Today at
www.indoindians.com/ticket
Celebrate the Indian festival of colors Holi with a family fun run of 5k IDCR Indoindians Holi Color Run on Sunday, 1st March 2020, at GBK Senayan.
Enjoy a day of fun and excitement with an after party with Bollywood inspired dance, DJ, Indian food and lots more.
Focus Cities include Mumbai, Thane, Pune, Goa, Bangalore, Chennai, Gujarat, Delhi, Noida, Gurgaon, & many more… 
Register to visit 
Other interesting articles featured in this newsletter are:
– Escape Jakarta!
– Jakarta Travel Advice for Tourists!
– How to make Savory & Soft Tempe Mendoan
– List of Places to Buy 'Jajanan Pasar' in Jakarta
– 9 Interesting Fashion Trends for 2020
– Our List of #MustVisit Shopping Malls in Jakarta!
-10
Feng Shui
Lucky Charms to Bring Good Fortune
Warm Regards,
Indoindians Team
Indoindians Weekly Newsletter online here