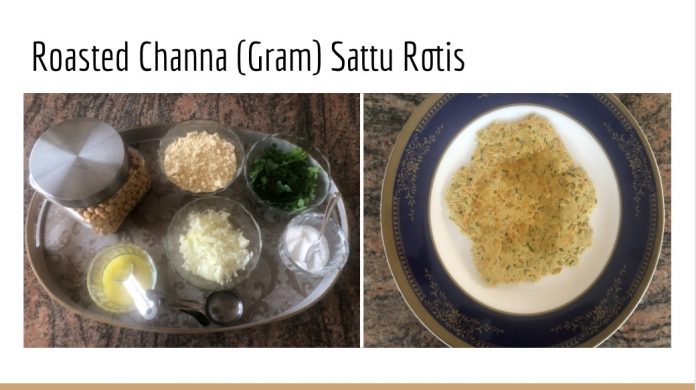 Ingredients: 
– 1 cup roasted Chana (sattu) flour
– 1 medium sized onion finely chopped
– 1 table spoon coriander leaves finely chopped
– 1 tea spoon ghee or mustard oil
Preparation:
– Mix all the ingredients in a bowl by adding warm water bind the dough
– cover the dough for 10-15 mins
– Make 4-5 balls, roll each ball like rotis
– cook from both sides on a hot griddle ( tawa)
– final roasting can be done on an open flame.
– remove and apply ghee
–Option– can also make sattu filled paratha by roasting the same dry ingredients in a pan for 10-15 mins and add a little water with your hand to make it semi-dry. This can be filled in a normal atta and be used as stuffed paratha.