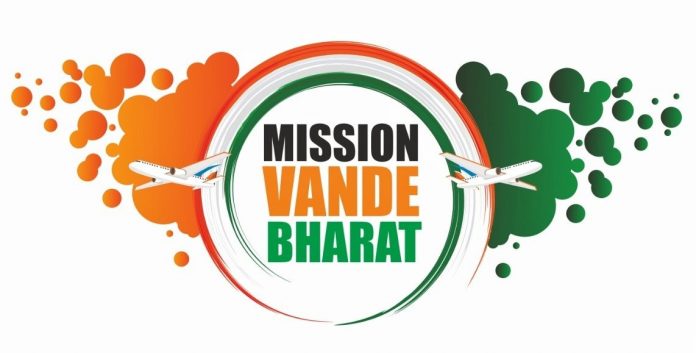 Indian Union Aviation Minister Hardeep Singh Puri said "In 1st phase of Vande Bharat we were to bring back 14,800 Indians on 64 flights. In the 2nd phase the numbers are being doubled. 30,000 more Indians will return from 31 countries on 149 flights."
Phase-1 flew to Bahrain, Bangladesh, Kuwait, Malaysia, Oman, Philippines, Qatar, Saudi Arabia, Singapore, UAE, UK & USA. Flyers have to pay for these services & will undergo a paid 14-day quarantine in their destination states. All prescribed preventive measures will be taken.
Phase-2 of Vande Bharat from 16-22 May will also include flights from Armenia, Australia, Belarus, Canada, France, Georgia, Germany, Indonesia, Ireland, Italy, Japan, Kazakhstan, Kyrgyzstan, Nepal, Nigeria, Russia, Tajikistan, Thailand & Ukraine.
About Vande Bharat Mission
Vande Bharat Mission, as the repatriation programme has been dubbed, focused on the repatriation of Indian citizens stranded abroad due to the coronavirus lockdown in the first phase that began on May 7 India has been under lockdown since March 25 to break the coronavirus chain of transmission, during which time all passenger flights have been banned.
People will be allowed to board the flights, including feeder flights in the destination countries and within India, only after being thoroughly screened and provided they are asymptomatic for Covid-19.
"Each and every function in this massive air evacuation mission strictly adheres to the safety and hygiene protocol laid down by the government and DGCA [Director General of Civil Aviation]. MoCA [Ministry of Civil Aviation], AAI [Airports Authority of India] and Air India leave no stone unturned to prioritise the safety of passengers, the crew and ground handling staff in these sensitive medical evacuation missions," an official statement said.
The costs have ranged from about ₹15,500 for a flight from West Asian countries to ₹50,000 from the UK and ₹1,00,000 from the USA.
List of Vande Bharat repatriation flights here >>
REPATRIATION of INDIANS FROM INDONESIA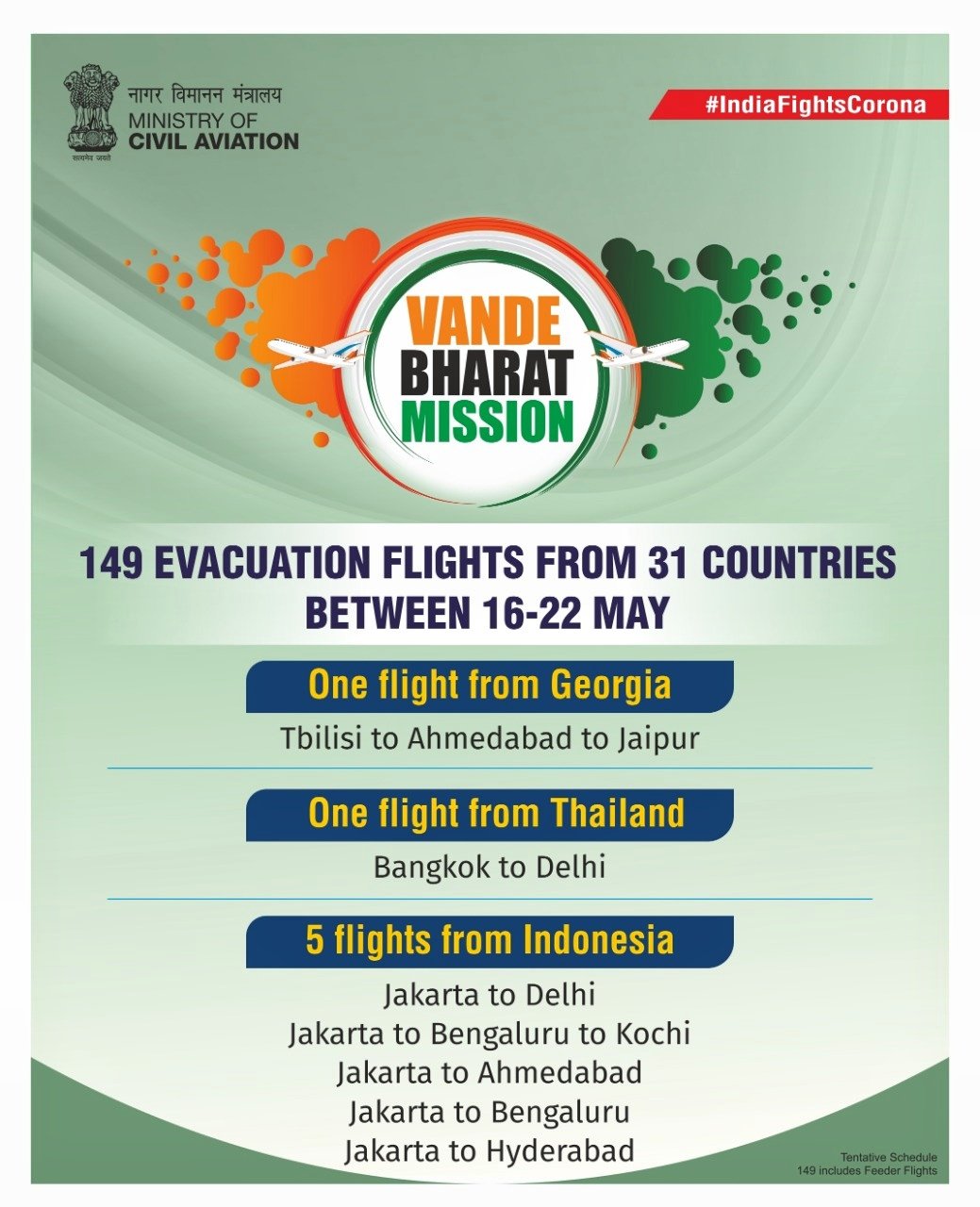 All details of repatriation for Indians from Indonesia is here >> along with details of
All protocols to be followed and SOPs
All Forms
List of hotels and charges
List of hospitals
Official Notification shared by Embassy of India, Jakarta here >>
Message as shared by the embassy as below:
Embassy of India, Jakarta
URGENT & IMPORTANT
Mission Vande Bharat – Indonesia Phase – NOTICE
Date: 13 May 2020
Embassy of India wishes to inform you that flight schedules for stranded Indian Nationals in Indonesia intending to travel to India are now placed on Embassy's website.  In this regard, may kindly note the following:
All those who had successfully registered so far with the Embassy, may kindly visit the site before 1830 hrs, 14 May (Thursday) and update their preferences of landing, if any change is required.
In view of the new cities of landing available in India, fresh registrations with compelling reasons can also apply before tomorrow 1830 hrs, 14 May (Thursday).
All Flights are being scheduled in the period commencing 19 – 23 May from Jakarta. The possible options for landing in India include:
19 & 20 May – New Delhi (ETD : 1645 hrs ETA : 2200 hrs)
21 May – Ahmedabad (ETD: 1530 hrs ETA 2330 hrs)
22 May – Bangalore/ Cochin (ETD 1530 hrs, ETA: 0015 hrs (+1))
23 May – Hyderabad (ETD 1530 hrs, ETA : 0015 hrs (+1))
The first flight for 19 May for Delhi has already been confirmed fully booked, and as such fresh registrations can apply for options commencing 20 May.
Arrival protocols being followed at Indian Airports and your choice of Hotel Quarantines available at respective landing cities, along with their rates is also available on Embassy website. After completion of your quarantine in landing city, arrangements are being worked out to transport you to your respective address.
RAPID COVID Test, if required, may ideally be completed at least a day before the flight. Kindly note that it will NOT have any bearing on the receiving protocols being followed in any city of landing in India.
Only after each Indian National has confirmed his/her preference on the Embassy website, will the ticketing process commence by Air India, based on the approved passenger list for each flight. Each successful applicant will get a mailer in this regard from 15 May onwards.
To facilitate movements from within Indonesia to Jakarta, an authorization letter will be issued to each passenger /family group to facilitate your movement on the day of departure from your place of stay in Indonesia, in case you foresee your vehicle being stopped at any point along the way due to local restrictions. This letter would be sent on the email ids registered with the Embassy page after you have completed the process of purchase of your online tickets for each flight.
For Indian Nationals stranded in Bali, Consul General of India in Bali is helping out for your travel to reach Jakarta in time. Such applicants may remain in touch with CGI Bali.
For Indian Nationals stranded in Palembang, Batam and in other areas of Sumatra, may kindly reach out to CG, CGI Medan who will facilitate your travel arrangements to Jakarta.
Each registering Indian National may kindly note that every field on the Embassy webpage is to be filled in as incomplete entries would entail disqualification.
Also please provide correct email ids which you should check frequently for further communication/updates.
Each arriving passenger at the Airport in Jakarta must remember to bring an ink signed undertaking/ indemnity form (downloadable at Embassy Website) when reporting to the Embassy Help Desk at the Airport.
Our helpline numbers continue to remain operational for any questions/clarifications you have:
Embassy of India, Jakarta : +62 816 805 459 / +62 812 1306 7824/ +62 816 100 148
Consulate General of India, Bali :+62 811 386 7270
Consulate General of India, Medan : +62 811 1997 829