'Life is a beach and enjoy the waves'.
Put simply for many people Indonesia is the beach. With some 17,000 islands stretching between two tropical oceans, it would be hard to imagine any other place on earth where land, sea and sky have combined to produce so many utterly breathtaking strips of sand of such total variety. Tiny uncluttered coves lapped by crystal seas to long, devil-black stretches of wave and windswept sand; there are party central tourist hang-out beaches and others whose soft, white sands are rarely smudged by a human footprint. Some you can reach by car or bus, others can only be got to by following the trade winds in a rickety old boat. But whatever kind of beach you find yourself at you'll quickly come to understand why, for most people, Indonesia is the beach.
Many great holiday experiences await you in Indonesia. Let's explore our pick top 10 exotic beaches in Indonesia
10. Balekambang Beach (Malang, East Java)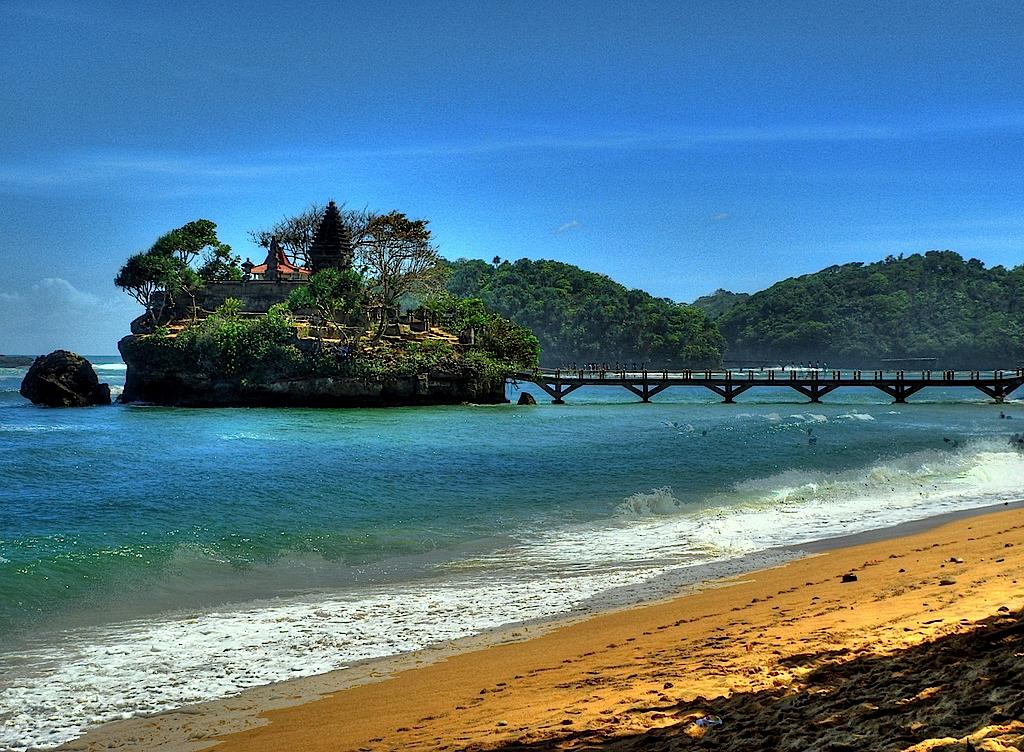 Balekambang Beach is located in the Village Srigonco, Batur district, Malang, East Java, about 65 km south of Malang. The beach is a 2 km long coast line and has beautiful light brown and white sand. Balekambang beach is a major destination of Malang city tour that indeed offers a very beautiful landscape. There also three amazing coral islands across the beach that you can visit; Anoman Island, Wisanggeni Island, and Ismoyo Island, where you can find the sacred Pura right in the middle. This beach connected by a 1.5 meter wide bridge, and the Pura view is reminiscent of Tanah Lot in Bali.
9. Sarwana Beach (Banten, West Java)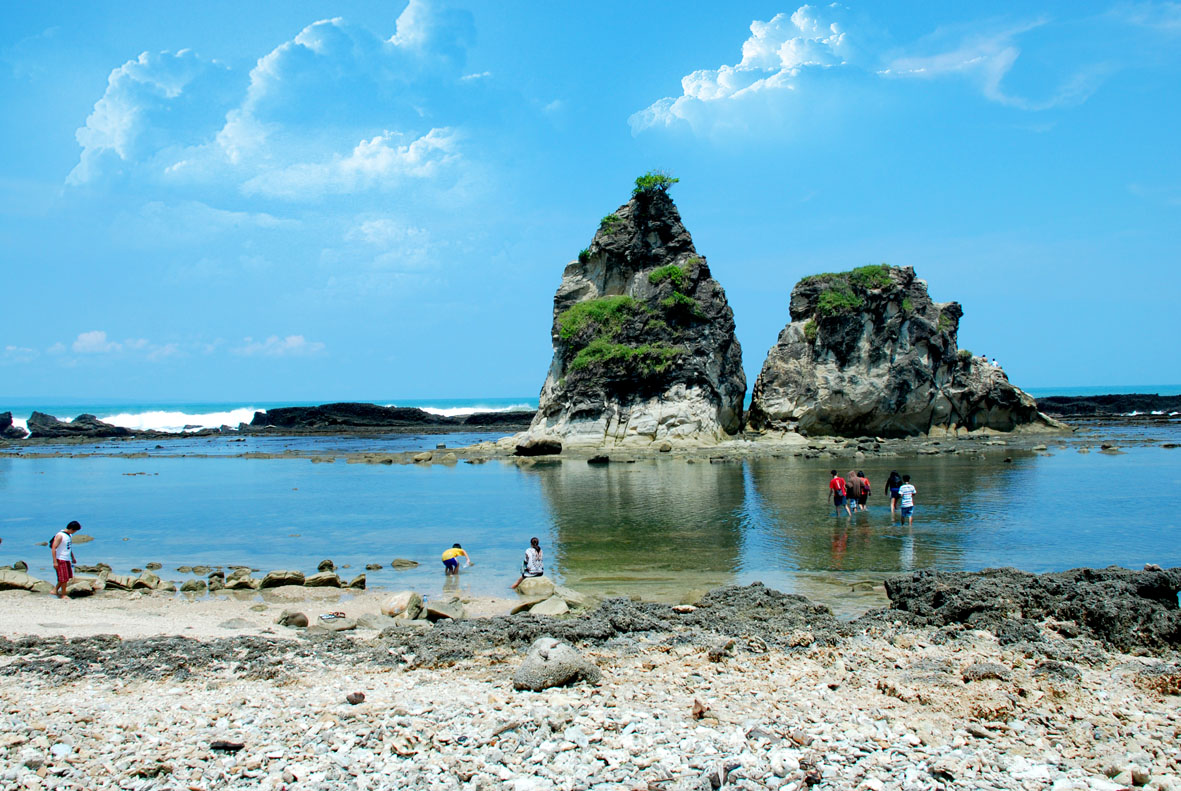 Sarwana Beach is located in District Bayah, Banten, West Java. This beach is approx 65 km long and adorned with coral and white sand. The coastal forest village is gaining in popularity and is on the same coast line as the Pelabuhan Ratu beach area. Therefore, this beautiful coastal region also resounds with the mystical story of Nyai Roro Kidul.
In this area you can explore many other beautiful beaches with blue sea, such as Tanjung Layar, Coral Bokor (Cipamadangan), and Manuk Island. Besides these beaches, you can try caves tour at Lalay Cave, Cave Sikadir, Cimaul Cave, Cave Singalong, and Sand Hill Tangkil.
To reach this location from Jakarta there are two alternatives way: Jakarta-Serang-Malingping-Bayah-Sarwara.Or via Jakarta-Balaraja-Maja-Rangkasbitung-Malingping-Bayah-Sarwana. And if you live in Bandung, you can heading to Pelabuhan Ratu, then continue to the west.
8. Ora island (Central Maluku)
Ora Island is located in the village of Saleman, North Seram, Central Maluku. Reach this site by airplane via O Ceram airport. Then you have to use a speed boat ride of 2 hours to the Port Amahay to discover exotic beaches with beautiful natural scenery is waiting for you. Many tourists would compare the beauty of this beach to Lanikai Oahu beach in Hawaii or the Maldives. Coral reefs and sea life is plentiful and still looks very natural and well maintained.
In addition to snorkeling tour, visitors can also cross the river Salawai to see the process of making sago, coconuts retrieval, or see various kinds of beautiful birds in estuaries in the Gulf of Sulaiman. Or you can pick a tracking adventure across the naturally yet sustainable forests behind the Negeri Sawai, heading to Wildlife Rehabilitation Center in Hamlet Masihulan, Sawai, where parrots breed.
7. Moyo Island – West Nusa Tenggara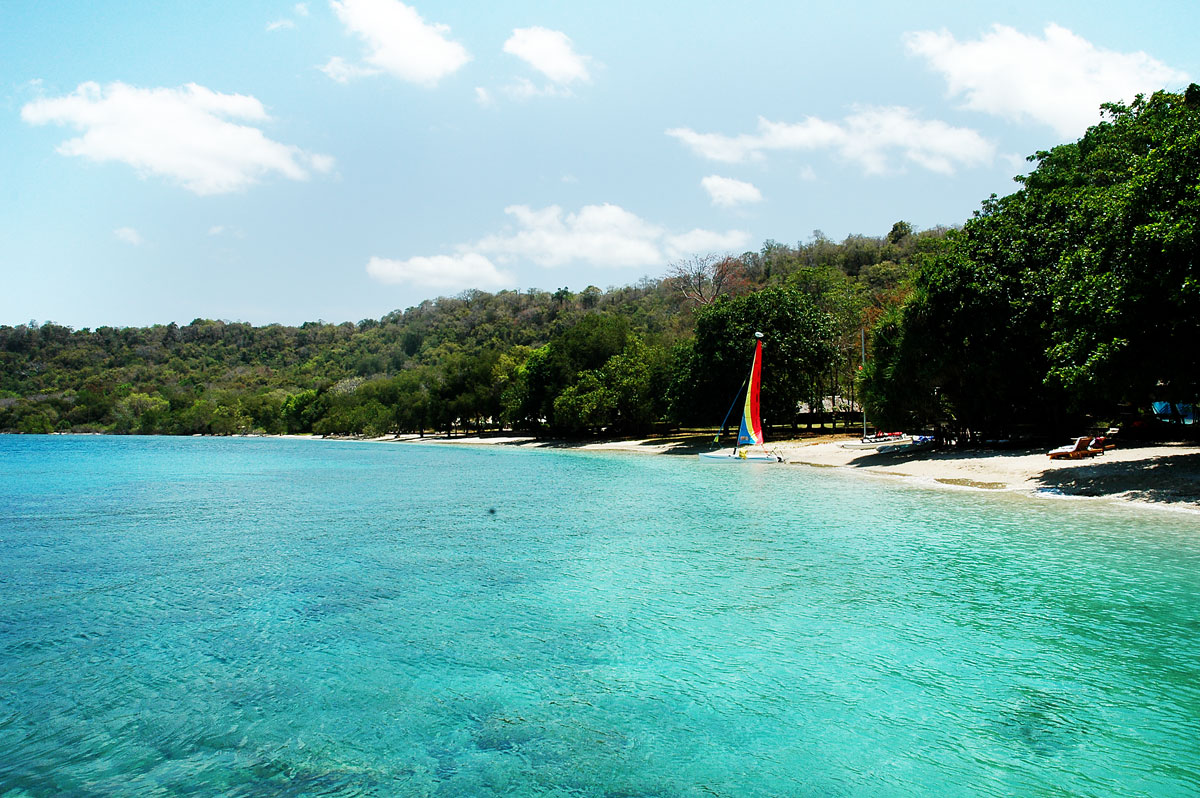 Moyo Island is located in the village of Labuan Aji and Sebotok Village, District Labuan Badas, Sumbawa regency, West Nusa Tenggara Province. Moyo Island lies in the northern island of Sumbawa.
Tourist attractions like fishing, snorkeling, diving and boating are available at this beach. They also can enjoy the waterfall Mata Jitu staircase located in the western part of of Moyo which can be accessed via the village of Labuan Aji. Other attractions include caves tour, the savanna, traverse the forest, and bird watching (bird watching).
6. Derawan Beach (East Kalimantan)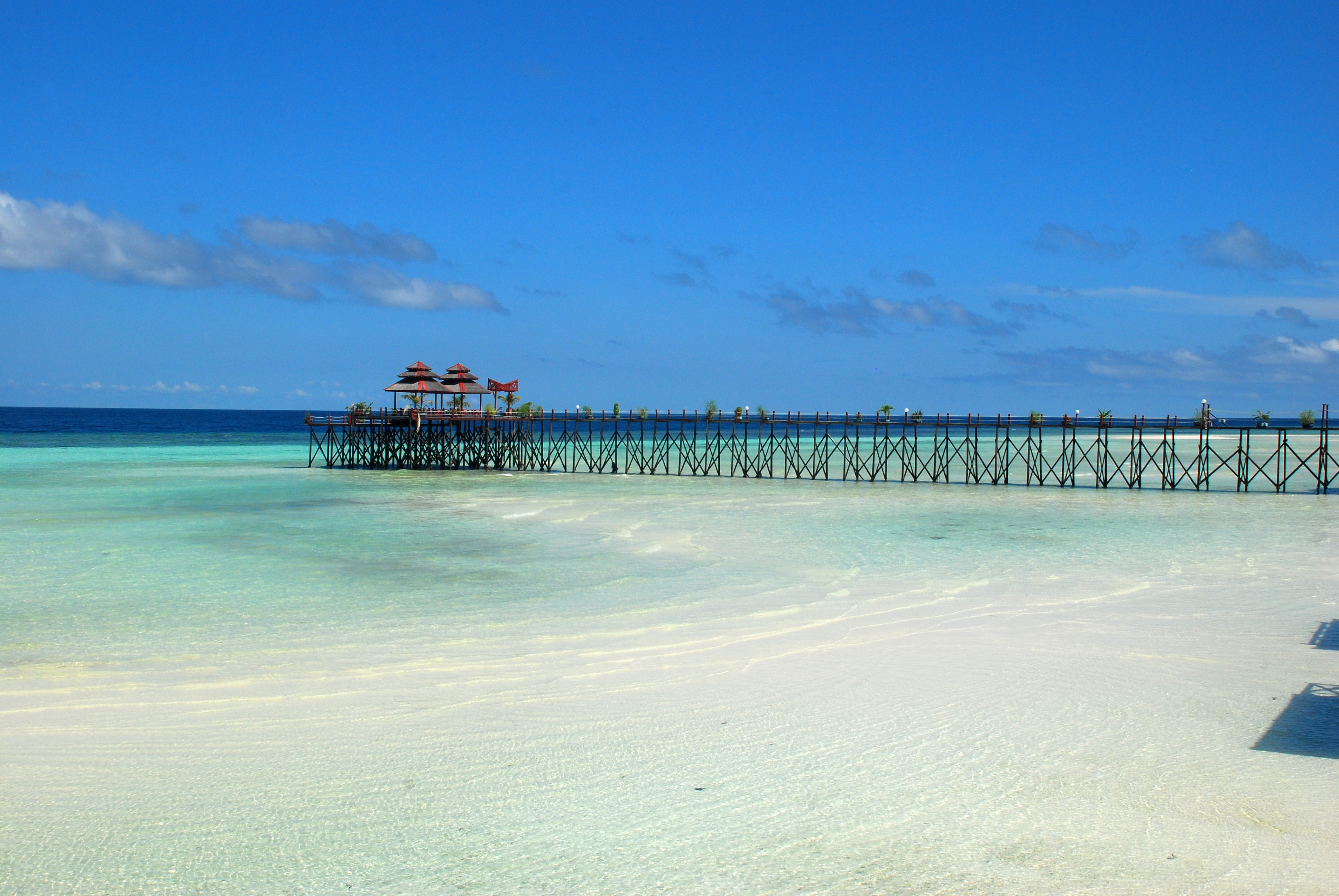 Derawan is located in Derawan Islands, District Derawan, Berau regency, East Kalimantan. This beach is surrounded by a park. It is well known for submarine (diving) with a depth of about five meters, where you can watch the wide range habitats of sea life such as squid, lobster, fish pipe, octopus, sea horses, and Scorpion fish. There are also coral known as "Trigger Blue Wall" because of the 18-meter-long reef is the home for a lot of trigger fish.
5. Gili Nanggu Island (Lombok)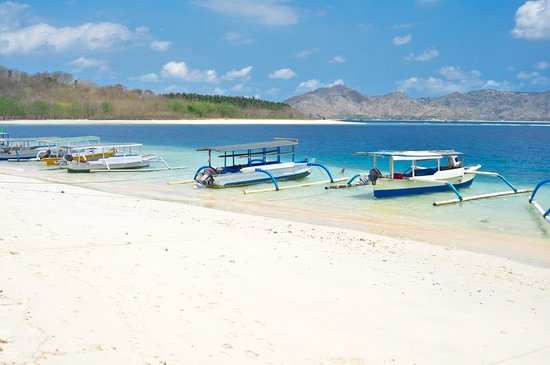 Gili Nanggu is located in the Lombok Strait or exactly on the east coast of Lombok Island, side by side to the Gili Tangkon, West Nusa Tenggara. The quiet island is very beautiful with white sand and stunning underwater parks. The serenity and the beauty of the nature is one of the reasons why many travelers choose Gili Nanggu as a honeymoon destination.
Beach adventure, walking through the white sand and snorkeling some of the fun tourist attractions you can enjoy. The beauty of the island's natural coral reefs the colorful fish are unforgettable.
4. Kuta Beach (Bali)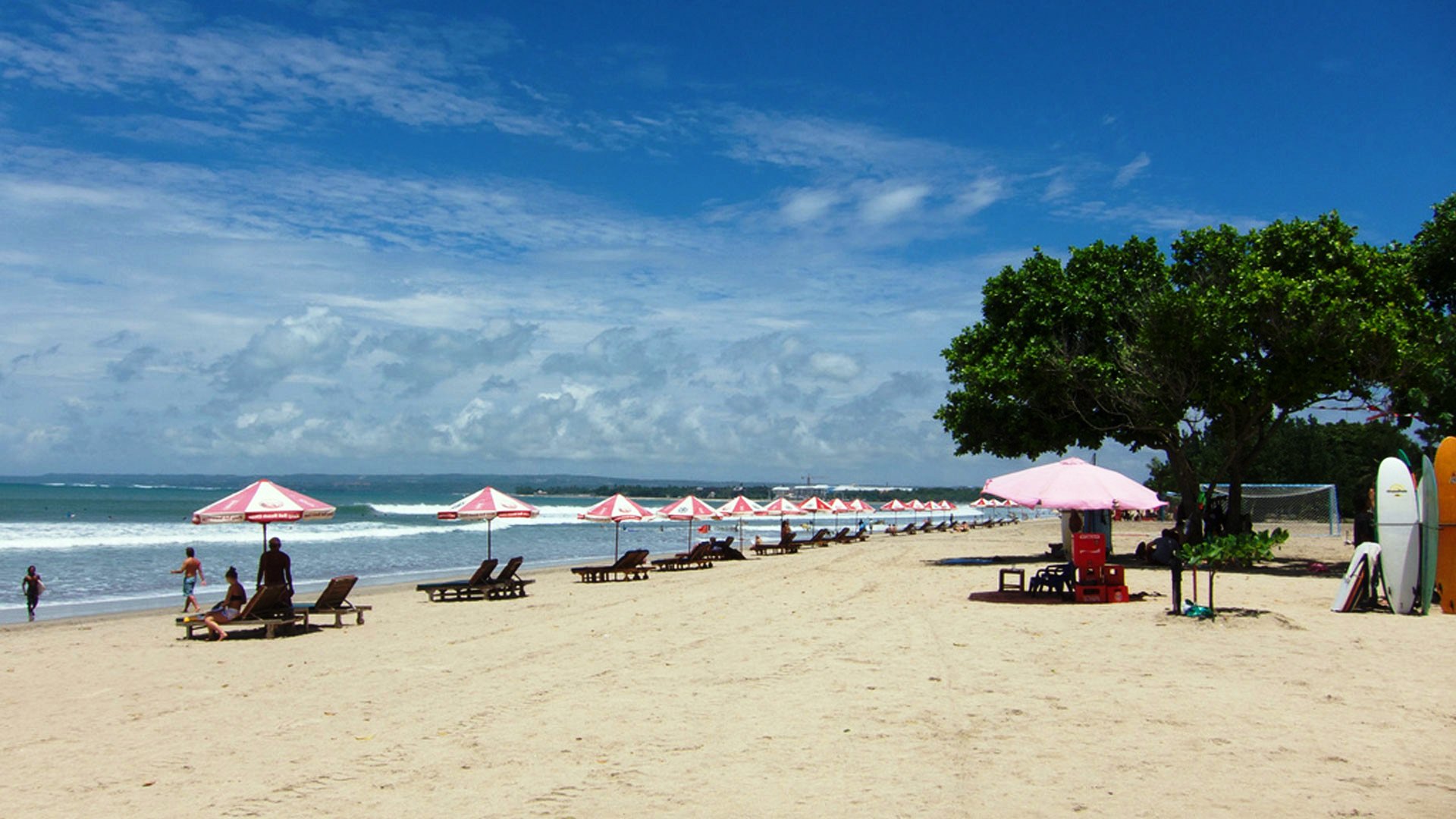 Who doesn't know Bali? I bet everyone knows this wonderful-magical island of the Gods. Kuta is located in Badung regency, about 1.5 km from Ngurah Rai International Airport and can be reached in 5 minutes from the airport, and about 20 minutes from Denpasar.
Kuta is world famous tourist destination, and has become the mainstay of Bali's attractions since the early 1970's. Kuta beach is known for its waves that draw many world's surfers. This beach is often referred to as sunset beach and is opposite to the Sanur Beach. Kuta never sleeps with various entertainments like live music, resto, bars, karaoke amongs others waiting for tourists. You can easily find various stores and many interesting art shops along the street in Kuta, mostly selling trinkets, surf and craft items.
3. Wakatobi Island National Park (Southeast Sulawesi)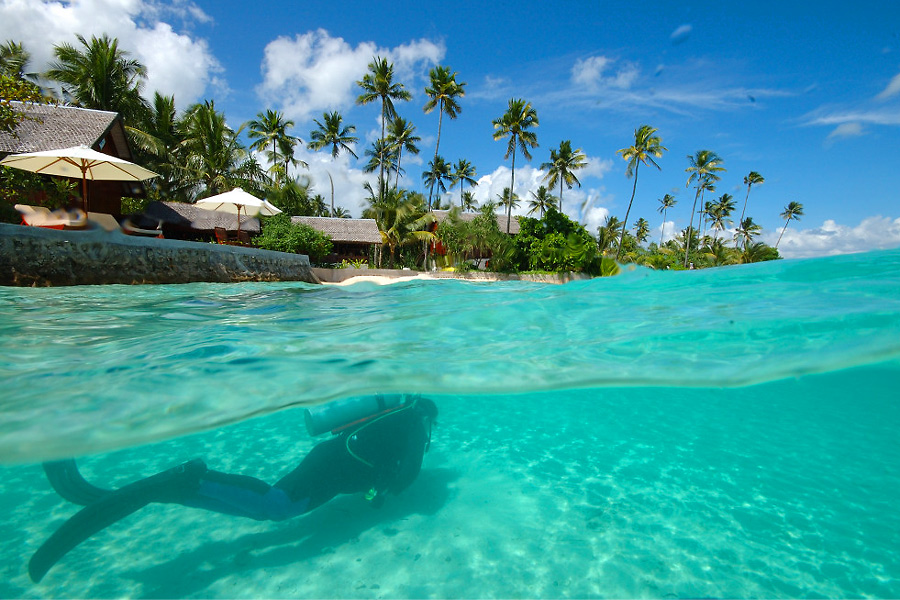 Wakatobi National Park is located in Wakatobi, Southeast Sulawesi, Indonesia. Wakatobi is the capital of Wangi-Wangi. Wakatobi consists of four major islands Wangiwangi, Kalidupa, Tomia, and Binongko. One thing you should know, Wakatobi is an acronym of the name of the four main islands. The magnificent beauty of Wakatobi's underwater is much admired across the world, and is often touted as one of the most beautiful underwater paradise in the world.
2. Bunaken National Park (North Sulawesi)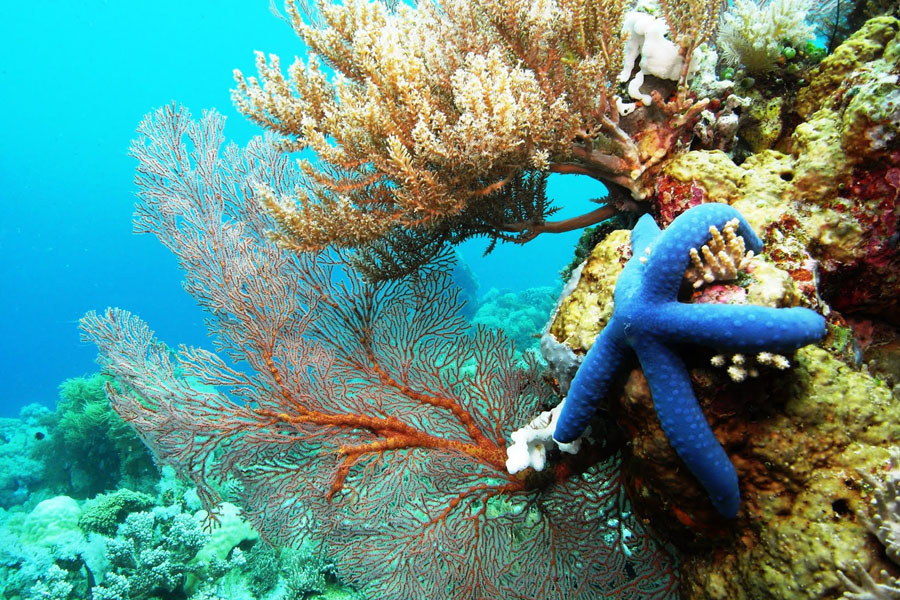 Bunaken is an island covering an area of 8.08 sq km in the Bay of Manado, located in the north of the island of Sulawesi, Indonesia. The island is part of the city of Manado, the provincial capital of North of Sulawesi. Bunaken Island can be reached by speed boat or a rented boat within 30 minutes from the port city of Manado. On this island you can explore Bunaken Marine Park which is part of the Bunaken National Park. Bunaken has a wonderful 20 point diving spot with varying depths up to 1344 meters. 12 diving spots most frequently visited by divers to enjoy the mesmerizing beauty of the underwater life.
1. Raja Ampat Island (West Papua)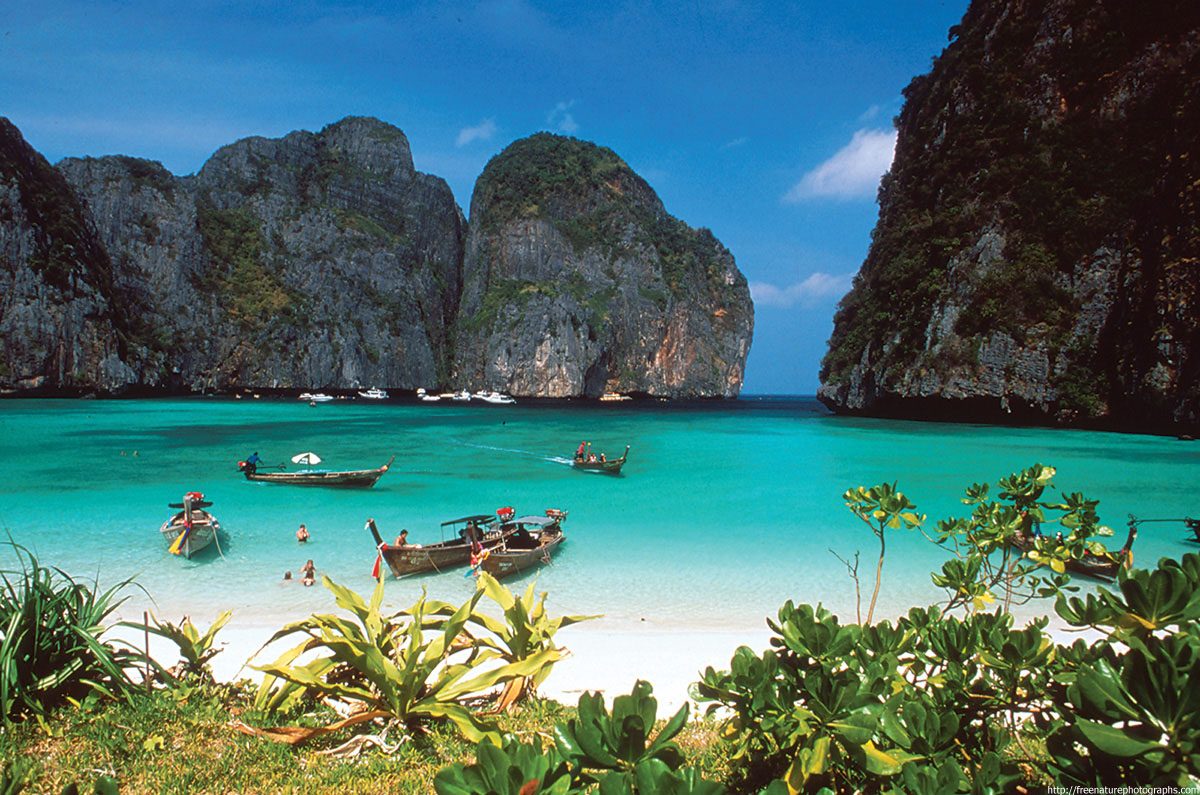 Well, finally here comes the number one the most beautiful beach in Indonesia, drumrolll… it's Raja Ampat.
Raja Ampat is a series of four adjacent islands located in the western part of the bird's head (Vogelkoop) of Papua Island. Raja Ampat has the richest marine life and tropical natural resources in the world, and it is one of the best locations in the nautical world. In addition to the incredible natural panorama, Raja Ampat is also famous for its stunning underwater scenery that can be enjoyed by diving. In Raja Ampat there are countless virgin beaches and beach resorts with exotic landscape view.